View Poll Results

: Is your Hav obsessed with paper?

Yes
98
81.67%
No
22
18.33%
Voters: 120. You may not vote on this poll
Charley raised the bar this week. Instead of unrolling the toilet paper he ran off with the entire roll. They are such characters.
---
Starborn Love Me Good & Plenty (Charley)
Oh my. That's a mess!!@! Does your dog love book marks too?
---
Starborn Love Me Good & Plenty (Charley)
Senior Member
Join Date: Sep 2009
Location: Paris, TN
Posts: 2,496
Submit Photo: 6
Photo Submissions 9 Times in 9 Posts
Rosie has about quit at 3.5 years old. But along came the new kitten and it has started all over again. Jethro tears up everything he can find. He will try to tear the morning paper while I am reading it. Of course that has gotten Rosie started again. I have little bits of paper all over the house. I can't vacumn AND dh pretends not to notice. But I can't get mad at either one of them. The playing keeps them young and makes me and hubby feel the same.

Oh Rosie never bothered the pee pads, but Jethro tears them up. Luckily Rosie asks to go out but occasionly she will get up in the night to potty. So the last thing I do before turning the lights off is to put down one in her favorite place.
---
Senior Member
Join Date: Sep 2010
Location: Southington, CT
Posts: 176
Submit Photo: 0
Photo Submissions 0 Times in 0 Posts
Buzzy could care less about paper (unless it has good smells on it), but Oscar LOVES tissues and toilet paper. He can't figure out how to get it off the roll yet, but I can see that he is very curious about it when we do go to the bathroom (he follows of course). I find a tissue somewhere in the house about once a day from him. If I catch him and tell him to leave it, he leaves it but will take off with a piece in his mouth. Very funny!
Beau's Mom
Join Date: Oct 2011
Location: Blue Bell, PA
Posts: 758
Submit Photo: 5
Photo Submissions 3 Times in 3 Posts
Ok, Beau has crossed the line now!! He chewed up the newspaper page with my Sunday NY Times Crossword puzzle! It would be one thing if he just got the edge -- but he chewed the middle of the puzzle!!!!
---
They're not my dogs -- I'm their person
Lorraine
Senior Member
Join Date: Nov 2012
Location: Boston, Ma.
Posts: 153
Submit Photo: 0
Photo Submissions 2 Times in 2 Posts
Yes! Toilet paper, paper towels, tissues, dryer sheets, magazines, you name it! She also loves socks, underwear, and bras! LOL
---
Lauren & Lola
Bessie & Max's Parents
Join Date: Feb 2007
Location: Redmond, WA
Posts: 693
Submit Photo: 1
Photo Submissions 7 Times in 5 Posts
Bess loves to rip up newspaper but Max could care less.
Ruth (me) Chester (dog)
Join Date: May 2013
Location: St. Louis area
Posts: 887
Submit Photo: 16
Photo Submissions 8 Times in 8 Posts
napkins, paper towel, toilet paper, and newspaper.
---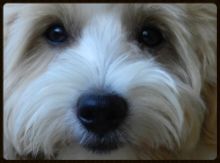 Hav to hav a Hav!!!
Ruth and Chester
(Chester's DOB - 4/04/13)
"Dogs are NOT stupid, they are smarter than you think."
Posting Rules

You may not post new threads

You may not post replies

You may not post attachments

You may not edit your posts

---

HTML code is Off

---