Collar stuck on the carpet!
---
When I went to let Nala out this am she didn't come to the door. After calling her a few times, I went upstairs and she was lying down with her head resting on the floor. It took me a second to figure it out-the ring of her id tag was caught on the berber carpet. She was at a very awkward angle and I couldn't tell if her leg was also caught up in this tangle. I was able to move her body a little closer to the collar and then unbuckled the collar and then she could move. She was very brave, not a whimper at all. When she was free she licked my face once as if to say, "Thanks Mom! I knew you could get me out of this!" And she seems fine. I was worried because of the awkward angle of her body that her leg was broken or twisted.

Thank goodness this happened while I was home! What if she had been stuck like that for hours or tried to free herself and hurt her neck?!?!

I never even worried about this happening. She usually rolls on her back a lot first thing in the morning and I think that is how it got caught!

I love her beautiful Austrian leather collar and the engraved heart charm she has but I don't think I could ever leave it on her unattended after this episode.
Does anyone use the collars with the name and phone number that are on the webbing of the collar? Any other suggestions? I like to leave a collar on her at home just in case she got out (Which she did once and the sherrif of our small town picked her up-but that is another story!)j

Annie
---
nala's mom
Gryff and Jinx Mommy
Join Date: Sep 2007
Location: New Paltz, NY
Posts: 2,346
Submit Photo: 7
Photo Submissions 9 Times in 9 Posts
That happened to us once too. It's really scary. Gryff has a collar now that clips closed with a plastic clippy doohickie. Still, he has his ID tag on the collar, but I don't think the same thing would happen with that.
---
Miriam, Bacca's Mom
Join Date: Nov 2008
Location: Philadelphia area, PA
Posts: 77
Submit Photo: 0
Photo Submissions 0 Times in 0 Posts
I had a similar thing happen to Bacca. We were eating dinner in the kitchen and all of a sudden he was screaming and there was a crazy noise. His name tag on his collar became stuck in the heating vent. He had panicked but thank goodness my DH yanked the vent right out of the floor so it stopped him from panicing. I do not keep a collar on him in the house now but I am not comortable without it so I would like suggestions for what kind to use. Someone suggested a breakaway collar or one with his name and phone number on the collar.
---
Glad she's ok!
---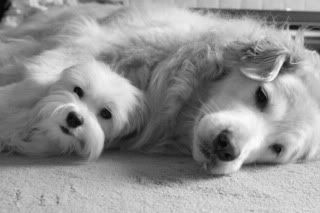 Nicole, Izzo and Cassie's Mom. I'm also Vinny's big sister
Senior Member
Join Date: Apr 2007
Location: Long Island, New York
Posts: 8,941
Submit Photo: 3
Photo Submissions 41 Times in 25 Posts
That's really frightening. I always keep a collar on Milo since he starting taking his little runs around the neighborhood. Now even that scares me, not so much when I'm home, but when I'm not. Just what we need. One more thing to worry about.

Thank goodness yours was resolved without incident.
---
<b>Just Milo and me, and . . . </b>Bailey makes three . . . until Ruby said, "hey, what about me?"
Geri, Milo, Bailey and HRH Princess Ruby Tuesday
If you're thinking of getting a puppy, click here
http://www.photoshow.com/watch/YK8AH4rw
Ivy-it was the small silver ring on her id tag that got stuck not anything actually on the collar!
---
nala's mom
Metrowest, MA
Join Date: Jun 2009
Location: Massachusetts
Posts: 24,653
Submit Photo: 8
Photo Submissions 339 Times in 337 Posts
Boy is that scary!!! I'm so glad Nala was so calm about the whole thing and that you were around to save her!!!

I don't keep a collar on Kodi at home because I don't want to deal with matting as well as the possibility of him getting caught on something. Fortunately, I don't have to worry about him getting out. We live a long way from the road, and he has a really reliable recall. He's never outside alone, but we frequently take him out without a leash or collar on our property. He'll run around, but never gets out of sight and always comes back right away when we call him. Of course, training that has been a lot of (ongoing) work, but it's really worth it!

OTOH, as good as he is, if we lived closer to the street, particularly a busy street like ours, I wouldn't trust it, as good as he is. All it takes is one impulsive run after a squirrel to get a dog into the middle of a busy street! I guess if we DID live close to the street, I would work very hard on teaching him never to approach the door without permission, and then make sure that he was on leash every time he went out.

We also have a porch, so there is a second set of doors in case we get distracted and he (or more often, the cat!!!) gets through the house door when we don't want them out. The cat is IMPOSSIBLE to catch if she gets out, and DOESN'T have a reliable recall.<g>
Senior Member
Join Date: Apr 2007
Location: SF area
Posts: 6,425
Submit Photo: 63
Photo Submissions 62 Times in 48 Posts
---
Sally,((Oliver)) Comet and Pennie too!
The best things in life are not things!
Senior Member
Join Date: Feb 2007
Posts: 4,302
Submit Photo: 1
Photo Submissions 4 Times in 3 Posts
I don't keep collars on my guys in the house because they can get caught on things! Someone else had one catch the tags on their outside deck and I think someone has had them caught in a kennel before too!

I wonder about those break-away collars. Do they ever help return the animal? My daughter used to use them on her cat and we got calls now and again from someone who had found "the collar" but never the cat. He just strolled in when he got around to it! If the collar is made to come off and comes off pretty easily, then it's about as good as not wearing a collar at all right?
Senior Member
Join Date: Oct 2008
Location: Twin Falls, Idaho
Posts: 6,255
Submit Photo: 11
Photo Submissions 53 Times in 50 Posts
I use what Sally recommended, too. Here's a picture of Tucker's collar... It isn't a breakaway collar but a regular plastic fastener. I don't leave it on him indoors because of matting, and anything could be a hazard, but so could running out the door without any ID on. I guess you have to pick your biggest issue and go with it.
---
Sheri, Tucker's Mom
---
Last edited by Sheri; 08-11-2010 at

10:14 AM

.
Posting Rules

You may not post new threads

You may not post replies

You may not post attachments

You may not edit your posts

---

HTML code is Off

---