Just got neutered
---
So we just brough Oliver home from the vet after being neutered and its breaking my heart. He's got the collar on because he loves to lick, but he keeps bumping into things. He's also extra whiny and got a pathetic look on his face. We're suppose to monitor his wound and might be able to take off the collar later on this week. Anyone have advice on what to expect for the next couple of days? I'm anticipating not getting much sleep tonight.
---
Oliver Twist!
Linda
Join Date: Nov 2008
Location: Eastern North Carolina
Posts: 5,409
Submit Photo: 73
Photo Submissions 24 Times in 22 Posts
Dexter slept the first night without problems. Then next day was a little slow...if he got a little sore, he got some pain pills. I think I ended up giving Dexter only two pain pills. By the 3rd day, Dexter was as good as new.

I did have to watch him though especially when he got too interested in the stitch area. A few "Eth, Eth" solved the problem and take the attention some where else.
---
Dexter & Jack
"One Hav is NOT enough to enjoy the RLH skills!"
Senior Member
Join Date: Apr 2010
Location: San Ramon, Ca.
Posts: 284
Submit Photo: 0
Photo Submissions 0 Times in 0 Posts
Keep us informed of how he's doing please! We'll be taking Snickers in toward the end of the month for her spaying. We're nervous too!

All of our cats were spayed / neutered and none of them had any problems - they were SO easy -- but they weren't puppies!

Jim and Lynda and the P&P machine.
Senior Member
Join Date: Apr 2007
Location: SF area
Posts: 6,425
Submit Photo: 63
Photo Submissions 62 Times in 48 Posts
Get well soon Oliver!
---
Sally,((Oliver)) Comet and Pennie too!
The best things in life are not things!
We got some Metacam, but no pain meds. He had some mucusy diarrhea earlier but kept down his dinner. We're trying to figure out where he should sleep tonight because he'll probably be really uncomfortable in his crate with his cone on. I put his baby blanket on the floor so hopefully he'll stay put on it tonight.
---
Oliver Twist!
Member
Join Date: Dec 2009
Location: Lafayette, California
Posts: 82
Submit Photo: 0
Photo Submissions 0 Times in 0 Posts
Have you heard of the onesie idea? A lot of people put their dog in a baby onesie after spay/neuter so that they don't have to wear a cone. Thats what we did and it worked out pretty well. He didn't like it much but I kept assuring him that it was way better than a cone! He was very lathargic after the meds wore off the first day but after that he didnt seem to be too affected and acted pretty much as usual and ate as usual too.
---
Brooke & Colby
His energy is fine today, ate normally, pooped normally (although it was kinda soft). The only thing is that he keeps trying to go for his area and trying to take off his collar. That made for a pretty sleepless night last night. I'm trying to visualize the onesie and how that would work. Don't the snaps pretty much go right over where his incisions are? Or do we get one that isn't so tight? What if he licks through the fabric? Also, what if he has to poop or pee? If anyone has pictures of this, please share.
---
Oliver Twist!
Metrowest, MA
Join Date: Jun 2009
Location: Massachusetts
Posts: 24,508
Submit Photo: 8
Photo Submissions 335 Times in 333 Posts
You put the onesie on backwards, so it snaps around his tail. (leave a snap or tow open for that. Get one that is SLIGHTLY loose, so it isn't pulling on him (you can't go by weight, as I found. The first ones I got, based on Kodi's weight, were WAY too small)

Even if they lick, with the onesie on they can't irritate the skin or, worse, get the stitches out.

You do have to unsnap it and fold it forward for them to potty, but since they are supposed to be supervised and on a leash for the first week, that's not a problem to keep track of.
Member
Join Date: Dec 2009
Location: Lafayette, California
Posts: 82
Submit Photo: 0
Photo Submissions 0 Times in 0 Posts
The onesie goes on backwards and you snap the two outside snaps only so that his tail goes through the middle. You have to unsnap it and roll it up when he has to go potty and then snap it back up when he is done. We got size 24months and Colby weighed about 13 lbs. We got a 5-pack at babies r us and actually used 4 of them and did have to wash them cause he tends to piddle when he gets excited. We didnt have a problem with him trying to lick through the fabric but we did try to keep a fairly close eye on him.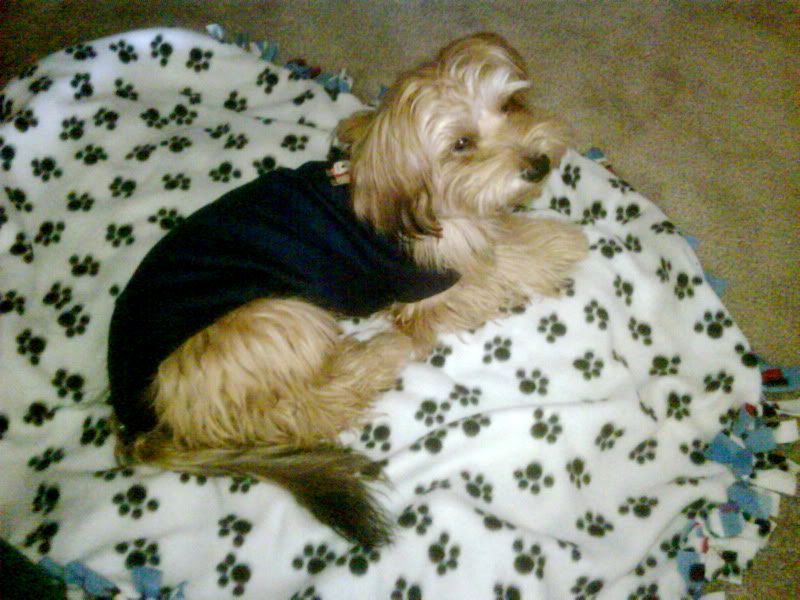 ---
Brooke & Colby
Just bought the onesies and will put it on him after is post dinner poop. We'll see how this goes, if it doesn't work, then its back to the collar. Poor baby...
---
Oliver Twist!
Posting Rules

You may not post new threads

You may not post replies

You may not post attachments

You may not edit your posts

---

HTML code is Off

---