Junior Member
Join Date: Nov 2010
Location: Utah
Posts: 18
Submit Photo: 0
Photo Submissions 0 Times in 0 Posts
My puppy's feet turn out slightly...? (among other things)
---
This is going to be a long story. Please take time to read it. Anyone looking for a havanese might benefit from it.
So I bought a havanese female last week and she was shipped to me this past Thursday. I was lead to believe by the person that I was buying her from that she looked great (she even had excellent reviews on her site). Since she was out of state there was no way I would be able to go and visit her, and only one or two red flags, one of them was the fact that the breeder was willing to sell me this puppy with full registration, no problem, all I had to do was pay an extra $300. That worried me at first, but the puppy face I was looking at in the pictures was just too darn cute to pass by. So I complied.
The breeder had even sent me pictures of her stacked. I thought she had really nice conformation. (photo-shopped, maybe?) Anyway. So I bring her home from the plane and the first thing I notice is that she was really tiny, and didn't look much like the pictures I had seen. She also wouldn't go potty, and just wanted to lay on me. She seemed very lethargic and I was worried about her, but I just decided that it was probably because of the plane ride (which was 8 hours long), and that she would feel better when she was able to get home and eat and drink a little. I had even brought some Nutrical, which I gave to her as soon as we got in the car. As I drove, she laid across my lap, and as I would run a hand over her, I could feel her ribs and hips sticking out. That was one of the first things that scared me. My grandmother was with me, felt the ribs for herself, and almost had to question if she was feeling her knee or something by accident because they stuck out pretty bad.
Once we were home, she wouldn't eat, and barely drank. She would also cower when I reached for her, but once I had her all she wanted was for me to hold her... I already knew from the drive home that something had to be wrong. We scheduled a vet check for the next morning. At the check-up, the vet told us that she had a possible ear-infection, was malnourished (she weighed in at 3 1/2 lbs at 12 weeks old. Her parents are both 10-12 pounds), and had tape worms (which are deadly if not treated soon enough, and we had no idea how long she had had them). I was instantly angry. I had just paid $1800 for this puppy and she was in bad condition! But, I loved her still. So we went home, and began her medication for the tape worms. She now seems more lively and bouncy, and I decided to give her a bath yesterday so I could look at her bones more closely. Once again I was shocked to find that her feet turn out (this was not what I saw in the pictures I was sent! I was told that this puppy had been evaluated and was show quality, and I had gotten her for the purpose of showing her!).
This has been a lesson to me that even if one or two things seem suspicious but everything else seems fine, don't just trust the breeder! If I would have just listened to those red flags I could have avoided paying extra for a sick puppy. I don't regret getting her, she's a bundle of joy, and has gained almost a pound since we took her to the vet this past Friday. This was my first experience with buying a havanese, and I should have listened to those red flags.
Anyway, my question is, is the feet-turning out a genetic thing, or is it because she was malnourished? I haven't had a chance to ask my vet because I just noticed this yesterday, and they're closed on weekends. Anyway. Is there any way I could correct this and still show her if it's not genetic? I'll post pictures.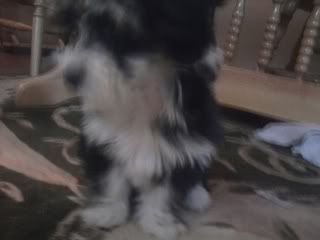 Senior Member
Join Date: Jan 2010
Location: Rhode Island
Posts: 205
Submit Photo: 1
Photo Submissions 3 Times in 3 Posts
I am sorry to hear about your poor girl. I hope she gets better.

Lesson learned. Red flags are called that for a reason. For a truly responsible breeder, "show quality" is not simply a matter of paying more money.

I know you had your heart set on a show dog, but I would strongly consider your girl might not be. Yes, turning out feet is genetic - malnutrition might have had something to do with it but how can you be sure?

Also - the ultimate goal of showing dogs is breeding dogs. Even if your girl was pretty and appeared healthy, it doesn't sound like she came from a lineage that was. Even if you saw health papers, after every other way you were apparently lied to, how can you believe them?

There might be cause for legal action against the "breeder." Not only does it sound like she clearly misrepresented almost everything about your puppy but it sounds like situation where other dogs might be suffering, too. Take pictures and get vet records of her condition and required treatments, just in case you need them.

Get your pup healthy and continue to love her, she is awfully cute! Good luck with everything.

~K
---
~Kat, Clover, CDX RN NA NAJ, & AKC/UKC Ch. William
Narwyn
People in the dog show world know me as Karen, but the rest of the world knows me & I will introduce myself as Kat... I've been showing dogs longer than I've had the nickname, and the nickname is not new!
Gucci's mom
Join Date: Feb 2007
Location: Virginia Beach, VA
Posts: 9,378
Submit Photo: 1
Photo Submissions 12 Times in 11 Posts
I am SO sorry to hear this, there is just no excuse in the world to justify sending a puppy to a new owner sick and malnourished, its just wrong on so many levels.

You could probably get a better look/idea of the bowed legs if you take a picture then the hair is wet and laying flush so you can see how the bones curve, its much harder to tell when they are dry, most of the pictures online of the leg quality are wet dogs.

You really do have to listen to that little voice that warns you sometimes. She is very cute and probably needs alot of nourishing and socialization,which I'm sure you will provide for her. I don't know much about show quality, but I hope someone else has those answers for you.

hugs~~
Kara
---
Super Moderator
click to join us: Havanese Forum on Facebook
Junior Member
Join Date: Nov 2010
Location: Utah
Posts: 18
Submit Photo: 0
Photo Submissions 0 Times in 0 Posts
Narwyn -- yeah, I'm not planning on breeding her if the feet turning out is from genetics and not malnourishment (I mean, in her pedigree her grand-dad is a champion) but if it is from genetics then I'm definitely not going to breed her (but like you said it's hard to tell, I'll have to check with my vet and see what he thinks). I wouldn't want that to come up in my puppies. I want to breed to the best standard that I can. I was wanting both parents of my puppies to be champions. I was also thinking of what kind of legal action I could take against the breeder (especially if she doesn't send me the papers!), I just don't know how to go about that. And thank you!

Thumper -- Yeah I thought the same thing when I saw her. I was shocked! The way she treated this puppy was wrong. I am probably going to try taking pictures of her legs again the next time I bathe her. Or even maybe at the vets or something? Anyway! Thank you.
Senior Member
Join Date: Sep 2010
Posts: 5,278
Submit Photo: 0
Photo Submissions 36 Times in 36 Posts
oh my, how heartbreaking, poor puppy. So glad that you are giving her all the love she deserves!! Congratulations on your new baby and definitly record all the info on her, that "breeder" that you got her from needs to be stopped!! she should NOT be breeding dogs.
Senior Member
Join Date: Oct 2010
Location: West Linn Oregon
Posts: 4,845
Submit Photo: 21
Photo Submissions 40 Times in 40 Posts
I thought if you had full AKC papers you got the paper work when you received the puppy you pay a fee and mail them in? Maddie came with limited papers and the breeder gave us the paper work. We mail it in after we get her spayed.
---
Maddie at 5mo old
Junior Member
Join Date: Sep 2010
Posts: 12
Submit Photo: 0
Photo Submissions 0 Times in 0 Posts
So sorry you had this difficult beginning. You are a good owner to take care of this little puppy--probably the first true love and care she ever received in her life.
There have been threads about pros/cons shipping puppies, and buying from breeders out of state.
I haven't gotten my puppy (I am still researching). Can you share why you chose to go out of state? Also you mentioned 1-2 red flags. But what made you decide to proceed? Were there enough positives that outweighed these warnings? Any advice would help, if you are willing.
I think that sharing these aspects may help those of us who are still searching.
Please share your updates on her care and recovery.
Roscoe and Stella's Mom
Join Date: Dec 2009
Location: Miami, FL
Posts: 1,203
Submit Photo: 6
Photo Submissions 3 Times in 3 Posts
I'm sorry to read that all of this is happening. At this point, I think your best bet is just to plan to love her like crazy and keep her as a pet. As far as I know, malnourishment would be very, very, extremely unlikely to cause defects in the shape of her development. I'm willing to bet it's genetic. If I were you, I'd plan to have her spayed either way. The breeder she came from is obviously not reputable and is not breeding to standard, so the likelihood of your little girl producing exceptional puppies is quite slim. Did the breeder do health testing?

Also, I wouldn't hold my breath on the papers. I'd be surprised if this is even an AKC breeder and the "pedigree" she showed you is actually your dog's pedigree. You definitely have some legal recourse if this is the case.
---
Natalie - Roscoe and Stella's mom, Maddie's part-time mom
"Whoever said you can't buy happiness forgot about little puppies." - Gene Hill
Senior Member
Join Date: Oct 2010
Location: West Linn Oregon
Posts: 4,845
Submit Photo: 21
Photo Submissions 40 Times in 40 Posts
How are you doing
---
Hi, I just wanted to find out how you are doing with your new baby. Can we see more pictures please please .
Have you named her yet?
---
Maddie at 5mo old
Senior Member
Join Date: Oct 2007
Location: Long Island
Posts: 135
Submit Photo: 8
Photo Nominations 1 Time in 1 Post
Hi. Sorry to hear of your experience. For whatever it's worth, our puppy did not have any real "health" issues, but he does have paws that turn out. We too were very upset, even though we never intended to show him. Regardless.we got over it and he is the most fantastic funny delicious dog ever! So don't worry!
Posting Rules

You may not post new threads

You may not post replies

You may not post attachments

You may not edit your posts

---

HTML code is Off

---