Metrowest, MA
Join Date: Jun 2009
Location: Massachusetts
Posts: 24,701
Submit Photo: 8
Photo Submissions 339 Times in 337 Posts
Please Keep Kodi in your Thoughts
---
I had to leave my guy at the emergency clinic tonight. I went out to dinner, and when I came back, he was acting like his tummy hurt. All he wanted to do was stretch out on his tummy and put his head in my lap. I tried to take him out to potty, thinking that might help, and he just hid under the table. Really NOT usual Kodi behavior.
He is stable, but his entire intestines and stomach are packed with??? They took x-rays and did blood work (the blood work came back fine) tonight, started him on fluids and hope that he will pass "it" (whatever "it" is) in the next 12 hours. (they say there shouldn't be ANYTHING in his stomach this long after he ate at 4:30) If he hasn't passed it by the morning, they will do an ultrasound to get a clearer picture of what's going on.
I don't like going to bed without knowing that my baby is safe in his
I am so sorry! I hope tomorrow will bring good news!
Senior Member
Join Date: Apr 2007
Location: SF area
Posts: 6,425
Submit Photo: 63
Photo Submissions 62 Times in 48 Posts
(((Kodi))) get well soon!
---
Sally,((Oliver)) Comet and Pennie too!
The best things in life are not things!
Senior Member
Join Date: Sep 2010
Posts: 5,278
Submit Photo: 0
Photo Submissions 36 Times in 36 Posts
oh my gosh!! I am SO sorry Karen, I will be praying for Kodi, I am sure he is missing you as much or MORE as you are missing him... hopefully he will pass "it" and be good as new and home with you tomorrow ASAP!!
---
Tammy and Tillie
Senior Member
Join Date: Jan 2010
Location: Alberta, Canada
Posts: 479
Submit Photo: 0
Photo Submissions 4 Times in 4 Posts
Holy Crap Karen...I hope all will pass. So scary for you. Hope you get some sleep.
---
Deb
Linda
Join Date: Mar 2010
Location: Southwest Washington
Posts: 3,646
Submit Photo: 0
Photo Submissions 22 Times in 21 Posts
Oh Karen - I am so sorry to read this. Sending positive thoughts that the morning brings good news.
---
Linda, Augie & Finn's Mom
Lumi
Join Date: Nov 2010
Location: Queens, NY
Posts: 432
Submit Photo: 0
Photo Nominations 1 Time in 1 Post
Oh no Karen...I am so sorry and I hope tomorrow brings you good news... I hope you get some sleep and I hope Kodi passes whatever is in his system
oh my gosh!!!!!!

Sending warm and healing thoughts to you both. Hopefully "it" will clear out OK! Please keep us all posted!
Please update on Kodi!!!!! Sending hugs and prayers!
---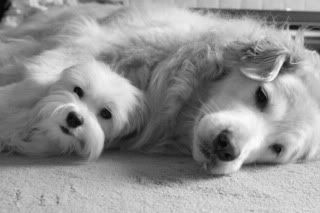 Nicole, Izzo and Cassie's Mom. I'm also Vinny's big sister
Gigi
Join Date: Feb 2010
Location: Eastbourne by the sea England.
Posts: 2,468
Submit Photo: 2
Photo Submissions 21 Times in 19 Posts
Oh no,poor little fellow,and poor you,I really hope all goes well and he sorts himself out,what on earth can he have got hold of? Well better out than in as they say,and they [who ever they are]are certainly right in this case.We have been having the reverse problem with Dizzie's bowls,runny poo for the last 3 days or so, but happy in himself,except that he hides away when he has a dirty bum as he knows I shall be giving him a quick bottom wash, which he finds very humiliating! Well I am thinking of you and poor Kodi and wishing all comes out alright! No I am not joking I know worried we all get when any of our babies are poorly.Good luck.
---
Posting Rules

You may not post new threads

You may not post replies

You may not post attachments

You may not edit your posts

---

HTML code is Off

---