Senior Member
Join Date: Sep 2006
Location: Kentucky
Posts: 2,166
Submit Photo: 5
Photo Submissions 8 Times in 4 Posts
Preston Legs
---
I am posting new pictures that I took of Preston last week during a bath.
As you can see his legs are bad, I am still holding out on the surgery. The vet said he would only do it if he had trouble getting around. He does well at home and plays in the backyard everyday. He gets atleast one run like hell session daily. When I take him to the soccer park he has trouble walking, I guess the pavement is harder on him, so I think I'm going to buy him a stroller. He should feel like a king being strolled around while the other two are walking. lol
I just wanted to show everyone what CD looks like, Maybe the breeders who don't think it's important to health test might feel differently after seeing these pictures. Of couse it doesn't always show up in testing, aleast as a breeder you know you gave your puppy the best start possible.
In the end, I am glad that I am the one who got him. Me and my family love him dearly and he will get all the care and love he will ever need. Proberly more love than he needs, but he will just have to deal with it.
Of course Preston is the perfect dog, he doesn't bark, loves to cuddle and friendly to everyone he meets. At soccer if a child sits down to pet him, he will crawl up in there lap. At first the kids like Nigel because he is the little one, but Preston soon becomes the favorite with his sweet and gentle ways.
I didn't know what I was missing until I got my havs.
---
Peace, Love & Havanese
---
Last edited by Paige; 08-10-2010 at

08:40 PM

.
| | |
| --- | --- |
| The Following User Nominates Paige Great Photo: | |
Senior Member
Join Date: May 2007
Location: Indiana
Posts: 3,119
Submit Photo: 3
Photo Submissions 4 Times in 4 Posts
My heart was breaking when I saw him
I do not know much about cd but I want you to know that I hope things will work out. I think he will like being pushed in the stroller King Preston!!!!!!
---
~~Mommy"s Little Angel~~
Gucci's mom
Join Date: Feb 2007
Location: Virginia Beach, VA
Posts: 9,378
Submit Photo: 1
Photo Submissions 12 Times in 11 Posts
Paige......
That brought tears to my eyes
I'm so sorry that he has to suffer, but I'm also SO HAPPY that he has YOU and your family. With a gem of a personality and demeanor, you couldn't be luckier!
I, personally.....HIGHLY recommend the stroller. Don't worry about funny looks or being called the crazy dog lady, because it came in SOOO handy, and I know it would really help Preston out. I'm happy with the one I got from Petsmart,
http://www.petsmart.com/product/inde...earch&keepsr=1
The "Happy Trails Plus", was the most bang for you buck that I could find at the time. I think it comes in blue, too? Maybe another color somewhere else. But gosh, it would come in SOOO handy at a soccer game, you could keep supplies, sweatshirts, etc. in the bottom basket, and it has 2 drink holders and a key holder. I love it! I need to find more ways to use it!
I think its a great idea, and it would make his like MUCH easier and so much more comfortable.
He's a doll baby.
Kara
Kubrick & Hitchcock's Mom
Join Date: Apr 2007
Location: New York, NY
Posts: 7,774
Submit Photo: 1
Photo Submissions 33 Times in 24 Posts
Paige, that picture of Reece literally brought tears to my eyes. It's really sad that some breeders will not health test knowing that this is a possibility. Preston really is a lucky dog to have found you, just as you are the lucky family who got such a sweetheart as a member of the family.
---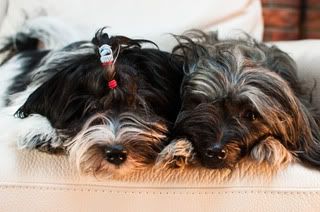 Visit
my blog

-----
Check out my
photos
-----
Photography (pets, people, weddings) -
TripleC Photography
---
Last edited by Lina; 09-20-2007 at

09:13 AM

.
Senior Member
Join Date: Mar 2007
Posts: 841
Submit Photo: 0
Photo Submissions 0 Times in 0 Posts
I am so sorry! His legs definitely look on the severe side. I am glad he gets around well still. Did you say he is only 3 years old? I saw on emergency vets (animal planet) the surgery one time. They did it on a basset hound that had severe bowing and the after was amazing. They only do one leg at a time of course so that they can still get around but I was surprised by how straight it was after it healed. Maybe Preston can get by without the surgery if he isn't as hard on his legs? The idea of the stroller is a great one.
Quote:
I didn't know what I was missing until I got my havs.
I totally agree!!! I love my other dogs but Mirabel stole my heart!!
LINDA
Join Date: Jun 2007
Location: PA
Posts: 6,496
Submit Photo: 3
Photo Submissions 36 Times in 33 Posts
Valentino's Mom, Vicki
Join Date: Oct 2006
Location: Dallas, Texas
Posts: 2,590
Submit Photo: 0
Photo Nominations 1 Time in 1 Post
Paige, I am moved almost to tears looking at dear Preston's legs. It's amazing how well he still gets around! Is there much pain involved? You are the best mommie and I know Preston will get the best care and receive oodles of LOVE! Thanks for helping educate us on CD!!
Senior Member
Join Date: Nov 2006
Location: New Jersey
Posts: 9,794
Submit Photo: 2
Photo Submissions 28 Times in 20 Posts
Poor little Preston!! I am sure he is quite spoiled by you though! Hopefully it wont get any worse & he will be able to avoid the surgery. I love the idea of the stroller - would he stay in it?
---
Lily, Lexi ,Logan, Laila & Lizzie's Mom
www.HillsboroughHavanese.com
(Gigi, Lucas, Dugan, Madeline,Reo,Alvin, Lucky, Lukey, Punch, Colby & Ben-(we will always Love you!!)
Riley & Monte's mom
Join Date: Feb 2007
Location: MA
Posts: 5,579
Submit Photo: 2
Photo Submissions 16 Times in 13 Posts
Thank you Paige for the update on Preston, itís so nice to hear how he is still getting out for a game of RLH. I like the idea of a stroller that way he can continue to be a part of everything, he is one lucky guy to have such a great mom that cares so much.
If the day comes that he will need surgery please know we will all be right here going through it with you. Hugs to you and your family.
Tori's mom
Join Date: Feb 2007
Location: Sunny SoCal
Posts: 4,988
Submit Photo: 19
Photo Submissions 10 Times in 6 Posts
Paige~ I've got tears, too. But, more importantly, I have huge hugs for you and Preston.
Isn't it wonderful how God chose to give him such a sweet spirit to go w/his disability? I have found it to be that way for many of my special needs students, as well. What a blessing Preston has you for his mommy!
I think the stroller is a great idea. I bet it will make life more comfortable and easier for him. If anyone ever says anything to you about it not being "fair" that Preston gets to ride while the others have to walk. You tell them that "fair" is not everyone getting the same thing; "fair" is everyone getting what they need!
---
Last edited by Leslie; 09-20-2007 at

09:59 AM

. Reason: typo
| | |
| --- | --- |
| The Following User Nominates Leslie Great Photo: | |
Posting Rules

You may not post new threads

You may not post replies

You may not post attachments

You may not edit your posts

---

HTML code is Off

---