Karen
Join Date: Sep 2007
Location: Colorado
Posts: 645
Submit Photo: 0
Photo Nominations 2 Times in 1 Post
Eating Almonds
---
It's been a while since I've posted, but I'm in a panic. My little Gracie found some almonds and craisens in my daughters backpack tonight while I was out. DH and kids were home and didn't know. We really aren't sure how many she ate. It was a small baggie full. My daughter doesn't think there were a bunch in there, but who knows - she's 8 yrs. old. I noticed that cranberries are in many dog foods, so I'm not worried about them. Does anyone know how a dog is with almonds? Gracie is a 5 1/2 months, but only 4 lbs. Should I worry about this overnight? I don't think I will be sleeping much tonight - I'll be up worrying for sure. So, any piece of mind would be appreciated.

Thanks so much!!
Karen
Kubrick & Hitchcock's Mom
Join Date: Apr 2007
Location: New York, NY
Posts: 7,774
Submit Photo: 1
Photo Submissions 33 Times in 24 Posts
Karen, almonds are not that bad for your dog, but they may be harder to digest. It really depends on how many she ate in the first place, but since you don't know that, you can either give her something to make her throw up (like peroxide) or just wait out the night or go to your vet, whatever you feel the most comfortable with. I would give her the peroxide if it were me.

Again, a few almonds shouldn't hurt her, if that's all she had.
---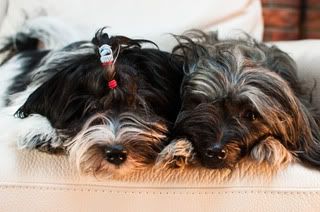 Visit
my blog

-----
Check out my
photos
-----
Photography (pets, people, weddings) -
TripleC Photography
Casper and Missy
Join Date: Jan 2007
Location: Washington state
Posts: 2,194
Submit Photo: 38
Photo Submissions 5 Times in 5 Posts
Karen,

I am sorry I don't know anything about almonds, but do you have a emergency vet you could call and ask?
Senior Member
Join Date: Jan 2007
Location: Toronto, ON, Canada!
Posts: 4,155
Submit Photo: 0
Photo Submissions 16 Times in 6 Posts
Hi Karen,

I do not think anything Gracie ate would cause any harm to her, even if she is on the small side. Why not call a after hours emergency vet and ask acouple questions.

Ryan
---
Karen,

I give my Hav's unsalted almonds from time to time..they are fine with it. Raisens however are suppose to be toxic, but I think if she ate one you'd know right away if whe were having a reaction.

You could give your Vet a call just to ease your mind..Even if it's after hours they usually have someone on call that will call you back..

One other thing you could do is to Google "are almonds ok to give dogs.."
Jeanne
Join Date: Mar 2007
Location: SF Bay Area
Posts: 2,622
Submit Photo: 2
Photo Submissions 3 Times in 3 Posts
Craisins are just cranberries, so I don't imagine they'd do any harm other than have alot of sugar. And almonds aren't toxic that I know of, but macadamia nuts are supposed to be. Gracie might get a little upset tummy, but I don't think you have to panic. I agree that you could call the vet to ease your mind.
---
Jeanne (Mom to Maddie)
Senior Member
Join Date: Mar 2007
Location: Arkansas
Posts: 305
Submit Photo: 0
Photo Submissions 0 Times in 0 Posts
I add cranberries in our homecooked stew. They have not caused a problem.
Hiro 23.03.2007
Join Date: Jan 2008
Location: Hengelo in the Netherlands
Posts: 491
Submit Photo: 0
Photo Submissions 25 Times in 13 Posts
Gucci's mom
Join Date: Feb 2007
Location: Virginia Beach, VA
Posts: 9,378
Submit Photo: 1
Photo Submissions 12 Times in 11 Posts
I think she'll be alright...and will probably just have a belly ache, the cranberries and almonds..I don't think they will hurt her, I'd just keep an eye of her for an allergic reation. How is she? I see this was written last night, did she act any different last night?

Kara
---
Super Moderator
click to join us: Havanese Forum on Facebook
Senior Member
Join Date: Apr 2007
Location: SF area
Posts: 6,425
Submit Photo: 63
Photo Submissions 62 Times in 48 Posts
How is she this morning???
---
Sally,((Oliver)) Comet and Pennie too!
The best things in life are not things!
Posting Rules

You may not post new threads

You may not post replies

You may not post attachments

You may not edit your posts

---

HTML code is Off

---