Join Date: Feb 2008
Posts: 696
Submit Photo: 5
Photo Submissions 0 Times in 0 Posts
OH NO! Vomiting
---
Kona started throwing up about 20 minutes ago... It's been 3 times. And it looks like TWIZZLERS! There was some in the bedroom earlier, and I think he might have gotten into them while I was gone taking my oldest son to the dentist. Daddy was here with them, but I guess he wasn't paying attention.
I was wondering if he is going to be okay? I didn't want to induce vomiting, he's doing that on his own, but are twizzlers toxic. And is there something I should be giving him? I took his food away, and just have water in his bowl. I've never had this happen before.
I'm scared for my sweet boy. I called the vet, but he hasn't called back yet.. can anyone help..
Senior Member
Join Date: Jan 2007
Location: Toronto, ON, Canada!
Posts: 4,155
Submit Photo: 0
Photo Submissions 16 Times in 6 Posts
Well, if it was twizzlers, its just sugar and other crap.. I would not worry about it to much. Obviously it did not agree with his stomach. ughhhhh
Since I've got Beamer, our house has gone to being pretty clean to VERY clean.. I just do not want to risk him getting into something thats lying around.. Our house is like a museum now... nothing is ever left out.. lol
Ryan
---
Join Date: Feb 2008
Posts: 696
Submit Photo: 5
Photo Submissions 0 Times in 0 Posts
Ya, I don't know how he got into them, they were a NEW pack of them, not opened and on the computer desk, so he must have found a way to get them... the kids said they didn't give him any, which was my first thought, but they can't open the wrappers so I guess he's just OVERLY smart for his own good. I generally put everything very high and in plastic containers with lids (kid safe) I just didn't do it with this yet....
Lesson learned!!!!
Join Date: Jan 2008
Posts: 132
Submit Photo: 0
Photo Submissions 0 Times in 0 Posts
I used to have a dog who loved Twizzlers-- he never had any problems, but sometimes crashed after all the sugar!
Join Date: Feb 2008
Posts: 696
Submit Photo: 5
Photo Submissions 0 Times in 0 Posts
Well, I guess it just didn't agree with his tummy. Someone else told me their dog loves twizzlers, and they've never had a problem, but I dont feed my animals anything but their food, too scary!
LOL
I know the kids will randomly give the birds something we are eating..... but I try to really limit those to very very seldom.
whew, I'm happy he'll be okay. He's sleeping!
Kubrick & Hitchcock's Mom
Join Date: Apr 2007
Location: New York, NY
Posts: 7,774
Submit Photo: 1
Photo Submissions 33 Times in 24 Posts
You also have to take into the account his size and how many twizzlers he actually ate! Kona is very young and he probably ate way too many of them. I would keep a close eye on him and if he doesn't get better by the morning then take him into the vet. Although the vet's office will probably have some suggestions for you as well.

I'm sure Kona will be fine, though I can understand the scare! He might have diarrhea as well, so watch out for that.
---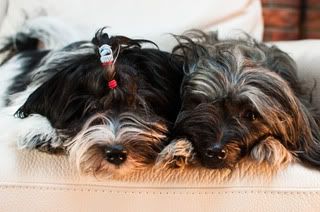 Visit
my blog

-----
Check out my
photos
-----
Photography (pets, people, weddings) -
TripleC Photography
Join Date: Feb 2008
Posts: 696
Submit Photo: 5
Photo Submissions 0 Times in 0 Posts
Thanks so much! both ends???? Ew.. the one end is bad enough! I am not good with bodily functions!LOL Oh well. Do whatcha gotta do! I got a call back from the vet.. they said pretty much what Lina said. Bring him in if he's not better in the a.m. but wouldn't be too concerned. I am praying he'll be fine. I think he ate at least 1 but maybe 2. As much is coming out, he had to have. Thank you all for your help! So scary!
Riley & Monte's mom
Join Date: Feb 2007
Location: MA
Posts: 5,579
Submit Photo: 2
Photo Submissions 16 Times in 13 Posts
Senior Member
Join Date: May 2007
Location: Indiana
Posts: 3,119
Submit Photo: 3
Photo Submissions 4 Times in 4 Posts
I think today was the day to get into things....Lizzie and Ginger helped themselves to the cookies daddy made them...guess Lizzie could reach them..poor Jillee did not get any I am sure she was in her ex-pen...she went to the store with us.
---
~~Mommy"s Little Angel~~
Senior Member
Join Date: Dec 2007
Location: New Jersey
Posts: 860
Submit Photo: 0
Photo Submissions 0 Times in 0 Posts
Although the sugar in the Twizzlers could be a concern, my first thought was the SIZE of the pieces.

I don't know about "digestion" and that sort of thing, but could they cause a blockage?
---
Maureen and Molly
Posting Rules

You may not post new threads

You may not post replies

You may not post attachments

You may not edit your posts

---

HTML code is Off

---