Senior Member
Join Date: Apr 2007
Location: Georgia
Posts: 4,107
Submit Photo: 0
Photo Submissions 8 Times in 8 Posts
Spider Bite Puppy
---
For those of you that read and saw the pictures in another thread I just want to give an update on the puppy that had the spider bite, her owner writes:

"Thanks to everyone who is continuing to send Dani good thoughts.
This is her wound progress after almost 3 wks of treatment. Doesn't it look better? Our newest worry was her right hind leg which she stopped putting any weight on and carried loosely this week. I was sure it was muscle or nerve damage, but the vet says she has some infection in that knee. He drew some fluid off, upped her antibiotics, recommended hot pack treatments 3X day and thinks she will be much better by next week.
Dani just turned 6 wks old and has had a hard life so far, but she is totally resilient.
She is playing, running (on three legs mostly) and sounds like the Tazmanian Devil when any other dog approaches her rear end. The other dogs are all scared of her. It was funny to begin with, but I think I'm gonna have to get her under control a little, lol.
She is so spoiled that she pretty much howls when we put her down. After all I have had to do to her, she still loves me and her tail wags ninety miles per hour when I come to get her.
She is truly a little miracle and we think she is the cutest puppy ever.
In reference to the recent string of posts about vets taking advantage of caring owners, my vet is absolutely the best ever. We have had 4 or 5 visits for this bite and it has cost me a total of $58.00 so far. How spectacular is that? He is totally amazed at Dani's progress and truly loves his patients."

What a changes since the last photo!!!!!!!!
---
Sandi, taking a new road with Smarty and Galen
So glad she is doing better. Poor puppy is on her way to a great recovering.
Kimberly
Join Date: Aug 2006
Location: San Francisco Bay Area
Posts: 10,275
Submit Photo: 5
Photo Submissions 19 Times in 13 Posts
Wow - the improvement is amazing. Little Dani sounds like a spitfire!

Thank you for sharing the update and the new picture too.
Benji and Lizzie's Mom
Join Date: Jun 2007
Location: New Jersey
Posts: 4,086
Submit Photo: 0
Photo Submissions 6 Times in 5 Posts
Sandi, I missed thread entirely and I am so sorry to hear about Dani's predicament. I wish her a speedy and healthy recovery!

Your post could not have been more timely. Just this morning I found a large furry scary looking black- brown spider where Benji and Lizzie usually play. Until now I had never thought of dangers of spider bites. I need to be more watchful.
---
Best, Poornima
Oreo's Mom
Join Date: Nov 2006
Location: Whitby, ON, Canada
Posts: 2,099
Submit Photo: 0
Photo Submissions 5 Times in 5 Posts
Oh wow, poor puppy. I have so much catching up to do but I am so happy to hear the little Dani is on her way to recovery.
---
"Life is too short to not follow your heart. Live, love and laugh everyday"
www.helencortez.com
Susan
Join Date: Feb 2007
Location: Near San Francisco Bay Area
Posts: 4,063
Submit Photo: 2
Photo Submissions 2 Times in 2 Posts
Dani is making a great recovery. What a spirit that puppy has.

Poornima, if it's a wolf spider you saw, I don't think they are as dangerous as they look. The small black spiders though.....I always worrry about those as I never get close enough to see if they are black widows or something equally vicious. I simply squash them as quickly as I can!!
---
Susan
Amanda
Join Date: Nov 2006
Location: South Carolina
Posts: 9,576
Submit Photo: 2
Photo Submissions 31 Times in 22 Posts
Oh I am glad to read this, do they think the skin will grow back and eventually fur? That still looks so horrible but thank goodness she is on the mend!

Amanda
Senior Member
Join Date: Nov 2006
Location: New Jersey
Posts: 9,794
Submit Photo: 2
Photo Submissions 28 Times in 20 Posts
Oh my goodness!!!! I did not see the original posting, that still looks pretty sore to me! That poor baby!!
---
Lily, Lexi ,Logan, Laila & Lizzie's Mom
www.HillsboroughHavanese.com
(Gigi, Lucas, Dugan, Madeline,Reo,Alvin, Lucky, Lukey, Punch, Colby & Ben-(we will always Love you!!)
Senior Member
Join Date: Apr 2007
Location: Long Island, New York
Posts: 8,941
Submit Photo: 3
Photo Submissions 41 Times in 25 Posts
I missed the original post too but if this is the improved version of the bite it must have been quite awful, poor baby. You're lucky to have such a caring vet and great care. I hope she continues on her way to a speedy recovery.
---
<b>Just Milo and me, and . . . </b>Bailey makes three . . . until Ruby said, "hey, what about me?"
Geri, Milo, Bailey and HRH Princess Ruby Tuesday
If you're thinking of getting a puppy, click here
http://www.photoshow.com/watch/YK8AH4rw
Kubrick & Hitchcock's Mom
Join Date: Apr 2007
Location: New York, NY
Posts: 7,774
Submit Photo: 1
Photo Submissions 33 Times in 24 Posts
I'm glad that Dani is feeling so much better! The old picture was horrible, but even this one makes me sick just looking at it. I can't imagine how much pain the poor puppy was in.
---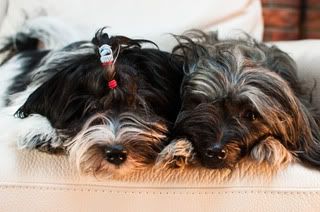 Visit
my blog

-----
Check out my
photos
-----
Photography (pets, people, weddings) -
TripleC Photography
Posting Rules

You may not post new threads

You may not post replies

You may not post attachments

You may not edit your posts

---

HTML code is Off

---