Join Date: May 2007
Posts: 1,494
Submit Photo: 0
Photo Submissions 0 Times in 0 Posts
Odd Eating Times
---
Hi All,

Not sure if this has been posted...perhaps not because it's an odd thing but Radar has a very odd eating time which he has become quite used too. He will east very late at night (10:30) and most of the time doesn't even eat his full cup of food. We haven't had him weighed for a while and I am wondering if he's lost weight and just doesn't want to eat a large amount of food. I have been getting him to eat the rest of his food by sitting with him and putting the food on the floor and he'll eat it from the floor one day and the next day he will eat the whole bowl. It's very bizarre.

Derek
Senior Member
Join Date: Jan 2007
Location: Toronto, ON, Canada!
Posts: 4,155
Submit Photo: 0
Photo Submissions 16 Times in 6 Posts
No clue why Radar would eat so late? Beamer is in a deep sleep by that time.. lol
So do you leave his food out for himto free feed and he just decides to eat at that late hour? Maybe start regulating his eating times again!

Ryan
---
Join Date: May 2007
Posts: 1,494
Submit Photo: 0
Photo Submissions 0 Times in 0 Posts
Yeah I figure he'll be a grazer...eat when he wants and that's it. I have to get him down to a cut off time and just keep bringing it down lower and lower until it's pretty early. I used to take the food away but then I just started leaving it beccause Radar was not eating everything he was suppose to so I gave him more time. I may have to start over again.

Derek
Senior Member
Join Date: Feb 2007
Posts: 4,302
Submit Photo: 1
Photo Submissions 4 Times in 3 Posts
yeah, This rings a bell. Rufus was skipping breakfast and then would eat just a bit at dinnertime and then again late in the evening. I was free feeding and it concerned me that he was going all day on an empty tummy. I reduced the portion I would offer and take it up after a set amount of time. He's coming back around now to a small breakfast and dinner at a regular time. I also had to double check myself to be sure he wasn't getting snacks from anyone and trying to skip meals! Everyone claimed they weren't treating him between meals, but I SAW them doing it! I had to have a chat with hubby about offering too many snacks! (At least they were healthy snacks, but I had to explain that Rufus is NOT a vegetarian and needs to eat more meat and less veggies!)
Kubrick & Hitchcock's Mom
Join Date: Apr 2007
Location: New York, NY
Posts: 7,774
Submit Photo: 1
Photo Submissions 33 Times in 24 Posts
Derek, I would suggest that you put down Radar's food for a set amount of time and pick it back up again, unless you want to free feed him. He also might be getting to the age where he is cutting down to one meal per day. They usually go through this around one year old.
---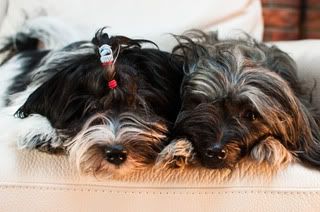 Visit
my blog

-----
Check out my
photos
-----
Photography (pets, people, weddings) -
TripleC Photography
Posting Rules

You may not post new threads

You may not post replies

You may not post attachments

You may not edit your posts

---

HTML code is Off

---