Junior Member
Join Date: Mar 2008
Location: Michigan
Posts: 871
Submit Photo: 5
Photo Submissions 7 Times in 4 Posts
Broken Leg
---
Hi... My 4 month old Havanese broke her back leg yesterday while playing with a friend's dog. I don't know exactly how it happened but she yelped and wouldn't put weight on it so I took her to the vet. She has two hairline fractures of the tibia and is in a splint/cast. I am supposed to restrict her activity (so far all she's wanted to do is sleep) so I purchased an exercise pen and set it up in the family room and will keep her in there unless she is basically sitting with me. She is on pain medicine (Derramax) for this week at least. She went pee outside finally but hasn't poo'd yet. She isn't eating much either. Does anyone have any experience with broken legs?

I feel like such a bad puppy mom for letting this happen. She is my first dog and though the vet said it was just an unlucky thing I feel horrible. I've been lurking here since we got her and am hoping someone can help me help her. I don't want this to ruin her wonderful little personality and spirit. In the two months we have had her she has become one of the family.

Ann
Senior Member
Join Date: Dec 2007
Location: New Jersey
Posts: 860
Submit Photo: 0
Photo Submissions 0 Times in 0 Posts
Ann,

First, welcome to The Forum! Good info and lots of fun!

My experiences in dealing with Molly's boo-boo's: a sprained leg, a bitten-off teat (courtesy of a neighbor dog), being shaved way too close on her butt, is that I usually react with much more distress than Molly does!

In fact, any dog I've EVER had seems adept at tolerating discomfort...it's just the human-peeps who feel the anxiety (and, yes...GUILT).

Do lots of cuddles and easy-play...and you're right! These little fuzz-balls just work their way into our hearts! We are hopelessly in love, too!
---
Maureen and Molly
Kimberly
Join Date: Aug 2006
Location: San Francisco Bay Area
Posts: 10,275
Submit Photo: 5
Photo Submissions 19 Times in 13 Posts
I'm so sorry to read this, Ann.

Many human pain meds can be constipating, so you may want to call your vet and ask if your puppies pain meds may be doing the same thing to her. If so, ask what you can give her to help get her back into normal bowel movements.
MacGyver's Mom
Join Date: Dec 2006
Location: Pennsylvania
Posts: 503
Submit Photo: 0
Photo Nominations 1 Time in 1 Post
Hi Ann

I'm sorry to hear about your puppy. MacGyver had to have surgery on his front leg when he was 10 months old -- they basically had to break one bone because it has stopped growing. It took about 3 months before he was back to normal, but now he doesn't know anything happened. We spent a lot of time sitting with him to keep him confined. He wasn't allowed to walk on it (except for peeing and pooping) for several weeks. It was a long process, but he really didn't seem to be in pain after the initial surgery, and he loved the extra attention. We found he ate less when he was on the pain medication.

I know its hard, but bones heal quickly when they're little. Hang in there!
---
Boo
MacGyver's Mom
MacGyver's Mom
Join Date: Dec 2006
Location: Pennsylvania
Posts: 503
Submit Photo: 0
Photo Nominations 1 Time in 1 Post
I forgot to mention the biggest problem we had was keeping the cast dry. MacGyver sometimes peed on it, and the rain was a problem. We put Press n Seal around the cast and it worked great -- stuck to the cast, kept it dry, and was easy to remove.
---
Boo
MacGyver's Mom
Sooo Smart
Join Date: Mar 2008
Location: Georgia
Posts: 3,551
Submit Photo: 9
Photo Submissions 22 Times in 12 Posts
My daughter's baby had to have surgery on her leg and I can tell you it was much harder on my daughter than on her Macey. She had a Macey sitter for a week while she worked and cried - and came home early. DD was a wreck and Macey loved the attention. After a few days Macey was doing great -- and milked it for all it worth. Two years later....DD is still treating her like "the only pet on earth" and Macey has become a true lap dog. She has to be "on" and with her Mom at all times now. My advice is to try to keep her still for a while, but let her do for herself when able. These little furbabies can learn very fast...which includes how to wrap us around their little paw.
---
Cicero trained Dale & Ronnie
Susan
Join Date: Feb 2007
Location: Near San Francisco Bay Area
Posts: 4,063
Submit Photo: 2
Photo Submissions 2 Times in 2 Posts
Ann, Welcome to the forum. Your little one should heal just fine.
I don't know what kind of cast your little one is in or what type of flooring you have but when my husband's cockapoo broke her leg and was in a cast, as she began to heal and wanted to walk around, the biggest problem was the cast getting snagged on carpet. To solve that problem my husband bought Legg's pantyhose (the ones that came in the egg shaped plastic). He used one half of the plastic egg and attached it to the bottom of the cast and no more snagging on carpet. In fact, she learned to walk on it so well, she used that leg to pivot around when she wanted to turn.
---
Susan
Luv My Biewer
Join Date: May 2007
Location: Rocklin, CA
Posts: 3,068
Submit Photo: 0
Photo Submissions 0 Times in 0 Posts
Oh yes, I've had a puppy with a broken leg and it's so sad. You do need to keep her quiet in the expen. Mine happened about the same age and one thing I did notice was that it was during an important socialization period and I think being cooped up for that long made a difference. After you little one is off the pain meds, do try and take her with you on outings in a carrier so that she gets lots of interaction despite the activity restriction.
---
Northern California
Member BBCA (Biewerbci.org)



Home of VanLeigha Jr. Handlers
Guapo's Mom too!
Join Date: Apr 2007
Location: Ontario, Canada
Posts: 207
Submit Photo: 0
Photo Submissions 0 Times in 0 Posts
Hi Ann! Welcome to the forum! Its a great place to come for info and support!

I don't have experience with this but just wanted to wish your little one a speedy recovery. All the best!
---
~Connie, Mijo and Guapo
A dog teaches a boy fidelity, perseverance, and to turn around three times before lying down. - Robert Benchley
Kubrick & Hitchcock's Mom
Join Date: Apr 2007
Location: New York, NY
Posts: 7,774
Submit Photo: 1
Photo Submissions 33 Times in 24 Posts
Ann, I'm so sorry about this! Your poor little one. I know that you have to keep her quiet and in one place, but do you know for how long? Perhaps after a week (once her pain is not as great) you can take her out in a carrier so she can still get some socialization by being around other people and things. Of course I would ask your vet first and foremost, but just an idea if you're worried about her being socialized. That way she won't be walking but is still seeing new things through the bag. As Lisa said, 4 months is an important period for them.

Hope she recovers quickly!
---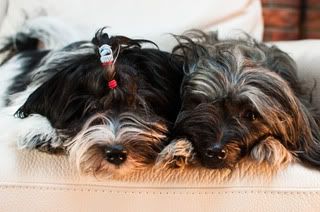 Visit
my blog

-----
Check out my
photos
-----
Photography (pets, people, weddings) -
TripleC Photography
Posting Rules

You may not post new threads

You may not post replies

You may not post attachments

You may not edit your posts

---

HTML code is Off

---