Join Date: Aug 2008
Posts: 9
Submit Photo: 0
Photo Submissions 0 Times in 0 Posts
Need help - Skin/Hair Problems - allergies...
---
Hello everyone,
I'm new here and delighted to have found such a wonderful forum.
I have an urgent issue that I need more insight on I ask you to bear with me as I give the full details.
My Molly is almost 3 years old now. 1 year ago exactly, she started biting at her legs and butt a lot. I noticed that there seemed to be redness and raw sores where she was biting. She also was scooting along the carpet on her butt and then suddenly I noticed blood. She had a very large rupture that went through her skin beside her anus (anal gland rupture.) It was so infected that I rushed her to the vet emergency room. They drained it and cleaned it then gave us medicine for the infection. I asked about the biting and itching of the sores and they told me that it looked like a staff infection and the antibiotic should cure it. They thought the infection on her butt might have traveled elsewhere under the skin. I completed the antibiotics but noticed the biting and itching kept going on. Only now, she was making raw open sores and patches of hair around them would fall out. When they dried up, the skin would be dry and different and the hair wouldn't grow back.
My vet thought it might be a skin allergy but wanted to try 2 rounds of antibiotics to fully kill any infection first. Soooooo.....after 5 weeks, the infection cleared up but the hair never came back. Then, the sores came back and more hair fell out. By March of this year, her lower back, hips and hind legs and 1/2 her tail were almost hairless, the skin pigment was turning black, and her hair was thinning elsewhere too. Then the sores started coming back and her skin started scabbing up everywhere. In April, the vet tested for mites, fleas, and something else....can't remember. We did a second round of antibiotic therapy to kill off the infection again and then, as soon as it cleared, I changed her diet to a one protein source, minimum ingredient food to see if some kind of food caused this. I also considered insecticides/fertilizer from our yard, even chlorine from our pool. She has been bathed with Maloseb skin allergy shampoo for a year now. She had always eaten Merrick foods, LOVED Wing-a-Ling, but I always provided all their canned varieties with the dry. I switched to a dry, allergy formulated chicken dog food by Canidae? or Innova? for 3 months. Her infection cleared up again, but her hair continues to thin EVERYWHERE and now 3/4 of her body is almost bare. Her skin pigment blackened all over. Even where there is still some downy hair, it's thin and you can see the skin through it. Her ears have lost almost all the hair. Her tail is like a Jack Russels'. There are many areas where crust has formed around the base of each individual hair making it scabby. The slightest pull/combing of these areas makes her skin bleed immediately. Sometimes there is a "dusting" of tiny black particles all over her belly skin. It tested negative for mite poop. It's loose and flakey and the particles are as small as powdered sugar. 2 weeks ago, I changed her diet to an all raw, no grain diet at the advice of our natural pet supplies store. She is currently eating Stella and Chewy's Fresh from the Farm raw frozen lamb patties with a little bit of dry Nature's Logic Lamb formula. I also bought a new shampoo that is made up of mostly oils for skin allergies to put oils back into her skin. I alternate that with Maloseb. She currently has 2 spots she bites and itches and they are scabby. She also has started licking her pads deeply this past week. The rest of her skin and coat is just thinning and dying.
I'm so desperate.
My beautifully coated Havanese now looks mangy and sickly. The vet isn't sure what it is - she guesses allergies. I don't know how to get her coat back. Can anybody help? Has anyone had this happen to their dog or know of someone else's?
The pictures below show Molly 1 year ago before it all started, then this April, June, and then today. Thanks so much for your gracious time!
Judith
Luv My Biewer
Join Date: May 2007
Location: Rocklin, CA
Posts: 3,068
Submit Photo: 0
Photo Submissions 0 Times in 0 Posts
Oh man, that is just such a sad story. Has she been tested for SA? (I wish I could spell this skin condition - it's something like Sebo... ADermatitis. The way the skin looks with the dark spots reminds me of this. I think you may need a dermatologist specialist. Also, to keep sunscreen on that skin or you'll be in for double trouble.
---
Northern California
Member BBCA (Biewerbci.org)



Home of VanLeigha Jr. Handlers
Susan
Join Date: Feb 2007
Location: Near San Francisco Bay Area
Posts: 4,063
Submit Photo: 2
Photo Submissions 2 Times in 2 Posts
It does look like sebacious adenitis (sp?). Did your vet check for that via a biopsy? You can Google it and see all kinds of articles about it.
Poor little Molly. I hope you can get to the bottom of it.
---
Susan
Susan
Join Date: Feb 2007
Location: Near San Francisco Bay Area
Posts: 4,063
Submit Photo: 2
Photo Submissions 2 Times in 2 Posts
Has your vet checked her thyroid? I understand that some skin infections are indicative of thyroid problems.
---
Susan
and Murphy & Gracie too!
Join Date: May 2008
Location: Cumming, GA
Posts: 6,989
Submit Photo: 5
Photo Submissions 22 Times in 21 Posts
Bless her heart, I have no idea what it is but I'll pray that it gets better quickly! Such a cutie pie!!!
---
Ann-Scooter, Murphy, & Gracie's Mom
Kubrick & Hitchcock's Mom
Join Date: Apr 2007
Location: New York, NY
Posts: 7,774
Submit Photo: 1
Photo Submissions 33 Times in 24 Posts
Oh poor Molly! I also think it's Sebaceous Adenitis, but am no vet. Hopefully you can figure this out soon!
---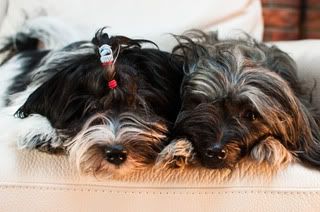 Visit
my blog

-----
Check out my
photos
-----
Photography (pets, people, weddings) -
TripleC Photography
Join Date: Aug 2008
Posts: 9
Submit Photo: 0
Photo Submissions 0 Times in 0 Posts
Thanks for the quick reply, Lisa. I believe it is called sebaceous adenitis. I found that on the internet 2 weeks ago and it was the closest in description. I need to find a veterinarian dermatologist around here somewhere - someone I can trust.
On the internet, one doctor's explanation:
A generalized form presents with dramatic amounts of scale on the skin, scale ad­herent to hairs (follicular casting) and the coat and skin often dry to the touch. As the disease progresses there is a generalized thinning of the coat. The dorsal back, medial aspect of the pinnae and the ear canals usually are the most affected. A [generalized itching due to irritaion of nerve endings] is vari­able but may be marked, especially if a secondary bacterial [skin inflammation marked by pus-filled lesions] is present. Breeds that are pre­disposed to this form include the Standard Poodle, Samoyed, Akita, Old English Sheepdog, and the Lhasa Apso.
An inflammatory process appears to be responsible for destroying the sebaceous glands in the affected areas. The cause for initiation of the inflammatory process is unknown at present. Marked [toughening of the skin/hyperkeratosis] and [thickening of the skin and dead cells] is also noted. This derangement in keratinization may at least in part be a product of the lack of sebaceous glands and their secretions. These patients appear to be prone to the development of secondary bacterial infections, which may contribute significantly to [itching] and hair loss.
Biopsy of the skin is usually diagnostic. Affected areas show a [pus/grainy] inflam­mation (with [white blood cells and immune system cells]) around the sebaceous glands. Seba­ceous glands are in various stages of being destroyed. Marked hyperkeratosis is present (thickening of the skin and it's dead cells). In late stage disease, the inflammation resolves, leaving an absence of sebaceous glands.
That pretty much describes my poor Molly.
This doctor recommends (in order of preference)
· Vitamin A, oral: small to medium dogs 10,000 IU q12h; large breeds (Akitas, Standard Poodles) 20,000 IU q12h.
· Fatty acid supplementation (double strength); evening primrose oil, 500 mg twice daily.
· Two hour application of bath oil, followed by five to seven shampoos. Repeat twice monthly. Hair loss is seen initially followed by hair regrowth.
· 50%–100% propylene glycol sprays applied once daily followed by anti­seborrheic shampoos every three to four days initially. Slowly reduce the frequency of sham­poos initially, and then the frequency of the propylene glycol sprays to the least frequent application that helps to control the problem.
· Isotretinoin (Accutane®) or acitretin (Soriatane®) 1–3 mg/kg every 12 hours until remission; then the lowest, most infrequent dose required to control clinical signs.
That's why I started adding Omega Fish Oils to her food (Vitamin A) and shampooing her with oil shampoo. Of course, I'm not following his regimen exactly and the doses, but I'm desperate to start doing anything good for her.
Why in the world is this crazy-lady-new-user giving us all so much information, you ask?? (Well, you might ask.....
) It's because I have done everything I can possibly think of to help my baby and I no longer know what to do. If I post everything I can, maybe one of you will be able to help me better than my vet is.
Join Date: Aug 2008
Posts: 9
Submit Photo: 0
Photo Submissions 0 Times in 0 Posts
Wow, I'm so long winded, all those replies posted before I got my second one in. Looks like all of you are WAY ahead of me and don't need any extra info at all. God bless all of you and keep the treatment recommendations coming. In the meantime, I will schedule a derma. appt. for her and get her officially diagnosed.
Susan
Join Date: Feb 2007
Location: Near San Francisco Bay Area
Posts: 4,063
Submit Photo: 2
Photo Submissions 2 Times in 2 Posts
You're not crazy at all. This is the place to come for all the moral support you need. I remember reading a story about someone who had a dog with severe SA and she had great results with a certain type of oil bath. I'll try to find it and if I do I'll definitely share it.
---
Susan
Posting Rules

You may not post new threads

You may not post replies

You may not post attachments

You may not edit your posts

---

HTML code is Off

---