Havanese rescue Mom
Join Date: Jun 2007
Posts: 245
Submit Photo: 7
Photo Submissions 2 Times in 2 Posts
Playing in water bowl
---
My Olie puts both front feet in his water bowl and splashes until all the water is gone-when I leave the house. If I'm going to be away for a few hours I hate to take away their water for a long time.

Has anyone else seen this before?

Dana
Kubrick & Hitchcock's Mom
Join Date: Apr 2007
Location: New York, NY
Posts: 7,774
Submit Photo: 1
Photo Submissions 33 Times in 24 Posts
Dana, invest in a water bottle. There are many reasons he could be doing this, he could be hot and trying to cool down or he just loves water! He could also be anxious when you leave. A water bottle would be good because then you could leave them with water and not worry about it when you're gone.
---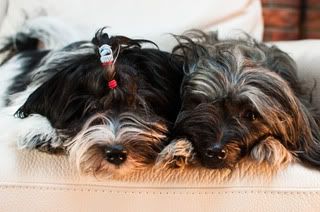 Visit
my blog

-----
Check out my
photos
-----
Photography (pets, people, weddings) -
TripleC Photography
Kimberly
Join Date: Aug 2006
Location: San Francisco Bay Area
Posts: 10,275
Submit Photo: 5
Photo Submissions 19 Times in 13 Posts
Ha ha ha ha! I haven't had any dogs do this, but I've also been using water bottles for a few years. I did have a cat that did this and it drove me crazy. I got to stand and watch him a few times and he was so calm, slow and calculating about it that I couldn't figure out how he made such a big mess, but he was facinated by playing with his water. (When I quit using reflective stainless steel bowls, it ended for him.)

I would second Carolina's suggestion and recommend that you move to water bottles. No more splashing allowed!

Now, you just have to hear Jan's story about Bandit and the water bowl... it's not the same, but funny nonetheless.
Senior Member
Join Date: Apr 2007
Location: FLORIDA!
Posts: 4,657
Submit Photo: 1
Photo Submissions 3 Times in 3 Posts
Quote:

Now, you just have to hear Jan's story about Bandit and the water bowl... it's not the same, but funny nonetheless.
Bandit used to love to run through the mud. She'd wind up with filthy paws and the little doll had a fast fix for it. When I'd come inside with the dogs there would be a splashing sound and the next thing we'd see was Bandit with clean legs. I couldn't figure out how the dirt was falling off of her like that until I put 2 and 2 together. The poodle water bowl had been getting really muddy. She would put her feet in the bowl and splash them a mile a minute and leave the poodle bowl filthy and march off to her nice clean water bottle for a fresh drink of water. I finally caught her in action
---
Jan
jashavanese.net
Senior Member
Join Date: Apr 2008
Posts: 3,018
Submit Photo: 73
Photo Submissions 11 Times in 11 Posts
havanese are too smart...
---
Her own personal foot (paw) bath? LOL

At the dog park there are three bowls in a long area. Some dogs will put front paws in one bow, their belly in the next, and their back paws in the third. Riki never drank from them but did use them to cool his jets so to speak.

Now I have a senior tabby cat who stares at his water bowl for hours at a time...his full water bowl by the way. I think he has kitty alzheimers.

Do you think the dog is playing with the water or just anxious?
---
I didn't just get havanese, I got a lifestyle!
Linda
Loving Havanese since 2003
Senior Member
Join Date: Sep 2006
Location: Kentucky
Posts: 2,166
Submit Photo: 5
Photo Submissions 8 Times in 4 Posts
Quote:
My Olie puts both front feet in his water bowl and splashes until all the water is gone-when I leave the house. If I'm going to be away for a few hours I hate to take away their water for a long time.

Has anyone else seen this before?

Dana
I started cracking up when I read this.
I just had to go out yesterday and buy new water bowls. My new little boy Simon does this. It is so funny to watch, but then they have no water. He would empty them as soon as fast as I could fill them up. I have two water bowls outside and he would go and empty the first one and head straight over to the second one.
I went to walmart and bought stainless steel bowl that were taller. So far so good. But today should be the test. I told DH, maybe he wants a swimming pool.
What a cute story Jan. I don't like mud in between my toes either.
I know Simon is just doing it for fun, he has a smile on the whole time.
---
Peace, Love & Havanese
---
Last edited by Paige; 08-24-2008 at

08:14 AM

.
Senior Member
Join Date: Apr 2007
Location: Long Island, New York
Posts: 8,941
Submit Photo: 3
Photo Submissions 41 Times in 25 Posts
I love those water stories. How cute and how smart are these babies. My only water story is the pool I bought for them, thinking they could have water play and all they did was think it was a giant drink of water.
---
<b>Just Milo and me, and . . . </b>Bailey makes three . . . until Ruby said, "hey, what about me?"
Geri, Milo, Bailey and HRH Princess Ruby Tuesday
If you're thinking of getting a puppy, click here
http://www.photoshow.com/watch/YK8AH4rw
Junior Member
Join Date: Mar 2008
Location: Michigan
Posts: 871
Submit Photo: 5
Photo Submissions 7 Times in 4 Posts
Roxie, the havanese who thinks she's a portequese water dog, puts her paws in every single water bowl she finds and splashes all the water out then looks up at you with an expression that say "ain't I smart?".... every water bowl except her small, raised stainless steel bowl next to her food bowl. Try one small enough for just his muzzzle.
---
~Ann and Roxie
Havanese rescue Mom
Join Date: Jun 2007
Posts: 245
Submit Photo: 7
Photo Submissions 2 Times in 2 Posts
I love all these stories. I'm sure some of it is separation anxiety and some just getting even with me for leaving him. I just hope he doesn't teach his new sister Itsy.
Yesterday I bought a new bowl, different configuration, we'll see. Photo later, getting ready for Nationals right now.
My concern with the water bottle, which I used for my last dog, is that it will refill as fast as he empties it.
I too watched him do it one day when I was still here. It was almost a digging motion with both hands.

Loving the stories and suggestions.
Dana
Lincoln and Scout's Mom
Join Date: Jun 2007
Location: San Francisco Bay Area, CA
Posts: 3,650
Submit Photo: 1
Photo Submissions 8 Times in 8 Posts
Geri, adorable photos! You can just see the thoughts spinning around in their heads!
---
Jane
Posting Rules

You may not post new threads

You may not post replies

You may not post attachments

You may not edit your posts

---

HTML code is Off

---