Amanda
Join Date: Nov 2006
Location: South Carolina
Posts: 9,576
Submit Photo: 2
Photo Submissions 31 Times in 22 Posts
Lazy Walker
---
Now that I have a second Havanese, I compare them a lot and they have so many similarities but one that is drastically different is going for a walk. For the past 2 months, I have been working on Dora losing weight. She gained a bit of weight and hasn't seemed to lose it so I started walking her alone. She doesn't like the dual lead with Belle or Dash (they go crazy and I wouldn't want to be hooked to them myself). Well I have come to the conclusion, Dora is just lazy (we have both gained weight for the same reason!!!)

At first, I thought the issue is she doesn't want to be walked alone. She would throw herself on the ground and I had to drag her a few blocks. My neighbors must have thought I was stealing someone's dog! But if I take the two, she doesnt like them pulling her and stops and puts on the breaks. We got thru walking alone after a few days of pretty much me just dragging her along. Then it turned into she got stuff on her. If there was a leaf anywhere on her, she would lay in the road during the walk. Then she got smart and would pretend something was on her- DH has caught her doing this, cause she knows we pick her up and examine her. There is nothing on her you put her down and she lays down again!

Meanwhile, I leave Dash and Belle at home and they go to the window and cry the entire time (Dash actually howls so I am not allowed to leave Dash if DH is home!) If I take just Belle or Dash, neither of them ever looks back for another dog, they can carry sticks and burrs all over them and I never know it on a walk.

Dora isn't lazy when it comes to squirrel chasing, getting cookies, and many times, we will come home from a walk and she will run around excited to be home. So I really don't think it is anything physical. She had a blood panel last year and was good. I really just don't know what else I can do to make walks enjoyable for her. I just thought dogs are suppose to love walks- my other two are totally opposite! Now take Dora offleash and go hiking, she loves it- she doesnt run like Belle and Dash but she is happy and wagging and going the entire time.

P.S. Dora is almost back to her weight so we have accomplished something in our struggle of the walk.

Does anyone else have a odd ball like me?
I dont have a dog like that, but I do find it fairly amusing
(sorry I find your struggle amusing Amanda...)
---
Natasha of
~Hermosa Havanese~
Home of:
Hailey, Ch Hyatt's Estrella Filante
Lizzy, Ch Hermosa's A Pirates Life For Me
Esme, Hermosa's Forbidden Romance(hitting show rings late 2009/early 2010!)
www.hermosahavanese.com
Benji and Lizzie's Mom
Join Date: Jun 2007
Location: New Jersey
Posts: 4,086
Submit Photo: 0
Photo Submissions 6 Times in 5 Posts
Amanda, I so enjoy stories of your furballs. Congratulations on losing Dora's weight!

I would say Lizzie could fit in with Dora. She is my chubby furgirl. She is laid back. Loves to eat and doesn't really like to walk or run for long. She is healthy but she is the happiest at home, playing with her toys when she wants or sitting at the front door watching squirrels, rabbits, birds or anything else that fancies her. She can sit there for hours. She is very affectionate but not demanding.

Benji on the other hand is very active, demands a lot of attention and is full of antics. Watches TV, me working on the computer, wants to know why I am hiding behind the newspaper, chases squirrels, asks me to pet his favorite Skineeze toys fox and skunk, brings them to bed to sleep with him. He is quite a character and keep us amused all the time with the stuff he comes up with.

The Havs are so entertaining!
---
Best, Poornima
Nala is also lazy! Which is funny because my husband and I are super active runners, hikers, skiiers etc and Nala prefers to sniff bushes and let the breeze blow in her fur. (I think she brings some zen balance to us!)

She really knows how to put the brakes on, a full lean and a very funny face! I used to carry chicken around in my pockets to motivate her. Now that its summer I may try to increase the walks. She REALLY doesn't like bad weather or puddles.

She does like routine and seems to do best if we do the same exact walk every day. When we walk by the coffee shop and I don't get a coffee, she puts the brakes on and looks at me like I forgot. Same thing if I don't go into the post office.

When I first got her she didn't like to leave the house and I would have to carry her away from the house and then walk back. I think it was a security thing with her.

I don't know if that helps at all.....

annie
---
nala's mom
Senior Member
Join Date: Nov 2006
Location: California
Posts: 2,082
Submit Photo: 3
Photo Submissions 3 Times in 3 Posts
Treadmill for mom and Dora???
---
Kathy
www.bellahavanese.com
Linda
Join Date: Nov 2008
Location: Eastern North Carolina
Posts: 5,409
Submit Photo: 73
Photo Submissions 24 Times in 22 Posts
I guess for about a month now....Dexter has been lazy too! I will have the leash on him and he does not want to leave the yard....then, it is the next yard....I call him in a very friendly mood and say "Come On" and pat my legs and bow down to Dexter (play position) and Dexter usually comes running....

Once we are walking, he is fine. We walk when the sun goes down and it is cooler outside.
---
Dexter & Jack
"One Hav is NOT enough to enjoy the RLH skills!"
Kubrick & Hitchcock's Mom
Join Date: Apr 2007
Location: New York, NY
Posts: 7,774
Submit Photo: 1
Photo Submissions 33 Times in 24 Posts
Doesn't Dora have a favorite toy (I thought it was a bunny of some sort)? I would use it with her as an incentive for her to walk. I don't really have that problem with my two as they both love a good walk, but I've found that a way to get Kubrick to do something that he really doesn't want to do is to have his favorite ball on hand. He'll do anything for it! I'm thinking, of course, for you to start out on smaller walks and work your way up... but perhaps if you bring a toy she goes crazy for (and throw it for her after a block then two, then three, etc.), it might help. Just throwing an idea out there.
---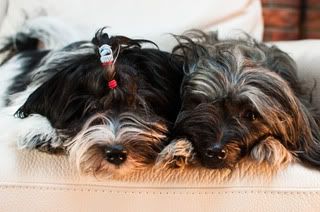 Visit
my blog

-----
Check out my
photos
-----
Photography (pets, people, weddings) -
TripleC Photography
Linda
Join Date: Nov 2008
Location: Eastern North Carolina
Posts: 5,409
Submit Photo: 73
Photo Submissions 24 Times in 22 Posts
Great idea Lina! I will be taking one of Dexter's toys on the next walk.
---
Dexter & Jack
"One Hav is NOT enough to enjoy the RLH skills!"
and Murphy & Gracie too!
Join Date: May 2008
Location: Cumming, GA
Posts: 6,989
Submit Photo: 5
Photo Submissions 22 Times in 21 Posts
Scooter loves a walk but Murphy will drag behind. If I start to run a little he'll catch up. One of our neighbors has a fake deer in their yard and we joke that it's Murphy's girlfriend! He can't wait to get to the end of the street to see it and runs but once we head back up the street he's a lazy bones. All of our neighborhood must think I'm crazy the way I talk to them when we're outside!
Maybe if you run just a little she'll get excited and want to chase you to keep up and then she'll walk? Works for us!
---
Ann-Scooter, Murphy, & Gracie's Mom
Amanda
Join Date: Nov 2006
Location: South Carolina
Posts: 9,576
Submit Photo: 2
Photo Submissions 31 Times in 22 Posts
Kathy-Have you been talking to Dasher and my agility instructor?

Lina- That is an excellent idea. She will do anything in the world for bunny. I am going to try that tonight if it isn't stormy.

Ann-you are just trying to get me to run!!! I am trying to start running with Dash and I am not giving any of you my address. Let's just say Dash puts on the breaks the other way like Mom, we just got started why are you heading back!


It is really funny because if anyone seen my two therapy dogs walk as a team, you would never know how trained they are. Dash and Belle are honestly the perfect match. They are both full speed ahead, no time to sniff or potty. Dora has always kind of been the other way but now taking her alone, I realize how much she doesnt like it. And the worst thing is she will lay down in the middle of the street, people's yards and act like I am dragging her. When Jim and I took her for the walk the other night, she ran out so happy and jumped up against the car!
---
Last edited by ama0722; 05-28-2009 at

07:48 AM

.
Posting Rules

You may not post new threads

You may not post replies

You may not post attachments

You may not edit your posts

---

HTML code is Off

---