Senior Member
Join Date: Apr 2007
Location: Georgia
Posts: 4,107
Submit Photo: 0
Photo Submissions 8 Times in 8 Posts
Evo dog food, anyone used?
---
I am still searching for a food that is healthy for all three dogs but does not contribute to Smarty's urinary track infections. Has anyone tried Evo Ancestral Diet?…Protein rich, ultra low carbs and no grains. It has came very highly recommended by a German Sheppard breeder The labeling is impressive, ingredients look good and with the sample bag the girls love it and think it is a treat.

I looked for Evo on HF search and could not find where it had be discussed at all.
---
Sandi, taking a new road with Smarty and Galen
kaybee
Join Date: May 2009
Location: NJ
Posts: 2
Submit Photo: 0
Photo Submissions 0 Times in 0 Posts
Hi, I am new here and just happened to see your post. My Hav is having some allergy issues and I just switched him to this food in the red meat. He was on the Innova Puppy and I thought it would help with his stools. A couple of good days but overall no real improvement. He seems to like the food okay but I think it is pretty rich so I don't give him so much and mix it with the wet from the same line. Overall it is a wonderful company from all that I have read online... very healthy and controlled well.
Baloo's Mom
Join Date: Mar 2009
Location: New Brunswick, Canada
Posts: 532
Submit Photo: 1
Photo Submissions 0 Times in 0 Posts
There has been alot of talk about the Innova kibble, there is a huge difference between Innova and the Innova Evo, with the Evo being the better high end food. You can refer to
http://www.dogfoodanalysis.com/
as well.
I tried to put Baloo on the Innova Evo small bites Chicken from raw....with no success because he likes the raw too much lol. I think there are a few folks using it though if you search Innova you should be able to find some.
---
~ Angie ~
Mom to Baloo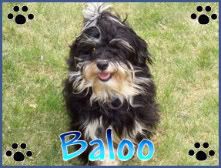 kaybee
Join Date: May 2009
Location: NJ
Posts: 2
Submit Photo: 0
Photo Submissions 0 Times in 0 Posts
Thanks for the information, I looked on there and the EVO seems to be for adult dogs (it says especially large breeds due to protien content) do you think it is too much for my 9 month old and that I should go back to the puppy formula??? Thanks
and Murphy & Gracie too!
Join Date: May 2008
Location: Cumming, GA
Posts: 6,989
Submit Photo: 5
Photo Submissions 22 Times in 21 Posts
We used Evo Red Meat small bites for a while but switched to Before Grains because Scooter was getting so picky. Evo, among others, was recommended to me by our vet and the guys at the store where we buy food say it's great too. Sometimes I buy the small, sample packs to use as treats because I know it's good quality. Scooter was on it for at least the first six months we had him and nobody ever mentioned that it wasn't for puppies.
---
Ann-Scooter, Murphy, & Gracie's Mom
Baloo's Mom
Join Date: Mar 2009
Location: New Brunswick, Canada
Posts: 532
Submit Photo: 1
Photo Submissions 0 Times in 0 Posts
I was told at the store by the owner (she is also a dog trainer and breeder) and by my vet that the Evo small bites has all the nutrients needed for puppies too. Baloo will eat it, just likes his raw alot better. I still have almost a full bag, sometimes I give him some at night if he seems hungry or if we did alot of training/walking in the day and I think he needs more. DH still wants to switch to dog food, we may do the evo wet and dry (if he wins this battle
)
My vet and the dog health food store also recommended Orijen. There are alot of good dog foods in the market now, it is really a hard choice to make. Good luck!
---
~ Angie ~
Mom to Baloo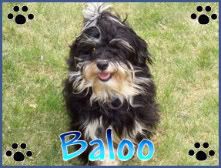 Total Havanese Groupie
Join Date: Dec 2007
Posts: 2,639
Submit Photo: 7
Photo Submissions 37 Times in 16 Posts
evo rocks, my girl does very well on this kibble mixed with a tbsp of evo canned. i have not had any problems with this food and it is rated very highly. there are a quite a few of us that feed this to our havs.

don't worry about puppy food vs. adult food, from what little research i've done it's a simple marketing ploy and she will totally be fine on adult evo.
My Dogs Mom
Join Date: Aug 2007
Location: Carlsbad, Ca
Posts: 3,476
Submit Photo: 2
Photo Submissions 13 Times in 11 Posts
M three are on Evo Chicken Small bites exclusively. Gabby is only 15 weeks and it is great for her too. It is a highly recommended food. All three are demand feeding which makes my life real easy and makes them happy campers.
Carole
---
Carole
Vinny, Lulu, Gabby and Richie too!
Be yourself, everyone else is taken.
Senior Member
Join Date: Nov 2006
Location: Long Island, NY
Posts: 8,619
Submit Photo: 3
Photo Submissions 19 Times in 19 Posts
I use EVO Chicken and Beef small bites. I buy a small bag of each and mix them together. They are doing very well on the EVO. They very rarely have runny stools, and don't poop as often.
---
Michele
Kodi & Shelby's Mom and Julian's Grandma
Senior Member
Join Date: Jan 2009
Location: Machesney Park, Illinois
Posts: 232
Submit Photo: 2
Photo Nominations 1 Time in 1 Post
I've found that mine need variety. So, although I buy them both chicken and red meat small bites Evo, they sometimes refuse to eat it and I'll give them a different brand and they eat like little piggies. A week later, I put down Evo and they eat it just fine again. I don't mix the red meat and chicken, but I do rotate.
---
Kathleen
Owned by Holly, Duffy and Hannah Grace

You're in our hearts, Riley, Finnegan, Allen, Mia, Oscar, Tiki
Posting Rules

You may not post new threads

You may not post replies

You may not post attachments

You may not edit your posts

---

HTML code is Off

---