Junior Member
Join Date: Jul 2009
Posts: 3
Submit Photo: 1
Photo Nominations 1 Time in 1 Post
unusual illness
---
My one year old havanese was recently diagnosed with auto-immune meningitis. We were lucky to catch it in time and he is positively responding to a heavy regimen of antibiotics to be followed by steroid treatments. He was a sick little pup, that's for sure. Has anyone ever heard of such an illness in this breed?
Buster's Mommy
Join Date: Apr 2009
Location: Atlanta
Posts: 74
Submit Photo: 0
Photo Submissions 0 Times in 0 Posts
That's awful. I hope he gets better soon. What were his symptoms?
---
Stacy & Buster
Mom to Hobbes
Join Date: Oct 2008
Location: New Jersey
Posts: 272
Submit Photo: 0
Photo Submissions 0 Times in 0 Posts
Oh no that sounds so scary. Hope he feels better soon.
---
Cindy and Hobbes
From the Pines in NJ
Mom to Ricky and Sammy
Join Date: Jan 2007
Posts: 10,319
Submit Photo: 30
Photo Submissions 21 Times in 17 Posts
I'm very sorry to hear your puppy was so sick. I would like to know about his symptoms as well, as I don't know anything about the disease. Are you able to work closely with his breeders who may be able to help?




---
Hello. My name is marj and I have MHS.
"The greatness of a nation and its moral progress can be judged by the way its animals are treated." Mahatma Gandhi
"Come to the edge, he said. They said: We are afraid. Come to the edge, he said. They came. He pushed them and they flew." -Guillaume Apollinaire"
Senior Member
Join Date: Nov 2006
Location: Massachusetts
Posts: 11,746
Submit Photo: 27
Photo Submissions 48 Times in 35 Posts
Hi Peg (hope that is your name), welcome to the forum. I hope your little guy will be ok. About a year or so ago I had a horrible time with Cash. Meningitis arteritis was tossed around as a diagnosis. But $3500 in tests later they had no definetive test results so just they through all sorts of medicines at him...2 antibiotics and prednisone if the antibiotics didn't work. Luckily they did so we never had to start a course of steroids. They are assuming that Cash had some sort of tick born or Protozoa born disease.
How did they arrive at your diagnosis? And what were your Havs symptoms? I am curious if they are/were the same as Cash's.
If it helps you, you might want to go through this thread that I started at them time. I had forgotten a lot of it. It is a long thread,so the first mention of Meningitis is around post #133.
http://havaneseforum.com/showthread....Cash%27s+night
I would be curious if your Havs symptoms were the same... Cash was also around a year old, and very, very, very sick. But he is totally fine now. I hope the same for your little furball.
---
Missy, Jasper & Cash
Senior Member
Join Date: Apr 2008
Posts: 3,018
Submit Photo: 73
Photo Submissions 11 Times in 11 Posts
Bless your heart...
---
---
I didn't just get havanese, I got a lifestyle!
Linda
Loving Havanese since 2003
I have not heard of that but in 1996 I had a one year old male Hav die from immune mediated hemolytic anemia. He came down with it a week after his yealy vaccinations It was the most heartbreaking thing to lose my Rico. I am glad your pup responded to the treatment!
---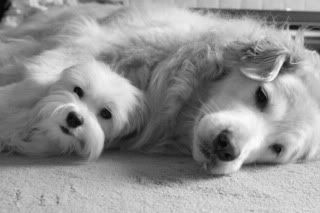 Nicole, Izzo and Cassie's Mom. I'm also Vinny's big sister
Linda
Join Date: Nov 2008
Location: Eastern North Carolina
Posts: 5,409
Submit Photo: 73
Photo Submissions 24 Times in 22 Posts
I am very curious about the symptoms as well, what is the Vet saying?
---
Dexter & Jack
"One Hav is NOT enough to enjoy the RLH skills!"
Senior Member
Join Date: Apr 2007
Location: FLORIDA!
Posts: 4,657
Submit Photo: 1
Photo Submissions 3 Times in 3 Posts
---
Jan
jashavanese.net
Beth and the girls
Join Date: Feb 2009
Location: Florida
Posts: 1,926
Submit Photo: 1
Photo Submissions 7 Times in 5 Posts
How horrible. I too am curious about the symptoms. I sure hope your little guy is on the road to recovery.
---
Blessings, Luna and the girls
Posting Rules

You may not post new threads

You may not post replies

You may not post attachments

You may not edit your posts

---

HTML code is Off

---