Metrowest, MA
Join Date: Jun 2009
Location: Massachusetts
Posts: 25,007
Submit Photo: 8
Photo Submissions 345 Times in 343 Posts
NEAROE Tournament of Champions
---
Ruth (me) Chester (dog)
Join Date: May 2013
Location: St. Louis area
Posts: 887
Submit Photo: 16
Photo Submissions 8 Times in 8 Posts
Wow he is gooood!!!!
And he leaps good too!
---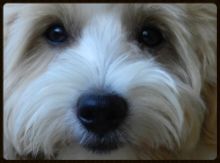 Hav to hav a Hav!!!
Ruth and Chester
(Chester's DOB - 4/04/13)
"Dogs are NOT stupid, they are smarter than you think."
Evelyn
Join Date: Apr 2010
Location: Chicago burbs
Posts: 4,652
Submit Photo: 4
Photo Submissions 30 Times in 28 Posts
I always enjoy seeing the two of you work together! He is such a smart little guy!! Takes a lot of work and patience.
---
Dave T
Join Date: Dec 2007
Location: Ontario Canada
Posts: 10,874
Submit Photo: 3
Photo Submissions 119 Times in 117 Posts
way to go team K .
---
Dave and Molly
Ian Dunbar was awarded the Outstanding Achievement Award from I.P.D.T.A. Here's a picture of me accepting the award on his behalf.
Member of IAABC ,International Association of Animal Behavior Consultants , Member of Pet Professional Guild
Metrowest, MA
Join Date: Jun 2009
Location: Massachusetts
Posts: 25,007
Submit Photo: 8
Photo Submissions 345 Times in 343 Posts
BTW, I know that most of the time that I post photos of him, or especially show videos, he has been freshly bathed and blow dried. I didn't bathe him before this trial because we were camping. You can very clearly see the amount of natural wave he has in his coat in these videos. (You CAN'T see the grey-ish paws and belly from walking around on the dirt roads in the camp ground!
)
Senior Member
Join Date: Aug 2012
Location: Cape Cod, MA
Posts: 2,550
Submit Photo: 9
Photo Submissions 19 Times in 19 Posts
Great job, again, you two. You always do such good work together.
n thanks for sharing. I never get tired of watching you work.
---

Mary (miss you, Bailey-1996-2011 and Tyler-1997-2015)
Senior Member
Join Date: Feb 2012
Location: Long Island
Posts: 822
Submit Photo: 2
Photo Submissions 8 Times in 8 Posts
Love the tail wags and the bouncies!
---
RITA
Metrowest, MA
Join Date: Jun 2009
Location: Massachusetts
Posts: 25,007
Submit Photo: 8
Photo Submissions 345 Times in 343 Posts
Posting Rules

You may not post new threads

You may not post replies

You may not post attachments

You may not edit your posts

---

HTML code is Off

---