Senior Member
Join Date: Nov 2006
Location: California
Posts: 2,082
Submit Photo: 3
Photo Submissions 3 Times in 3 Posts
2009 HCA National Specialty Logo Contest
---
The holidays are behind us so dust off your pens, pencils, paints and what other media that you would like to use and get your logos to me for the logo contest. I wasnít able to be on line due to a medical condition, but I have responded to everyone that I have received an entry from. So, in case you havenít heard from me and have submitted an entry, please contact me. Several people had suggested a logo contest so we are looking forward to your entries. Everyone is welcome to submit as many entries as you like. This is going to be a wonderful National Specialty, celebrating the 30th anniversary of the founding of the HCA. So send an entry! Here is your chance to show off your talents and win a free night stay during the Specialty at the beautiful Westin Lombard in the greater Chicago, IL area.
All entries must be received by midnight Feb 8th, PST.
Please send entries to Claudia McCracken at
[email protected]
The winner will be selected by a panel of three AKC Judges.
The winner must sign a release form and the logo will become the property of the Havanese Club of America.
Please feel free to cross post, all are welcome to enter.
For questions please e-mail me at
[email protected]
Claudia McCracken
---
Kathy
www.bellahavanese.com
Kubrick & Hitchcock's Mom
Join Date: Apr 2007
Location: New York, NY
Posts: 7,774
Submit Photo: 1
Photo Submissions 33 Times in 24 Posts
Is there some way someone can post examples from past years so people can get an idea as to what's been done?
---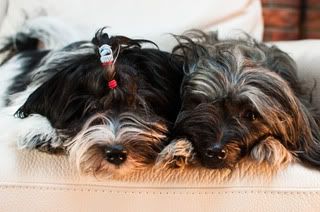 Visit
my blog

-----
Check out my
photos
-----
Photography (pets, people, weddings) -
TripleC Photography
Senior Member
Join Date: Jan 2007
Location: Toronto, ON, Canada!
Posts: 4,155
Submit Photo: 0
Photo Submissions 16 Times in 6 Posts
Hi Kathy,

What are the criteria for the logo?

Thanks!
Ryan
---
Senior Member
Join Date: Nov 2006
Location: California
Posts: 2,082
Submit Photo: 3
Photo Submissions 3 Times in 3 Posts
There aren't any Ryan, let your imagination lead you. Remember though this is the 30th Anniversary and it is for the Havanese National! <grin> Didn't want your mind to go in another direction.

Lina, I don't have samples of previous logo's but they all had a drawing or picture of a havanese and staying within a theme they felt represented the area of the national. Like last time it was in Chicago there was a Havanese head that had a hat and glasses to look like a "Blues brother". It was nice.
---
Kathy
www.bellahavanese.com
Posting Rules

You may not post new threads

You may not post replies

You may not post attachments

You may not edit your posts

---

HTML code is Off

---