Amanda
Join Date: Nov 2006
Location: South Carolina
Posts: 9,576
Submit Photo: 2
Photo Submissions 31 Times in 22 Posts
MIA- Leslie!!!
---
Leslie and Tori are without internet (yikes- I can't imagine!) so if anyone is waiting on emails, etc that is why!

Let's hope they get connected soon!

Amanda
Join Date: Feb 2008
Posts: 696
Submit Photo: 5
Photo Submissions 0 Times in 0 Posts
Aw.... COME BACK TO US SOON Leslie and Tori!!!
Kubrick & Hitchcock's Mom
Join Date: Apr 2007
Location: New York, NY
Posts: 7,774
Submit Photo: 1
Photo Submissions 33 Times in 24 Posts
I think I would go insane without internet! I'm such an addict, LOL. Hope to see you around again soon Leslie!
---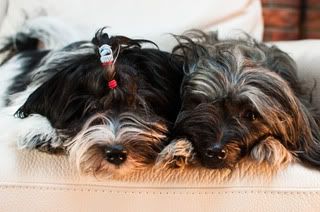 Visit
my blog

-----
Check out my
photos
-----
Photography (pets, people, weddings) -
TripleC Photography
Luv My Biewer
Join Date: May 2007
Location: Rocklin, CA
Posts: 3,068
Submit Photo: 0
Photo Submissions 0 Times in 0 Posts
Oh I'm a major addict too Carolina. We miss you guys. Hurry back.
---
Northern California
Member BBCA (Biewerbci.org)



Home of VanLeigha Jr. Handlers
Tori's mom
Join Date: Feb 2007
Location: Sunny SoCal
Posts: 4,988
Submit Photo: 19
Photo Submissions 10 Times in 6 Posts
My Dogs Mom
Join Date: Aug 2007
Location: Carlsbad, Ca
Posts: 3,476
Submit Photo: 2
Photo Submissions 13 Times in 11 Posts
whew, so glad we found you!
Carole
---
Carole
Vinny, Lulu, Gabby and Richie too!
Be yourself, everyone else is taken.