Amanda
Join Date: Nov 2006
Location: South Carolina
Posts: 9,576
Submit Photo: 2
Photo Submissions 31 Times in 22 Posts
Signature Pictures
---
Thanks everyone for the nice comments and pm's. I am more than willing to share my tricks! As to the posing, they all know sit, down, and stand so that is easy. I have to say my trick is I train my dogs to look at me from a young age. Not really for cute pictures but for obedience training. What I start with is my dog on the heel side and I have a cookie at the side of my face and I give the command "watch me". Then "yes" and treat. I eventually remove the cookie from my face but have in pocket, etc. To this day, you say watch me and Dora gets excited.
Unfortunately when I add a camera into the mix, Isabelle HATES having her picture taken. She always has. I have tons of Belle pictures with her throwing a fit turning around, laying down, or running out of the picture area. This is with no flash as well. She just doesn't like to have her picture taken. Dora makes up for her as she wants front and center cause she knows camera means cookies. So I usually take a bunch of pictures and post the one that Belle looks the best in!
Another thing, tired dogs sit longer. Hence most of my pictures they are messy mops- cause they have been out and about running around for an hour and are now tired enough to stay put. This is very hard for Belle when we are out hiking but this is when I usually get the best Belle pictures
---
Last edited by ama0722; 08-18-2010 at

05:03 PM

.
Senior Member
Join Date: Jan 2008
Location: Cajun Country
Posts: 2,876
Submit Photo: 23
Photo Submissions 6 Times in 5 Posts
I need to try the watch me thing. And I'm dying to meet Belle.
---
Kim, Santos & Brew
Amanda
Join Date: Nov 2006
Location: South Carolina
Posts: 9,576
Submit Photo: 2
Photo Submissions 31 Times in 22 Posts
Just an example I took the first one posted as my current signature and this is what it looked like from there on out. Like I beat the maltese into taking her picture. I know she has been at playdates with forum members who saw her react very negative to the camera. Even video cameras, she only likes to be a star in person.
---
Last edited by ama0722; 08-18-2010 at

04:32 PM

.
Senior Member
Join Date: Nov 2006
Location: California
Posts: 2,082
Submit Photo: 3
Photo Submissions 2 Times in 2 Posts
All of mine will "sit" for about a nano second when I am trying to take a picture. Queenie loves to have her picture taken, her mother however, typically looks so pitiful, you would think I was torturing her!!
---
Kathy
www.bellahavanese.com
Kimberly
Join Date: Aug 2006
Location: San Francisco Bay Area
Posts: 10,275
Submit Photo: 5
Photo Submissions 18 Times in 12 Posts
Great topic with gorgeous samples, Amanda!

Belle is definitely funny when it comes to the camera. She reminds me of those humans that think the camera will steal their soul. She has a totally adverse reaction to that thing pointing at her.
Senior Member
Join Date: Jul 2008
Location: Argyle, Texas
Posts: 982
Submit Photo: 1
Photo Submissions 3 Times in 3 Posts
Amanda, I've always adored your babies and your photos. You make it sound easy, but it's quite a feat to get all three to "watch". Max hates his picture taken, too, and turns his head to the side or squints his eyes (until I learned to turn off flash).

I love those three tongues hanging out! lol
---
Janan
Max and Cooper
Allison, owned by Sydney
Join Date: Mar 2010
Location: Toronto, Canada
Posts: 170
Submit Photo: 0
Photo Nominations 1 Time in 1 Post
All of those pictures are fantastic!
I must say, I think Sydney has the exact opposite camera reaction to Belle's. Sydney cannot pose enough. Every time she hears or sees the camera, she poses and looks at me. Don't get me wrong, it works to my advantage most of the time, but it makes it completely IMPOSSIBLE to take a candid shot! Every time she is doing something cute and I attempt to capture it, she stops and sits and looks at me.
---
Allison & Sydney
and Murphy & Gracie too!
Join Date: May 2008
Location: Cumming, GA
Posts: 6,989
Submit Photo: 5
Photo Submissions 22 Times in 21 Posts
I'm working on the "watch me" command too, not very well though. With nice weather now I hope to work with each dog individually more and have better behaved pups!

Belle is a sweetie, Amanda tells lies!
---
Ann-Scooter, Murphy, & Gracie's Mom
LOVE LOVE LOVE your pictures!!!!!
---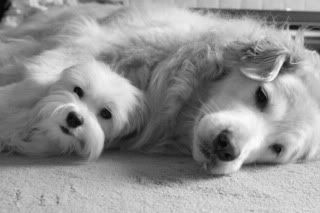 Nicole, Izzo and Cassie's Mom. I'm also Vinny's big sister
Benji and Lizzie's Mom
Join Date: Jun 2007
Location: New Jersey
Posts: 4,086
Submit Photo: 0
Photo Submissions 6 Times in 5 Posts
Amanda, I love your furballs. Lovely pictures! I wish I had met Belle. She is quite a character.
---
Best, Poornima
Posting Rules

You may not post new threads

You may not post replies

You may not post attachments

You may not edit your posts

---

HTML code is Off

---