View Poll Results

: Who is your choice for best Autumn 2013 Photo?

Post #2 - Tuss
3
7.32%
Post #3 - Whimsy
12
29.27%
Post #9 - Laurief
9
21.95%
Post #12 - Shazartist
1
2.44%
Post #13 - WestCoastHavanese
0
0%
Post #19 - DharmaTheWonderDog
5
12.20%
Post #5 - Wildhilda
4
9.76%
Post #10 - Ruth4Havs
3
7.32%
Post #16 - Targaryen
4
9.76%
Voters: 41. You may not vote on this poll
Administrator
Join Date: Aug 2010
Location: Toronto, Canada
Posts: 671
Submit Photo: 0
Photo Submissions 11 Times in 9 Posts
Havanese Forum 2013 Autumn Photo Contest
---
Hey everyone,
Hope you're all doing well and enjoying your Autumn wherever you are (provided wherever you are has Autumn).
This is the official thread for our 2013 Autumn Photo Contest. Here are the rules:

1. Members can only submit ONE image so make it count. If you have more than one dog, you are still only allowed ONE image. If you submit more than ONE image, we will only take into consideration the first image you submit.
2. Members can vote for ONE image when it comes time to voting.
3. Images should have to be in line with the Autumn theme so it can include Halloween costumes of your dog.
4. Images that are heavily photoshopped will NOT be accepted. We're okay with corrections to color, contrast, sharpness... but once you start superimposing your dog on a background of an Autumn park with beautiful fall colors, that's where we draw the line.
The Admin/Mods reserve the right to NOT accept any image that is determined to violate the spirit of this rule.
*** Deadline for submissions is Sunday October 27 at 11:59pm EST. All images submitted after this deadline will NOT be accepted. ***

Deadline for voting will be October 31 (though this may be extended by a day or two if we don't get enough votes in).
Prize:

We will be giving a gift card to the winner in a dollar amount that we have not determined yet (but we promise to make it worth your while).
Please submit your images in THIS THREAD.
All the best to everyone!!!
Evelyn
Join Date: Apr 2010
Location: Chicago burbs
Posts: 4,652
Submit Photo: 4
Photo Submissions 30 Times in 28 Posts
Miss Whimsy..
---
Senior Member
Join Date: Oct 2010
Location: West Linn Oregon
Posts: 4,845
Submit Photo: 21
Photo Submissions 40 Times in 40 Posts
Well I don't think I can top the first two
How can you get any better than those? I only have one fall picture so I'll wait to see if I can catch anything as nice as those.
---
Maddie at 5mo old
Member
Join Date: Oct 2013
Location: Mönchengladbach, Germany
Posts: 54
Submit Photo: 0
Photo Submissions 2 Times in 2 Posts
Gemma's picture is great and I think, too, we cannot top this.
Hilda with her most favorite toy (a blue natural rubber bone, that can swim as well) on one of our autaumn walks:
---
Last edited by wildhilda; 10-21-2013 at

05:00 AM

. Reason: Pic disappeared - I abloaded it anew
Administrator
Join Date: Aug 2010
Location: Toronto, Canada
Posts: 671
Submit Photo: 0
Photo Submissions 11 Times in 9 Posts
Jen, Timmy and Mae
Join Date: Sep 2011
Location: Philly Burbs
Posts: 1,672
Submit Photo: 21
Photo Submissions 16 Times in 16 Posts
Quote:
Well I don't think I can top the first two
How can you get any better than those?
Quote:
How is it that Whimsy always has looks so impecibly groomed! And Hilda has the most beautiful playful eyes! So sweet!
Totally agree!
---
Senior Member
Join Date: Nov 2006
Location: New Jersey
Posts: 9,794
Submit Photo: 2
Photo Submissions 28 Times in 20 Posts
This is my sleeping sweetie Aisling!!
There is a pumpkin on her sweater!
---
Lily, Lexi ,Logan, Laila & Lizzie's Mom
www.HillsboroughHavanese.com
(Gigi, Lucas, Dugan, Madeline,Reo,Alvin, Lucky, Lukey, Punch, Colby & Ben-(we will always Love you!!)
Ruth (me) Chester (dog)
Join Date: May 2013
Location: St. Louis area
Posts: 887
Submit Photo: 16
Photo Submissions 8 Times in 8 Posts
Here is Sir Chester...
(BTW, how do you vote? Do you Submit Great Photo?)
---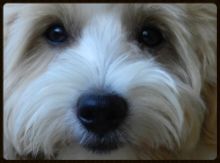 Hav to hav a Hav!!!
Ruth and Chester
(Chester's DOB - 4/04/13)
"Dogs are NOT stupid, they are smarter than you think."
---
Last edited by Ruth4Havs; 10-22-2013 at

09:03 PM

.
Posting Rules

You may not post new threads

You may not post replies

You may not post attachments

You may not edit your posts

---

HTML code is Off

---