Joe
Join Date: Feb 2008
Location: canada
Posts: 814
Submit Photo: 0
Photo Submissions 4 Times in 2 Posts
Pablo&Chuy's momma
Join Date: Jul 2007
Location: Eden, NC
Posts: 4,286
Submit Photo: 11
Photo Submissions 9 Times in 8 Posts
Joe, the link is not working for me
---
Joe
Join Date: Feb 2008
Location: canada
Posts: 814
Submit Photo: 0
Photo Submissions 4 Times in 2 Posts
Pablo&Chuy's momma
Join Date: Jul 2007
Location: Eden, NC
Posts: 4,286
Submit Photo: 11
Photo Submissions 9 Times in 8 Posts
It works now
and I recognized some of our forum Havs.
---
Senior Member
Join Date: Apr 2007
Location: SF area
Posts: 6,425
Submit Photo: 63
Photo Submissions 62 Times in 48 Posts
I belong! Yes--that is Oliver and Comet. I do know some other forum people on flickr Great photos.
Joe do you belong?
---
Sally,((Oliver)) Comet and Pennie too!
The best things in life are not things!
---
Last edited by mintchip; 02-06-2008 at

08:56 PM

.
Joe
Join Date: Feb 2008
Location: canada
Posts: 814
Submit Photo: 0
Photo Submissions 4 Times in 2 Posts
i joined a little while ago, found it on my endless search for info on the lil' havs.

joe
Kubrick & Hitchcock's Mom
Join Date: Apr 2007
Location: New York, NY
Posts: 7,774
Submit Photo: 1
Photo Submissions 33 Times in 24 Posts
I'm a member too! I'm havnknitlover on flickr.
---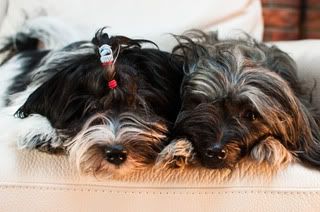 Visit
my blog

-----
Check out my
photos
-----
Photography (pets, people, weddings) -
TripleC Photography
Kimberly
Join Date: Aug 2006
Location: San Francisco Bay Area
Posts: 10,275
Submit Photo: 5
Photo Submissions 19 Times in 13 Posts
Several members there are members here. I'm not active there though. I just keep my own Flickr account updated as I can. I can't afford to spread myself any farther elsewhere. It is fun to look through the Pool on occasion though. Enjoy!

You'll see a lot of great photos from hav_time (Sally/mintchip) and from mybluemuse (Patti/clubbabalu) there as well as Carolina (above), and occasionally from the other Martin Taylor (Patti's husband) and havahav (same name here). As I browse through the photos, I recognize some others as well.
My Dogs Mom
Join Date: Aug 2007
Location: Carlsbad, Ca
Posts: 3,476
Submit Photo: 2
Photo Submissions 13 Times in 11 Posts
Oh, great Joe. You've just introduced me to another hav habit! hahaha
---
Carole
Vinny, Lulu, Gabby and Richie too!
Be yourself, everyone else is taken.
Hiro 23.03.2007
Join Date: Jan 2008
Location: Hengelo in the Netherlands
Posts: 491
Submit Photo: 0
Photo Submissions 25 Times in 13 Posts
Posting Rules

You may not post new threads

You may not post replies

You may not post attachments

You may not edit your posts

---

HTML code is Off

---