Total Havanese Groupie
Join Date: Dec 2007
Posts: 2,639
Submit Photo: 7
Photo Submissions 37 Times in 16 Posts
You Asked for Them...Pics of the Birthday Girl
---
Well, I can't join the Nikon gang...
because I took these with my Canon!
Here is Posh picture overload from her first birthday. She's wearing the dress sent by Tammy from Petflys (it's really cute and says "who's your baby?") and you can see her new carrier which was also sent by the nice folks at Petflys. It's a lot roomier, she can stand up in it, so for longer trips I will definitely use the bigger one!
---
Last edited by Posh's Mom; 08-22-2010 at

02:49 PM

.
Senior Member
Join Date: Nov 2007
Location: Arkansas
Posts: 1,869
Submit Photo: 0
Photo Submissions 19 Times in 6 Posts
What beautiful girls you have, Amy!
Those pics are fantastic. The "violet" pic is very cool.

And I'm thinking I need to start a thread about house pics. Because from all your pics, I know I'd just LOVE your home!!
---
Tritia, Daisy, Cooper, and Bodie.
Katie
Join Date: Sep 2006
Location: Rocklin, CA
Posts: 2,217
Submit Photo: 1
Photo Submissions 18 Times in 14 Posts
Posh is so adorable!
Somehow I missed her birthday thread~ So~ Happy Birthday Posh!!
What type of flooring do you have? It looks great!
We are on the hunt to replace our flooring, but hubby and I can't seem to agree. He wants new carpet (umm....6 dogs and puppies? yikes!) I want to do wood laminate~~ (which he hates) UGH!
---
Katie
www.MopTopHavanese.com
Paws.....and reflect on what life has given you~
Jeanne
Join Date: Mar 2007
Location: SF Bay Area
Posts: 2,622
Submit Photo: 2
Photo Submissions 3 Times in 3 Posts
Wonderful pictures of your girls, Amy! I don't know how I missed Posh's 1st birthday. HAPPY BIRTHDAY, POSH!!
---
Jeanne (Mom to Maddie)
Total Havanese Groupie
Join Date: Dec 2007
Posts: 2,639
Submit Photo: 7
Photo Submissions 37 Times in 16 Posts
Thanks for the house and girl compliments Tritia. Sometimes I think we live in a "nothing matches crazy little mish mash house," so it's nice to hear compliments. I guess we're (and by that I mean I) are very eclectic and a little bit nuts!
Katie we have a concrete floor, it's the original cement that they poured as a foundation for the house, since we don't have a basement (although I imagine you don't really have too many basements in CA?!). My husband paid $300 for some sort of chemical stain stuff that he did himself, I guess this can be difficult to do, but he's one of those annoying people that do everything well the first time. E.g. he built our house, and did all the landscaping and he isn't a builder, he's an art teacher who reads books and internet articles and then goes and does it!
Happy birthday Posh!!
Amy, what beautiful pictures!
Your daughter is adorable and I love the picture where it looks like Miss Posh is smiling up at you!
Bugsy's Mom
Join Date: Nov 2006
Location: San Francisco, CA
Posts: 4,341
Submit Photo: 3
Photo Submissions 6 Times in 5 Posts
Miss Posh is such a pretty girl. Happy birthday!
---
-Julia
Kubrick & Hitchcock's Mom
Join Date: Apr 2007
Location: New York, NY
Posts: 7,774
Submit Photo: 1
Photo Submissions 33 Times in 24 Posts
Posh is beautiful! Happy Birthday to her!
---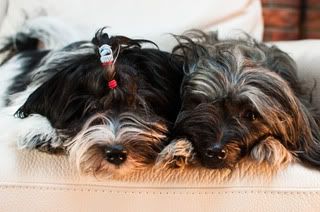 Visit
my blog

-----
Check out my
photos
-----
Photography (pets, people, weddings) -
TripleC Photography
Luv My Biewer
Join Date: May 2007
Location: Rocklin, CA
Posts: 3,068
Submit Photo: 0
Photo Submissions 0 Times in 0 Posts
Your pictures are beautiful. Gotta love that girl!
---
Northern California
Member BBCA (Biewerbci.org)



Home of VanLeigha Jr. Handlers
---
Last edited by Me&2Girls; 05-08-2008 at

10:11 PM

.
-diane
Join Date: Apr 2008
Location: Oregon
Posts: 1,504
Submit Photo: 11
Photo Submissions 0 Times in 0 Posts
GREAT photos, Amy!!!
---
-diane, Sophie and Gabriel's personal servant
Posting Rules

You may not post new threads

You may not post replies

You may not post attachments

You may not edit your posts

---

HTML code is Off

---