Toby doing the Fall roll
---
Sunday, I decided to go to campus and work in my office. Of course I took Toby with me. The leaves were so beautiful and we had great morning light, so I wanted to take a couple pictures. I begged, pleaded, bribed, but he would
not
pose for me. His nose was stuck in the leaves. Then he found it... A stinky spot. I never did find anything, but leaves thankfully.
This made me think of how Gucci gets upset about twigs and leaves getting stuck in her fur. It seems Toby likes to encourage it.
Senior Member
Join Date: Aug 2007
Posts: 936
Submit Photo: 15
Photo Submissions 9 Times in 7 Posts
Haha! Look at that pink belly
Senior Member
Join Date: Feb 2008
Posts: 2,365
Submit Photo: 0
Photo Submissions 16 Times in 12 Posts
Aaaaah! There's nothing like a good roll in the leaves! What fun pictures, they just made me smile! THANKS!!!
---
Jill - Tess & Cody's mom
Kubrick & Hitchcock's Mom
Join Date: Apr 2007
Location: New York, NY
Posts: 7,774
Submit Photo: 1
Photo Submissions 33 Times in 24 Posts
Too cute!!
---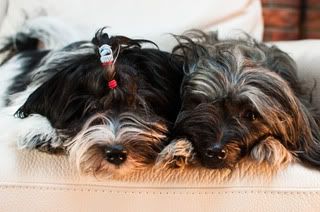 Visit
my blog

-----
Check out my
photos
-----
Photography (pets, people, weddings) -
TripleC Photography
Tori's mom
Join Date: Feb 2007
Location: Sunny SoCal
Posts: 4,988
Submit Photo: 19
Photo Submissions 10 Times in 6 Posts
Senior Member
Join Date: Nov 2006
Location: Massachusetts
Posts: 11,746
Submit Photo: 27
Photo Submissions 48 Times in 35 Posts
me too...GFETE!!!
---
Missy, Jasper & Cash
Junior Member
Join Date: Mar 2008
Location: Michigan
Posts: 871
Submit Photo: 5
Photo Submissions 7 Times in 4 Posts
ooooooooo............. he is "stinkin" cute!!
---
~Ann and Roxie
Quincy's Mom-Vinnie too!
Join Date: Feb 2007
Location: Ia.
Posts: 9,923
Submit Photo: 35
Photo Submissions 17 Times in 16 Posts
that is cute----Toby----what a stinker! You still captured him with your camera no matter what! Pose or no pose Toby--you've been had!
---
Vincent-Quincy's playmate
"Behind every unstable dog is a lesson for the owner"-Cesar Millan
Total Havanese Groupie
Join Date: Dec 2007
Posts: 2,639
Submit Photo: 7
Photo Submissions 37 Times in 16 Posts
Senior Member
Join Date: Oct 2008
Location: Twin Falls, Idaho
Posts: 6,248
Submit Photo: 11
Photo Submissions 53 Times in 50 Posts
What a picture of a happy dog! Makes me smile.

Sheri
Posting Rules

You may not post new threads

You may not post replies

You may not post attachments

You may not edit your posts

---

HTML code is Off

---