Karen
Join Date: Nov 2006
Location: PA
Posts: 3,067
Submit Photo: 4
Photo Submissions 16 Times in 9 Posts
Brady and Dougan pictures and videos
---
Here are a few videos I took today of Brady and Dougan. I figured I will be posting these regularly so it was time to put it in it's own thread.
---
**Karen, Mom to Brady, Dugan, and Devon
| | |
| --- | --- |
| The Following User Nominates Brady's mom Great Photo: | |
Senior Member
Join Date: Feb 2008
Posts: 2,365
Submit Photo: 0
Photo Submissions 16 Times in 12 Posts
What fun! I'll bet you all are having the best time. Poor Brady (although he doesn't look like he minds too much), that little Dougan isn't afraid of anything is he? I love him jumping on top of Brady & pinning him down! Keep the pictures & videos coming!
---
Jill - Tess & Cody's mom
Riley & Monte's mom
Join Date: Feb 2007
Location: MA
Posts: 5,579
Submit Photo: 2
Photo Submissions 16 Times in 13 Posts
Mom to Ricky and Sammy
Join Date: Jan 2007
Posts: 10,319
Submit Photo: 30
Photo Submissions 21 Times in 17 Posts
Yaaaaaaay! Instant buddies!! I love it, I love it, I love it!
Little Dougan is one tough cookie and smart too as I saw him stop running at one point and just wait for Brady to come back around! lol
"The boys". Yup, Karen, you'll be calling them "the boys" forever. Isn't it great?
Thanks for the clips!! MORE please.
---
Hello. My name is marj and I have MHS.
"The greatness of a nation and its moral progress can be judged by the way its animals are treated." Mahatma Gandhi
"Come to the edge, he said. They said: We are afraid. Come to the edge, he said. They came. He pushed them and they flew." -Guillaume Apollinaire"
Senior Member
Join Date: Oct 2008
Location: Twin Falls, Idaho
Posts: 6,248
Submit Photo: 11
Photo Submissions 53 Times in 50 Posts
What fun to watch! Brady is being so good with his little-brother-with-the-sharp-teeth! I'm very impressed.

Sheri
Sissygirl's Mom (Marie)
Join Date: Aug 2007
Location: Oklahoma
Posts: 2,738
Submit Photo: 5
Photo Submissions 4 Times in 3 Posts
Karen,

The videos are really fun. Brady is being so good to him. I love it when Brady
takes off running - showing him who's boss - too cute!!
---
Santa, Sissygirl
& Marie
Senior Member
Join Date: Nov 2006
Location: Massachusetts
Posts: 11,746
Submit Photo: 27
Photo Submissions 48 Times in 35 Posts
Oh Karen. They are best buds already!!! They play just like Jasper and Cash do! I am so envious of you...IWAP but I am also GFETE!!!




---
Missy, Jasper & Cash
Kubrick & Hitchcock's Mom
Join Date: Apr 2007
Location: New York, NY
Posts: 7,774
Submit Photo: 1
Photo Submissions 33 Times in 24 Posts
Too cute! I love the couch one.
---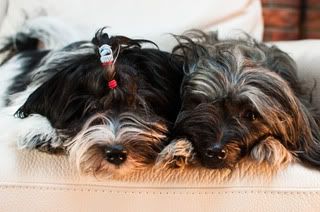 Visit
my blog

-----
Check out my
photos
-----
Photography (pets, people, weddings) -
TripleC Photography
Senior Member
Join Date: Nov 2006
Location: Long Island, NY
Posts: 8,619
Submit Photo: 3
Photo Submissions 19 Times in 19 Posts
Karen, those videos are great. I love the one on the couch. Kodi and Shelby do that too. Is it my imagination, or has Dougan grown a bit already?
---
Michele
Kodi & Shelby's Mom and Julian's Grandma
Sooo Smart
Join Date: Mar 2008
Location: Georgia
Posts: 3,551
Submit Photo: 9
Photo Submissions 22 Times in 12 Posts
They are soooo cute. Watching those videos is making my MHS grow!! I may have to find a cure!!

Enjoy your boys!!
---
Cicero trained Dale & Ronnie
Posting Rules

You may not post new threads

You may not post replies

You may not post attachments

You may not edit your posts

---

HTML code is Off

---