Karen
Join Date: Nov 2006
Location: PA
Posts: 3,067
Submit Photo: 4
Photo Submissions 16 Times in 9 Posts
Brady and Dugan update
---
Here are some recent pictures of Brady and Dugan. The boys really seem to enjoy having each other around
They love to wrestle and play together.
Nap time
Happy Brady
tug a toy
Snoozing boy
---
**Karen, Mom to Brady, Dugan, and Devon
Senior Member
Join Date: Apr 2007
Location: SF area
Posts: 6,425
Submit Photo: 63
Photo Submissions 62 Times in 48 Posts
They are adorable!
Great photos!
---
Sally,((Oliver)) Comet and Pennie too!
The best things in life are not things!
Sissygirl's Mom (Marie)
Join Date: Aug 2007
Location: Oklahoma
Posts: 2,738
Submit Photo: 5
Photo Submissions 4 Times in 3 Posts
Awe Karen, those are really cute pics!
---
Santa, Sissygirl
& Marie
Henry 2006-2018/ Kordelia
Join Date: Jun 2007
Location: NJ/NYC metro.
Posts: 4,153
Submit Photo: 11
Photo Submissions 25 Times in 25 Posts
Glad to see they are best buds !
Karen,
Very cute photos! Brady does look so happy to have his little brother
Senior Member
Join Date: Oct 2008
Location: Florida
Posts: 1,814
Submit Photo: 1
Photo Submissions 2 Times in 2 Posts
Karen, they are so, so cute together! I'm so glad to hear they're best buds. I love the "Happy Brady" and "Naptime" pictures the best.
Gina
---
Senior Member
Join Date: Jan 2009
Location: Machesney Park, Illinois
Posts: 232
Submit Photo: 2
Photo Nominations 1 Time in 1 Post
Awww...they are sooooooo precious!
---
Kathleen
Owned by Holly, Duffy and Hannah Grace

You're in our hearts, Riley, Finnegan, Allen, Mia, Oscar, Tiki
Senior Member
Join Date: Nov 2007
Location: Arkansas
Posts: 1,869
Submit Photo: 0
Photo Submissions 19 Times in 6 Posts
Great pics! That second one of Brady is one of the cutest pics I've ever seen of him!
---
Tritia, Daisy, Cooper, and Bodie.
Sooo Smart
Join Date: Mar 2008
Location: Georgia
Posts: 3,551
Submit Photo: 9
Photo Submissions 22 Times in 12 Posts
They sure look like a great "fit". That happy Brady is a great picture!!
---
Cicero trained Dale & Ronnie
Kubrick & Hitchcock's Mom
Join Date: Apr 2007
Location: New York, NY
Posts: 7,774
Submit Photo: 1
Photo Submissions 33 Times in 24 Posts
Karen, your boys are so cute! I love that picture of Brady too!
---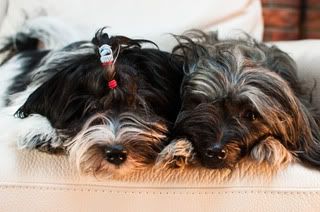 Visit
my blog

-----
Check out my
photos
-----
Photography (pets, people, weddings) -
TripleC Photography
Posting Rules

You may not post new threads

You may not post replies

You may not post attachments

You may not edit your posts

---

HTML code is Off

---