Amanda
Join Date: Nov 2006
Location: South Carolina
Posts: 9,576
Submit Photo: 2
Photo Submissions 31 Times in 22 Posts
Importance of a good breeder
---
I wanted to start this thread after a few threads of people purchasing dogs from not good breeders and pet stores.
I will start off by sharing my story of my Dora. I hope those of you who have stories will share too.
I got Belle from a good breeder and wanted another dog that was calmer and would help release some energy from Belle. We found a breeder of Cotons in our area who had Havanese as well. There were two havanese puppies left who were 5 months old. We went and we met them, the one I wanted was a boy so we ended up getting Dora cause we wanted a girl. We went to the breeders home and there was Dora. She was absolutely adorable and she was calm and easy going (everything Belle wasn't and the behaviorist said we should get for Belle). We didn't make a rushed decision but a week later decided to get her. I did go to the breeders home and see where she was raised, she was a nice older woman who was a hobby breeder. Dora's parents weren't health tested but I didn't know about that back then. Dora was pretty shy right when we met her. She was in a xpen with a pygmy goat (something else the breeder bred another red flag- many animals). At the time I thought it was so cute of Dora, she was running around with the goat but rewatching that video, I now realize Dora was just unsocialized and was scared of us. She was probably saying take the goat don't take me.
We get Dora home and she is extremely submissive. She adores Belle and wants to be with her but really doesn't want to interact with us. When we take her for walks, she is 10 feet behind us while Belle is 20 feet ahead. She also had issues with submissive urination. You would stand over her and she would lay down. She also didn't really want you petting her but she would lay there scared. She did bond with me first and didn't like my husband for a month or two. She slept in a cage fine, never a peep out of her. Probably what she was used to and it was her time to be alone from us. I was having trouble walking them by myself cause of the leash thing so I decided to enroll Dora in a puppy class. Dora started doing way better at home, peeing less, she would wag her tail more when I approached. She even started walking closer to me on our daily walks. Dora was voted the most improved puppy in our class and she graduated. She loved going there and I think she just liked being with a bunch of her own kind.
Well speed up- I kept Dora in many classes and spent a lot of money (way more than the price of a good Neezer from a great breeder) and my time training her to become a more balanced dog. Dora had titles in obedience, agility, rally, she is a canine good citizen, she has a therapy dog certificate. Dora will be 4 next month. I have beyond submerged her in socialization. Dora is a wonderful dog in our home and she will always be here. I absolutely regret getting her from a backyard breeder. I supported this person and because of me purchasing her there, I know more dogs were probably produced and may not have been as lucky to get the training and love Dora has. They very well may have gone to a shelter or if lucky into Havanese Rescue.
As from the many photos and videos I have shared, Dora is a good dog and a happy dog. She truly lives in the moment like many dogs do. However to this day, Dora will be thrilled when people come over and then when they pet her she shys back and runs to one of us. If I take her to a place by herself, she often gets overwhelmed and scared and her tail is down. She happens to be way too cute and gets tons of attention. She does way better with Belle and Dash cause they are busy jumping on the people taking the attention away.
I also have to say so far we have been blessed in the health regard and I hope it continues that way. Dora doesn't come from any health tested family members but she hasn't needed expensive vet care. I hope it continues that way but if not, she has a family that loves her and made the commitment to her.
I just wanted to share about my little girl and why I absolutely stress how important a good breeder is and early socialization is something you can't get back and it's worth waiting for. I hope those of you who read this share your stories too.
Amanda & Dora
Kubrick & Hitchcock's Mom
Join Date: Apr 2007
Location: New York, NY
Posts: 7,774
Submit Photo: 1
Photo Submissions 33 Times in 24 Posts
Amanda, thank you so much for sharing your story about your incredible and adorable Dora. I am sure that she is beyond thrilled to have found such a wonderful family as yours and it is so wonderful that you were able to get her, but I completely understand you regretting ever having done so for supporting a breeder that wasn't completely responsible. I really hope that your story is eye-opening for people and that it will help others make the right decision when they find themselves looking for a puppy of their own, be it the first, the second or the umpteenth dog they own.
---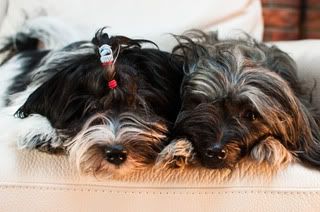 Visit
my blog

-----
Check out my
photos
-----
Photography (pets, people, weddings) -
TripleC Photography
Ivy Hills Havanese
Join Date: Jun 2008
Location: Guilford, Indiana
Posts: 462
Submit Photo: 0
Photo Nominations 1 Time in 1 Post
I also am glad that Dora found her way to you. She is so much better because of it! I always tell my puppy buyers that I have done my job up to the point that they pick up their puppies now it's their turn. They have a blank slate to write what type of dog their puppy will be. In my contract, they should take them to class to start the socialization process. They should also be willing to take them everywhere they are allowed. Obedience training is a must. The breeder should be breeding dogs with great dispositions. Introducing them to all kinds of situations at an early age such as bathing, blow dryers, nail trimming, grooming and such. Then it is up to the buyer to carry it on. If you do the time when the puppy is young, you will have a great dog when he/she matures.
---
Jennifer
Ivyhillshavanese.com
Senior Member
Join Date: Nov 2006
Location: Massachusetts
Posts: 11,746
Submit Photo: 27
Photo Submissions 48 Times in 35 Posts
Amanda, thanks for sharing. I always thought Dora was perfect...and in fact now she is close thanks to you. Your story sounds very similar to ours with Jasper. There were many red flags...wouldn't let us visit until pick up, no papers, wanted payment in cash. But many of the good breeders in our area would not place one of their pups in our home because I work only partly from home and partly away (geeesh, you gotta feed these babies)....and we really wanted a Havanese Puppy.

Jasper was a very independent puppy (this was one of the honest things the breeder mentioned to me) Even once he had free romp of the house, he would steal away to his xpen...and when the xpen was no more the sun room or even a little room in the garage that he got to from a doggy door (his potty room)... He seemed reclusive to us. But his health checked out...and we just accepted that this was who he was. The more I learned, the more I realized, he probably spent a lot of time alone in his first 9 weeks...and I think we are partly to blame for waiting to take him home that extra week. We had a commitment on the week he was ready and I had read that more time with mom and sibs would do him well. and perhaps it would have if he was truly part of a family, but his brothers left to their new homes a week before we got him and his mom was probably (my conjecture here) done being a mom. We met her and the dad...and neither of them gave Jasper even a look. So I think he was probably alone a lot in that 8th -9th week. But puppy Jasper came to work with me for two months of his life with us and we exposed him to everything...

A year in we were really concerned that he was depressed...so we got Cash from a different breeder who did health testing and truly let these pups live with her and her family. Ironically, health wise Jasper is a much healthier dog. Cash has a deformed leg and has had a lot of trips to the vet... But Cash has the wonderful Hav personality. They have their ups and downs-- but I think having a brother has been good for Cash. If I had it to do again, I would have gotten Jasper a little girl he could protect and cherish... Cash and he are very competitive...and sometime Cash is too much for Jas and Jas retreats.

We have worked really hard with Jasper, trainers, behaviorists and my own instincts...and at almost 3 years of age he is doing well and much happier...but his cautiousness and fear aggression does rear from time to time and I truly believe that it had to do with his lack of early socialization.




---
Missy, Jasper & Cash
Benji and Lizzie's Mom
Join Date: Jun 2007
Location: New Jersey
Posts: 4,086
Submit Photo: 0
Photo Submissions 6 Times in 5 Posts
Amanda, thanks for starting this great thread.

Dora is so fortunate to have found you. She is adorable and so well adjusted that I wouldn't have guessed her background when we met you and her. You were definitley her angel.

I would just like to share my experience in finding a good breeder. I was a first time puppy owner and fortunately didn't know anything about puppy mills. The most logical approach for me was to read a number of books on dog breeds, select the breed that had the characteristics that I was looking for. After selecting the breed, I looked up AKC, then contacted the parent club of Havanese (HCA), they provided me a list of reputable Havanese breeders who in turn provided the contacts for reputable breeders who were not listed with HCA. I went to shows, talked to people who owned Havanese (as pets as well as show dogs). All the breeders I talked to were eager to help, patient and promt in their correspondence. Being a first time puppy owner, the support and guidance of a good breeder is very valuable.

I hope that this thread will educate people in their search for a good breeder and keep them from buying from back yard breeders and puppy mills.
---
Best, Poornima
LINDA
Join Date: Jun 2007
Location: PA
Posts: 6,496
Submit Photo: 3
Photo Submissions 36 Times in 33 Posts
Thanks for sharing your story Amanda. I was like you when I bought my first Havanese. I had no idea what to look for etc. I didn't even know what a puppymill was. Turns out Bella came from a puppymill broker. The woman loved her, but bought her at an auction and sold her to me at full price, 2000.00 4.5 years ago! When I discovered Bella had a liver shunt, the lady was kind enough to give me my 2000.00 back to put towards the 4000.00 in surgery costs.

I was much more careful with Freddie and found a breeder through the HCA referral list. Even though the breeder was referred by them......she was not good at all! You still must do your homework even if a breeder is referred by the HCA. When freddie had luxating patella's, the breeder would not return my calls!

When buying a pup, do you homework and then do it again!
Amanda
Join Date: Nov 2006
Location: South Carolina
Posts: 9,576
Submit Photo: 2
Photo Submissions 31 Times in 22 Posts
Jennifer- See I think that is a problem with getting dogs who aren't socialized early on by breeders who pour their hearts into their pups. Dora wasn't a blank slate and unfortunately I think she will always be cautious towards people. We tried undoing a lot of her preconceptions but they come out in the background.
Poornima- And if you saw her at my home you would probably never guess. She is a doll and just full of love and personality at home. When we go out she tends to do pretty well if one of the other dogs are with her. When she is totally alone she can get overwhelmed if it is too busy of an area. On the other hand, Dora tends to be the most well behaved dog of my pack! Belle who I got the earliest being the worst!!! <BG> Go figure! I can completely trust Dora off leash even if there are people around. Dash has ran across the street to visit the neighbor and Belle has ran to everyone who even slightly smiles! Jim and I were talking though about how horrible it would be if Dora escaped or got lost. How frightened she would be without her family. I just shiver to think about that scenario cause she wouldn't go to strangers, if anything she would run.
Missy- yeah, I don't think I saw the red flags until I learned more later on. I was at the breeders home twice which was lovely (to be honest she sold a lot of pretty high priced pets and no health testing or showing... it could be profitable) and Dora was completely groomed and gorgeous. She was very friendly inviting us into her home. I think she loved her animals she just had so many that no way could she pick up each little animal and socialize it. These are companion dogs and I really think when they don't get early socialization that it is even harder on them.
Linda- Thank goodness she has you as her mommy though. I think for each of us who kept our dogs regardless of the baggage, there are many many more that go into shelters, rescue, or get put down. I also think you bring up a good point, the importance of doing all the research regardless of what list a breeder is on.
Thanks everyone for sharing and I hope more do. I think we can do a lot even on this forum to educate others and do the best for this breed
Amanda
Carohav Havanese
Join Date: Nov 2008
Location: Statesville, NC
Posts: 98
Submit Photo: 0
Photo Submissions 0 Times in 0 Posts
Amanda,

You certainly hit the nail on the head! The importance on socialization can not be underscored enough! That is the only way to get happy, well adjusted puppy and it takes alot of work. Yes, you can buy a cheaper puppy, but remember, that puppy might not be such a bargain in the long run.
Katrina
Join Date: Aug 2007
Location: East Tennessee
Posts: 1,414
Submit Photo: 15
Photo Submissions 0 Times in 0 Posts
I have a story to share just not enough time right now. "I'll be back" as the terminator says.
---
Katrina
and Princess Furface ---Lilly
www.youravon.com/kpresnell
Susan
Join Date: Feb 2007
Location: Near San Francisco Bay Area
Posts: 4,063
Submit Photo: 2
Photo Submissions 2 Times in 2 Posts
Thank you for your post Amanda. I don't have any horror stories because both of my Havs and my Sheltie came from great breeders. It's really fun to visit Elaine at her house or a dog show. Almost the minute you walk in a puppy is put in your arms to hug and play with (assuming they are not newborns, of course). It's all about socialization.

We did have a dog named Maggie who looked vaguely Havanese and had definite issues. I don't know her breed for certain, but luckily she was adopted by my MIL the same day she was turned into the pound because if they had done temperment testing on her she probably would have been put down. She was a fear biter and she would not allow certain parts of her body to be touched for a long time. We eventually got her out of that. She was a sweet girl and we loved her dearly and were thankful that she ended up with us as we knew how to deal with her issues. We still miss that little scamp.
---
Susan
Posting Rules

You may not post new threads

You may not post replies

You may not post attachments

You may not edit your posts

---

HTML code is Off

---