Join Date: Oct 2007
Posts: 1,482
Submit Photo: 0
Photo Submissions 2 Times in 2 Posts
Should I be worried??
---
Hi, I'm new here, but I've been lurking for about a week. I've known for several years that when the time came I wanted to get a Havanese. We recently lost our beloved Sheltie at age 15 1/2. I'm ready now to bring a puppy in our home and have been looking for a Havanese breeder. I've done lots of reading and research so know what to look for in a breeder. I found a breeder that lives about 3 hours away and she meets all the criteria for a good breeder. Her dogs have all the health certifications, she shows her dogs, puppies are raised in her home, etc. I've spoken to someone who got their puppy from her and she said it was a positive experience. However...and this is what has me a little worried...she has 7 puppies available that were born in May, and 3 that were born at the end of July. Her explanation is that in past years she has had to turn potential buyers away so she had 6 litters last year, and there weren't as many inquiries as expected.

My question: does this sound legitimate? Is this worrisome? I was under the assumption puppies were hard to find so to find a breeder with so many available, (especially since they are older puppies), has me wondering. Also, should I be worried about getting an older puppy?

Thanks so much! And I look forward to getting to know all of you!

Jan
Kubrick & Hitchcock's Mom
Join Date: Apr 2007
Location: New York, NY
Posts: 7,774
Submit Photo: 1
Photo Submissions 33 Times in 24 Posts
Hi Jan and
to the forum! I'm sorry to hear about your loss, but it sounds like your Sheltie led a good long life.
It's hard for me to judge without knowing all the details, but from what you have said, it is a little strange that she had 6 litters in one year! Does she have six females? And if so how often have they been bred? It's not good to overbreed a female (I've heard once a year max, but I'm sure that the breeders on the forum have better experience with this). In addition, I do think it's strange that he has 7 puppies still available who were born last May! That's weird to me...
But it's really about what you are comfortable with. If you have found that she does all the health testing and YOU are happy with the breeder and you feel like you can have a good relationship with her, then that's what is really important. As long as you do all your homework and minimize your chances of something going wrong later, it all really comes down to how you feel.
As far as getting an older pup, I don't think there's anything at all wrong with it. You can ask people here who have gotten older pups, but they all seem to do just fine. And in fact it can be helpful since you don't have to go through so many potty accidents, etc.
Let us know what you decide and good luck puppy shopping!
---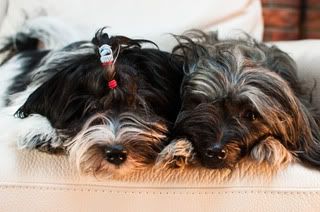 Visit
my blog

-----
Check out my
photos
-----
Photography (pets, people, weddings) -
TripleC Photography
---
Last edited by Lina; 10-28-2007 at

01:25 PM

.
Senior Member
Join Date: May 2007
Location: Indiana
Posts: 3,119
Submit Photo: 3
Photo Submissions 4 Times in 4 Posts
Hello!!!!
I am sorry to hear about your sheltie. We had a sheltie and we had to put her to sleep two years ago....it was really hard but she lived a good life. I would look into it a little more of why there are so many puppies left....that sounds a little weird to me.....are they all from the same litter? Just keep us posted on what you decide to do!!!!
---
~~Mommy"s Little Angel~~
Gucci's mom
Join Date: Feb 2007
Location: Virginia Beach, VA
Posts: 9,378
Submit Photo: 1
Photo Submissions 12 Times in 11 Posts
Gosh, I don't know...maybe some of the breeders here have a better idea on your questions.
I know it does 'appear' that the supply has exceeded the demand to a certain degree. I know that when I was looking there were virtually NO dogs available and waiting lists everywhere. Now, I see that there are many Hav pups available and yes, even with breeders that do all the health testing.
As an Economist, I have to wonder if the slow down is effecting people to the degree they aren't adding pets to their family just yet. I don't know, but as far as getting an older puppy, I know several people on her have and haven't had any problems training and them adjusting to their forever homes.
So sorry to hear about your loss
Keep us posted!
Kara
---
Super Moderator
click to join us: Havanese Forum on Facebook
Mom to Ricky and Sammy
Join Date: Jan 2007
Posts: 10,319
Submit Photo: 30
Photo Submissions 21 Times in 17 Posts
Welcome to the forum, Jan! Glad to hear you are looking to own a Hav pup.
I, too, have questions about this situation. It might not mean a thing, but who knows? I'd have the same concerns you have. How reassuring is the breeder in her explanation about this? What does your gut tell you?
No doubt others will have actual advice. i'm just here to chat.
lol
---
Hello. My name is marj and I have MHS.
"The greatness of a nation and its moral progress can be judged by the way its animals are treated." Mahatma Gandhi
"Come to the edge, he said. They said: We are afraid. Come to the edge, he said. They came. He pushed them and they flew." -Guillaume Apollinaire"
Senior Member
Join Date: Jan 2007
Location: Ca
Posts: 1,672
Submit Photo: 0
Photo Nominations 1 Time in 1 Post
I do not think that this is necessarily a red flag .. There are a couple of things that could have happened . Her litters could have been larger than she expected . Some people may have changed their minds and left her in the lurch .
Asta was in a litter of five - it was this particular dogs's first litter and they had only expected two puppies so they had three more puppies to place - so things happen.. .
I agree with Kara - the economy is changing and this little guys are pricey .
I know a friend got a Golden puppy for next to nothing as this happened to her breeder - she had too many puppies and she wanted them to go to good homes . She was a well known breeder here in Ca .. She had more puppies than she expected . She had two very large littters which happens with bigger dogs ..
As to getting an older puppy I would say go for it . They are sometimes a little easier than the tiny cute ones -10 weeks or so .
I was offered a 3 month old and I would have love to have had it but my Mom was too sick and the timing was not that convenient for me .. I ended up waited another 6 months for Asta - . it was so hard and I was angry as I could have had a dog for six months but I had to wait .. ..
Another thing sometimes breeders hold back puppies as they think they may have show potential for showing and as they grow they change their minds or their circumstances change ..
---
Last edited by Cosmosmom; 10-28-2007 at

02:06 PM

.
Mom of Brutus and Roxie
Join Date: Mar 2007
Location: Danville, CA
Posts: 2,152
Submit Photo: 0
Photo Submissions 0 Times in 0 Posts
JanB I have a couple different thoughts on this subject. I am curious where you are from and if any of us know this breeder. I also wonder if you have actually checked the results of her health testing or have just taken her word that the tests were done. Would you consider making the 3 hour drive to make sure that the puppies are being raised under the conditions you have been told? If you do, leave your check book at home. It is very difficult to walk a way from a cute puppy even when every instinct is telling you to do that. Also, have you asked her to match one of her pupies temperament wise to what you think would meet the needs of your family? Does she have specific puppy in mind for you?

Good luck with your search. They are a fabulous breed and I am sure add a lot to your family.
Pepper's mom
Join Date: May 2007
Location: Southern CA
Posts: 1,329
Submit Photo: 0
Photo Submissions 6 Times in 5 Posts
I second what Cheryl wrote. Verify the health test results. If they check out, then you can go from there.
Whatever happens, best of luck on your puppy search!
Wanda
Quincy's Mom-Vinnie too!
Join Date: Feb 2007
Location: Ia.
Posts: 9,923
Submit Photo: 35
Photo Submissions 17 Times in 16 Posts
Jan,
I don't know about the numbers--but I did want to comment on the older puppies.My Quincy was 16 weeks old when I got him and it was great.He was crate trained and was potty broke to her house(we had to start over in mine,but he knew what was expected of him),he was well socialized,used to being handled and groomed.All around it was very positive.I would not let age restrict your options.....
---
Vincent-Quincy's playmate
"Behind every unstable dog is a lesson for the owner"-Cesar Millan
LINDA
Join Date: Jun 2007
Location: PA
Posts: 6,496
Submit Photo: 3
Photo Submissions 36 Times in 33 Posts
I know a couple GREAT breeders who often have older pups, because they are very selective in placing pups. For example, the one breeder won't place a pup with you if you work more than 3 hours a day. The other is so over protective she ends up keeping the pups until they are almost a year old! If that's why this breeder has so many older pups, I would give her a metal and not be worried. I don't know how you would find that out though. Good luck!
---
Last edited by lfung5; 10-28-2007 at

04:52 PM

.
Posting Rules

You may not post new threads

You may not post replies

You may not post attachments

You may not edit your posts

---

HTML code is Off

---