Join Date: Nov 2007
Posts: 3
Submit Photo: 0
Photo Submissions 0 Times in 0 Posts
human allergies
---
I am new here and am looking into getting a Havanese. The one problem is that my partner who lives with me has some allergies to some dog more them others.
As much as I just want to get the dog and say tough to him I can't. Has anyone met someone who is allergic or has had some allergens to dogs in the past but not to the havanese? It's not the saliva, it seems to do more with the hair. Any comments or suggestions would be greatly appreciated.

Thank you -cory
Mom to Dusty and Indie
Join Date: Oct 2006
Location: AZ
Posts: 1,181
Submit Photo: 1
Photo Submissions 4 Times in 4 Posts
My daughter has tested allergic to dogs, and has allergies to a friend's laborador retriever, but is not bothered by our havanese, in spite of rubbing her face in Dusty's fur on a regular basis. Probably the best thing to do is to try and find a havanese you can "borrow" so you can see if it causes allergies or not.
Senior Member
Join Date: Jan 2007
Location: Ca
Posts: 1,672
Submit Photo: 0
Photo Nominations 1 Time in 1 Post
My daughter in law has allergies - she is very allergic to Bella their cat but they love her anyway and tolerate her .. She is fine with the dogs she has never complained once ..
I have some allergies but not to pets
Oreo's Mom
Join Date: Nov 2006
Location: Whitby, ON, Canada
Posts: 2,099
Submit Photo: 0
Photo Submissions 5 Times in 5 Posts
I have allergies to doggy dander. But when Oreo was a little pup I was reacting to his urine, as we were using puppy pads in the house until he was trained to go outside. I am finding I am managing my allergies very well and I am not nearly as bad as I have been with other dogs even when I rub my eyes after petting him. I can actually take a big whiff of Oreo and it doesn't do anything. As long as I keep him well bathed (as I have seasonal and dust allergies) and if he needs major grooming I leave it up to the groomer because I react a bit the next day. I missed having dogs in my life and I am so happy I can share my life with one now. I hope it works out for you and your partner.
---
"Life is too short to not follow your heart. Live, love and laugh everyday"
www.helencortez.com
Pepper's mom
Join Date: May 2007
Location: Southern CA
Posts: 1,329
Submit Photo: 0
Photo Submissions 6 Times in 5 Posts
I am allergic to both dogs and cats.
Whenever I brush or bathe our big dogs (golden retrievers & others), my skin welts up in painful hives. It's really awful. My DH usually does the bathing to keep my breakouts to a minimum.
However, I can and do bathe and groom Pepper (our Hav) by myself and have not had a reaction to his fur, dander or saliva. I can bury my face in his fur with no allergic response. If I try it with the other dogs my face will itch and burn until I can wash it off.
I also found out that dirty dogs make my skin breakout much worse than clean ones.
For sneezing and itchy eyes I found that over the counter Claritin worked wonders for me. I took it for years so we could keep our pets and, amazingly, I have not needed it for the past few years.
Your partner needs a hands-on meeting with a few Havs to see how it goes.
Good luck! I hope it works out.
Wanda
Senior Member
Join Date: Nov 2006
Location: Long Island, NY
Posts: 8,619
Submit Photo: 3
Photo Submissions 19 Times in 19 Posts
I have 3 cats and I have to wash my habds after petting them. If I don't and I touch my eyes, I get a reaction. I was not allergic to my other dogs, and I am not allergic to my Havs. But other dogs will make me sneeze or break out in a rash.
---
Michele
Kodi & Shelby's Mom and Julian's Grandma
Join Date: Aug 2007
Posts: 177
Submit Photo: 0
Photo Submissions 0 Times in 0 Posts
Havs are perfect for people with allergies - they're hypo-allergenic, I think the word is, as they don't have traditional "dog" hair.
Amanda
Join Date: Nov 2006
Location: South Carolina
Posts: 9,576
Submit Photo: 2
Photo Submissions 31 Times in 22 Posts
My husband has bad allergies, if he is in a home even a clean one with a cat, he will have a runny nose within seconds, within a few hours, he can't breath. He likes cats but just cant be around them. He isn't as severe to dogs but usually runny nose- his parents have a corgi that has to be put in the basement when we visit. The maltese and Havanese don't give him any trouble but then again he never grooms them!

Amanda
Kimberly
Join Date: Aug 2006
Location: San Francisco Bay Area
Posts: 10,275
Submit Photo: 5
Photo Submissions 19 Times in 13 Posts
Cory, your partner may do well with some Havanese and may be sensitive to others. Unfortunately, the only way to tell for sure is for you and your partner to go meet some and find out. When it comes time to pick a puppy, you'll know when you go meet him/her.

If you would like assistance in meeting some, I'm willing to help you find some closer to you and I'm sure others will too.
Kubrick & Hitchcock's Mom
Join Date: Apr 2007
Location: New York, NY
Posts: 7,774
Submit Photo: 1
Photo Submissions 33 Times in 24 Posts
My fiance is allergic to dogs and cats. Even his parents' dauchsunds will give him a runny nose and they are short haired dogs. However, he has never experienced a single allergy to Kubrick since we got him.

I agree with Kimberly, though, and make sure that you have your partner meet a Hav and make sure that he really is not allergic before you go off and get one.
---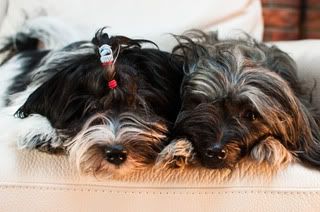 Visit
my blog

-----
Check out my
photos
-----
Photography (pets, people, weddings) -
TripleC Photography
Posting Rules

You may not post new threads

You may not post replies

You may not post attachments

You may not edit your posts

---

HTML code is Off

---