Evelyn
Join Date: Apr 2010
Location: Chicago burbs
Posts: 4,652
Submit Photo: 4
Photo Submissions 30 Times in 28 Posts
romp in the leaves.
---
Whimsy love running around in the leaves... we better have fun now before the snow falls and it gets too bitter cold to be outside.. brrr.( I know..I throw like a girl! lol )
http://youtu.be/8uevtlG9vMc
---
Senior Member
Join Date: Aug 2012
Location: North Carolina
Posts: 2,362
Submit Photo: 36
Photo Submissions 60 Times in 60 Posts
Rocky, Oreo's daddy
Join Date: Sep 2011
Location: Vancouver, BC
Posts: 456
Submit Photo: 0
Photo Submissions 3 Times in 3 Posts
Canela, Vino & Jack's Mom
Join Date: May 2012
Location: Born and raised in Chicago; now North Pole, Alaska
Posts: 693
Submit Photo: 35
Photo Submissions 6 Times in 6 Posts
Too cute!!! Love how she flys off the porch; she is a ball of energy!! love the hair in the wind. This is a real nice mid-day video.. makes me want to go play with my guys but instead i have to go to work …
---
Betty AKA Canela, Jack and Vino's Mom
In a perfect world, every dog would have a home and every home would have a dog..
---
Last edited by BFrancs; 11-06-2013 at

12:51 PM

.
Evelyn
Join Date: Apr 2010
Location: Chicago burbs
Posts: 4,652
Submit Photo: 4
Photo Submissions 30 Times in 28 Posts
I love this time of year, but Whimsy and I miss all my flowers.
---
Ruth (me) Chester (dog)
Join Date: May 2013
Location: St. Louis area
Posts: 887
Submit Photo: 16
Photo Submissions 8 Times in 8 Posts
Cute!
btw beautiful yard
---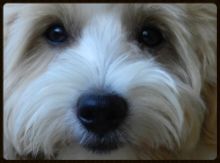 Hav to hav a Hav!!!
Ruth and Chester
(Chester's DOB - 4/04/13)
"Dogs are NOT stupid, they are smarter than you think."
Henry 2006-2018/ Kordelia
Join Date: Jun 2007
Location: NJ/NYC metro.
Posts: 4,141
Submit Photo: 11
Photo Submissions 24 Times in 24 Posts
Whimsy looks so sweet in that pile of leaves.
Surely she wasn't helping out with the fall clean-up? Just looking cute.
Jen, Timmy and Mae
Join Date: Sep 2011
Location: Philly Burbs
Posts: 1,672
Submit Photo: 21
Photo Submissions 16 Times in 16 Posts
Pretty pretty Whimsy, and you are so nice to let her go out and romp with her beautiful coat. I combed Tim out today he was full of leaf pieces. I love this time of year too but not the leaves on the ground so much. Mae won't know what to do when they're gone she loves playing with them.
---
Metrowest, MA
Join Date: Jun 2009
Location: Massachusetts
Posts: 23,696
Submit Photo: 6
Photo Submissions 300 Times in 298 Posts
Senior Member
Join Date: Jun 2013
Location: Queensland, Australia
Posts: 454
Submit Photo: 1
Photo Submissions 7 Times in 6 Posts
Love the flowing hair when she runs - she's a beautiful girl. Makes me miss the uK seasons a bit - autumn is my favourite time of year.
---
Hav Fun,
Ruth
Charlie's Diary
http://www.havaneseforum.com/showthr...t=27698&page=4
Posting Rules

You may not post new threads

You may not post replies

You may not post attachments

You may not edit your posts

---

HTML code is Off

---