Amanda
Join Date: Nov 2006
Location: South Carolina
Posts: 9,576
Submit Photo: 2
Photo Submissions 31 Times in 22 Posts
Dog Bone Meals
---
My friend sent me this and I thought it was an interesting concept. Not sure if they are healthy or anything but it is your dog's meal in a bone shape.
http://www.wholemeals.com/?cid=goog
Senior Member
Join Date: Nov 2006
Location: Long Island, NY
Posts: 8,619
Submit Photo: 3
Photo Submissions 19 Times in 19 Posts
We got samples of these at Westminster. Kodi and Shelby liked them for a minute, then left them. I gave them to my daughter, who owns dachshunds and they eat anything. I don't think I would use them as a meal replacement.
---
Michele
Kodi & Shelby's Mom and Julian's Grandma
Kubrick & Hitchcock's Mom
Join Date: Apr 2007
Location: New York, NY
Posts: 7,774
Submit Photo: 1
Photo Submissions 33 Times in 24 Posts
Oh yes, we did get those at Westminster like Michele said. I haven't given it to Kubrick yet. I thought they were giving them away as something to give your dog when you travel (so you don't have to carry around kibble and a bowl), not as an every day thing, though.
---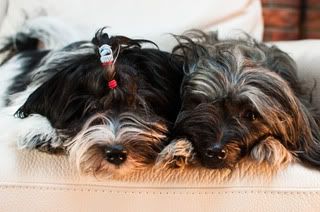 Visit
my blog

-----
Check out my
photos
-----
Photography (pets, people, weddings) -
TripleC Photography
Lincoln and Scout's Mom
Join Date: Jun 2007
Location: San Francisco Bay Area, CA
Posts: 3,650
Submit Photo: 1
Photo Submissions 8 Times in 8 Posts
Gee, that's different. Do dogs really care about the
shape
of their food?
---
Jane
Amanda
Join Date: Nov 2006
Location: South Carolina
Posts: 9,576
Submit Photo: 2
Photo Submissions 31 Times in 22 Posts
yeah, i am thinking my girls wouldn't care for htem but i liked the idea of cleaning their teeth!

Amanda
Kimberly
Join Date: Aug 2006
Location: San Francisco Bay Area
Posts: 10,275
Submit Photo: 5
Photo Submissions 18 Times in 12 Posts
I missed those at Westminster, but that would totally appeal to Piaget! He loves anything that has gnawing ability. I'll have to look into the quality of them and see if they are as good as they sound. (As you know, few things are.)
Posting Rules

You may not post new threads

You may not post replies

You may not post attachments

You may not edit your posts

---

HTML code is Off

---