Good News, Bad News, Good News
---
Hi everyone,
Just an update - I applied for a beautiful dog who I saw on the HRI website. I didn't want to mention any names in case it didn't work out.
Good news: This dog has found the perfect home!
Bad news: It is not with me.
Good news: We've found a little guy locally, and adopted him on Saturday! He's currently at the vet getting neutered, but will post pics after he comes home tomorrow.
He's kind of a mess..... His previous family bought him from a pet shop / puppy mill here in our area. They had no experience with small dogs, and were completely unprepared to provide the care that he needs. They have two small children (under the age of 7) and were just overwhelmed. Plus the husband lost his job a couple of months ago, so they are unable to provide for him financially, as well.
He has had NO rules or boundaries established at all. He was basically allowed free run of everything. He is 8 months old, not housebroken, in fact he'll hold it for a LONNNGGGG time because he thinks he is "supposed" to go on the bathroom rug, so we'll definitely have to work with him on that.
He is in desparate need of a good grooming, so we'll take him in next week.
He was completely infested with fleas. Treated him (and all of the dogs) first thing, as soon as we brought him home.
Not neutered, but that's taken care of as of this morning. The vet called around lunch and said the procedure went very well, no complications and nothing unexpected.
While he was under, they also pulled his baby teeth, as they were showing no signs of loosening and his permanant teeth had already grown in.
In addition, he had been scratching his ears a LOT, so I asked the vet to take a look while he was at their office. He had a TON of hair in his ears, so they pulled that while he was under anesthetic. Underneath all of the hair they found an infection, so he'll be coming home with medication for that, as well.
Poor little guy!!!!
Good news is that we brought him home and introduced him to the other dogs without a hitch - everyone seems to be getting along quite well. Tango hasn't quite latched onto him yet, but I'm sure she is still missing Soleil, and will warm up to him soon enough.
So..... it's been an exciting weekend at our house!
Quincy's Mom-Vinnie too!
Join Date: Feb 2007
Location: Ia.
Posts: 9,923
Submit Photo: 35
Photo Submissions 17 Times in 16 Posts
Congrats to you and your family!
Things always have a way of working out for the best and I'm thrilled that he found you! I can't wait to see pictures!
---
Vincent-Quincy's playmate
"Behind every unstable dog is a lesson for the owner"-Cesar Millan
Biscuit's mom
Join Date: Jul 2007
Location: San Francisco Bay Area
Posts: 2,518
Submit Photo: 2
Photo Submissions 7 Times in 5 Posts
Congratulations!! This little fellow is so lucky to have found you~~he sounds so neglected. ;-( Bravo to you & cannot wait for pix!!
---
HAV A GREAT DAY ! ~~AMY & BISCUIT~~
and HEATH-Y, TOO !
Baloo's Mom
Join Date: Mar 2009
Location: New Brunswick, Canada
Posts: 532
Submit Photo: 1
Photo Submissions 0 Times in 0 Posts
Wow sounds exciting, congrats! Sounds like you have quite an adventure ahead of you, but with patience, lots of love and attention you can do it! Poor little guy, sounds like he has had a hard time, he is very lucky to have found you.
Take care and enjoy getting to know each other.... oh and don't forget the pics
---
~ Angie ~
Mom to Baloo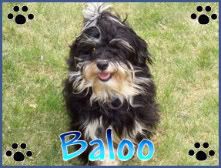 Mom to Ricky and Sammy
Join Date: Jan 2007
Posts: 10,319
Submit Photo: 30
Photo Submissions 21 Times in 17 Posts
Omg, what a lucky guy to have found his way to you! I'm so happy for you. Sounds like his previous family didn't have a clue how to raise a puppy. They don't actually raise themselves! You'll likely have your work cut out for you, but he's young and you sound very excited about your new addition, so I'm not too worried.
Pls. do send us pics when you can, o.k.?
---
Hello. My name is marj and I have MHS.
"The greatness of a nation and its moral progress can be judged by the way its animals are treated." Mahatma Gandhi
"Come to the edge, he said. They said: We are afraid. Come to the edge, he said. They came. He pushed them and they flew." -Guillaume Apollinaire"
and Murphy & Gracie too!
Join Date: May 2008
Location: Cumming, GA
Posts: 6,989
Submit Photo: 5
Photo Submissions 22 Times in 21 Posts
What a happy ending for you all!!! Sounds like this little guy is exactly where he needs to be, in a home where the people have time to love and care for him properly. Can't wait to "meet" him when you post pics.

From our experience with Gracie, he will bloom with lots of love, some boundaries, TREATS, grooming, and even more love! Seeing her turn into a carefree and happy puppy has been one of the happiest experiences of my life.
---
Ann-Scooter, Murphy, & Gracie's Mom
Senior Member
Join Date: Jul 2008
Location: South Fla
Posts: 2,815
Submit Photo: 1
Photo Submissions 10 Times in 10 Posts
Yay-he definitely needed you!!!
Can't wait to see the photos. His name ??
---
Beth, Pixie Puff and MiG too
Senior Member
Join Date: Feb 2007
Posts: 4,302
Submit Photo: 1
Photo Submissions 4 Times in 3 Posts
Yay! It sounds like he is just the one you were meant to hav! You've only had him a day or two and already he is getting better care just by you getting him in to the vet.
You are his angel. I can't wait to see him!
Bugsy's Mom
Join Date: Nov 2006
Location: San Francisco, CA
Posts: 4,341
Submit Photo: 3
Photo Submissions 6 Times in 5 Posts
Congratulations on your new furry family addition, sounds like he was meant to be yours.
I can't wait to see his pictures.
---
-Julia
Senior Member
Join Date: Oct 2008
Location: Twin Falls, Idaho
Posts: 6,246
Submit Photo: 11
Photo Submissions 53 Times in 50 Posts
Wonderful news for the new fellow, and you, too! You are great to take him in, sounds like a lot of work, but also sounds like you are ready for the challenge. Can't wait to see pictures of "him!"
---
Sheri, Tucker's Mom
Posting Rules

You may not post new threads

You may not post replies

You may not post attachments

You may not edit your posts

---

HTML code is Off

---