Senior Member
Join Date: Feb 2008
Posts: 2,365
Submit Photo: 0
Photo Submissions 16 Times in 12 Posts
49 Pups Rescued
---
---
Jill - Tess & Cody's mom
Join Date: May 2008
Posts: 130
Submit Photo: 0
Photo Nominations 1 Time in 1 Post
My Mom is fostering 2 of them! I got to see them over Thanksgiving......soooooo cute!!!! I wanted them both!


I just looked at the link...she has Greensboro and Gilbert on the 4th row from the bottom. One of her friends has another 2 but I didn't get to see them.
Senior Member
Join Date: Apr 2007
Location: Long Island, New York
Posts: 8,941
Submit Photo: 3
Photo Submissions 41 Times in 25 Posts
OMG, they're so cute. I want one.
---
<b>Just Milo and me, and . . . </b>Bailey makes three . . . until Ruby said, "hey, what about me?"
Geri, Milo, Bailey and HRH Princess Ruby Tuesday
If you're thinking of getting a puppy, click here
http://www.photoshow.com/watch/YK8AH4rw
Quincy's Mom-Vinnie too!
Join Date: Feb 2007
Location: Ia.
Posts: 9,923
Submit Photo: 35
Photo Submissions 17 Times in 16 Posts
They are super cute! Makes me want one or two or three of the cuties myself!
---
Vincent-Quincy's playmate
"Behind every unstable dog is a lesson for the owner"-Cesar Millan
Senior Member
Join Date: Nov 2006
Location: New Jersey
Posts: 9,794
Submit Photo: 2
Photo Submissions 28 Times in 20 Posts
I have died and gone to puppy Heaven
---
Lily, Lexi ,Logan, Laila & Lizzie's Mom
www.HillsboroughHavanese.com
(Gigi, Lucas, Dugan, Madeline,Reo,Alvin, Lucky, Lukey, Punch, Colby & Ben-(we will always Love you!!)
Senior Member
Join Date: Oct 2008
Location: Twin Falls, Idaho
Posts: 6,255
Submit Photo: 11
Photo Submissions 53 Times in 50 Posts
Oh, my goodness! What a huge job that will be! Poor puppies, I'm so glad they are out of the Mill!

But, does anyone know, doesn't buying them at an auction just encourage their breeding mills to continue?

Sheri
Kimberly
Join Date: Aug 2006
Location: San Francisco Bay Area
Posts: 10,275
Submit Photo: 5
Photo Submissions 19 Times in 13 Posts
Sure it does, Sheri. When the miller gets money for the pups, they can then turn around and add more pups to their breeding plans. Do we know if these dogs were purchased though? I've heard rumors that HALO buys dogs from millers, but I don't know if that is always true.

Man, that's a lot of dogs! That video was hard to watch. I kept wanting to pick one up, run my hands through the hair of others, and get in there.
Kubrick & Hitchcock's Mom
Join Date: Apr 2007
Location: New York, NY
Posts: 7,774
Submit Photo: 1
Photo Submissions 33 Times in 24 Posts
Wow, that's a lot of puppies! It's great that they were all able to be rescued!
---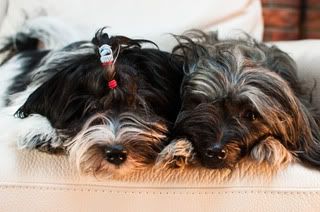 Visit
my blog

-----
Check out my
photos
-----
Photography (pets, people, weddings) -
TripleC Photography
Karen
Join Date: Nov 2006
Location: PA
Posts: 3,067
Submit Photo: 4
Photo Submissions 16 Times in 9 Posts
Oh my! Those are some really cute puppies.

Before I got Dugan from HRI, I was in contact with HALO about adopting one of their pups. I ended up with Dugan mainly because he was with Laurie and a lot closer to home than going to Ohio for one of the HALO puppies. HALO explained to me that when they do buy puppies at auctions, they only pay a certain amount and they make sure it is not enough for anyone to "make money" on the puppies. They did say that recently they had gotten some calls from one of the mills trying to get rid of the puppies he had. They paid him something for them, but again, not enough for him to make a living at it. I would guess this is a similar situation. I think today's economy even has puppy miller's to the point of almost giving away their dogs. It is good to see these puppies will be well cared for and go to good homes.
---
**Karen, Mom to Brady, Dugan, and Devon
Sooo Smart
Join Date: Mar 2008
Location: Georgia
Posts: 3,551
Submit Photo: 9
Photo Submissions 22 Times in 12 Posts
Oh, Cicero is really wanting a playmate and we want another furbaby. They are so cute!!
---
Cicero trained Dale & Ronnie
Posting Rules

You may not post new threads

You may not post replies

You may not post attachments

You may not edit your posts

---

HTML code is Off

---