Join Date: Mar 2009
Posts: 14
Submit Photo: 0
Photo Submissions 0 Times in 0 Posts
Newbie Havanese Owner; Get her today!
---
Hi! I have been "lurking" on this site for about 3 months now, and I want to thank you guys for all the valuable info that I now have! (I especially love the Thread - Men and their Havanese. So cute!) I have been looking for a adult Havanese for a few months and finally found one through a breeder (one of the first ones in Canada), and she flies in later today. Whoo Hoo!! She is 6 yrs old.

Is there any advice that you can give to help me in the adjustment period?? I have never owned a dog myself (had many growing up on a farm), and am very nervous about the next few day. This is why I didn't want to start out with a puppy. Any tips to help get her adjust to her new home would be great. Also house breaking tips for older dogs too. I live in a condo, and I would like to train her to go on my balcony, but the balcony is right next to a very busy road with 6 lanes of traffic.... very loud out there, and it might be too loud for her. Thoughts??

I also attached a pic that I received from the breeder... hopefully it came out!

Kara
Brush Anyone??
Join Date: May 2007
Location: Indiana
Posts: 983
Submit Photo: 0
Photo Submissions 7 Times in 5 Posts
Congrats. Can't wait for the update!
NO advice just enjoy!
---
Winston's Mom, Trish
---
Last edited by TnTWalter; 04-01-2009 at

04:08 PM

.
Senior Member
Join Date: Aug 2007
Posts: 936
Submit Photo: 15
Photo Submissions 9 Times in 7 Posts
to the forum! No advice but post more pics as soon as possible!!
The 3 Amigos
Join Date: Nov 2007
Location: Toronto, Ontario
Posts: 2,108
Submit Photo: 10
Photo Submissions 7 Times in 5 Posts
Welcome! Nice to see more Canadians lol
---
Chances are if your parents never had kids...you won't either...
Senior Member
Join Date: Apr 2007
Location: FLORIDA!
Posts: 4,657
Submit Photo: 1
Photo Submissions 3 Times in 3 Posts
Hi Kara, I thought this meant to come get YOU.
Hey, it's April Fool's Day
Introduce yourself in a calm voice and if everyone and their brother wants to see the dog at the airport I'd give them just a second and say I was sorry but needed to go potty her so she isn't hit up with a ton of people.
Keep the evening mellow and quiet. Remember, she's had a plane ride, doesn't know you, is out of her element, might be missing the other dogs she's used to, so she has her own set of feelings to deal with. Give both of you an adjustment time then invite friends over who are probably going nuts wanting to see her
Does your balcony have railings that she could accidentally get between? If so I'd find something to put around it.
I sing softly to my dogs and while I can't carry a tune in a bucket, they enjoy it and it's calming to them. It gives us quality time together all alone also.
Do you have the same food she's used to eating? If you want to change something with her, I would do it slowly however I'd lay down the law at any bad behavior quickly.
Havanese are pretty good at getting used to new situations so you two should bond pretty quickly. Good luck to you! She's a cutie.
---
Jan
jashavanese.net
Senior Member
Join Date: Jan 2008
Location: North Carolina
Posts: 1,257
Submit Photo: 2
Photo Submissions 2 Times in 2 Posts
Welcome, Kara! She is darling . . . what a sweet face. Are you keeping the name the same from the breeder or trying something new?

If your new one is house trained already to go on a pee pad, you have half the battle won. If she is used to going outside, I think it is going to be more of a challenge. I would talk with the breeder and see what they suggest, but Havs are smart and easy to train . . . just need to know what is expected of them. From what I have read on here of the ones who go inside, the pee pads work well but the poo can be a hit or miss situation. Seems some are really finicky. You need to find out what her environment was before as far as where she went, how she let them know she needed to go, etc. If she went outside before, maybe some plants on the deck would help LOL It will be an adjustment, but we can't wait to see more photos and hear how everything is going.
---
Kathy
and
Jackson
Hi and welcome Kara,
Congratulations on your new doggie
She looks very very sweet.
I too am in Canada and gone my first havanese from north of Edmonton. Where is your doggie from?
As far as helping her adjust it would be helpful to know her history. Is she is from the city or a farm, has she been shown at dog shows etc. then cars should not be so much of a big deal. Has she ever peed on pee pee pads or is her normal potty place a deck or patio stones or is it usually gravel or grass? This is important to help her transition on where to go. Also, see if the breeder had a potty command. This also really helps with teaching them the place.
I would second the advice about a very peaceful next week or so. Both your spirit and your home. That includes not a whole lot of new people in and out of your house.
Most of all, enjoy enjoy enjoy and don't be hurt if she doesn't come to cuddle right away. Just make yourself available (ie plan to watch TV or read tonight guilt free in the name of helping your dog adjust
)
Meeka
Sharlene
Join Date: Dec 2008
Location: South Carolina
Posts: 3,098
Submit Photo: 3
Photo Submissions 9 Times in 8 Posts
Welcome Kara !!!!
---
Sharlene, Evye & Bentley's Mom (Taylor too)
Mom to Ricky and Sammy
Join Date: Jan 2007
Posts: 10,319
Submit Photo: 30
Photo Submissions 21 Times in 17 Posts
Welcome to the forum, Kara! Your new Hav is so sweet. Great advice so far, so won't add a thing. ..... except to suggest you join this group if you like:
http://pets.groups.yahoo.com/group/havaneseincanada/
It's a mailing list of other Canadian Hav owners, breeders and fans. There are a few on there with 6, 7 and 10 yr. old Havs so they may be of great help to you. You can choose to get individual mail, which I recommend so you can see pictures everyone sends in from time to time, but you can also read from the site.
Enjoy the forum here too. There is a lot to read and see!
---
Hello. My name is marj and I have MHS.
"The greatness of a nation and its moral progress can be judged by the way its animals are treated." Mahatma Gandhi
"Come to the edge, he said. They said: We are afraid. Come to the edge, he said. They came. He pushed them and they flew." -Guillaume Apollinaire"
Kubrick & Hitchcock's Mom
Join Date: Apr 2007
Location: New York, NY
Posts: 7,774
Submit Photo: 1
Photo Submissions 33 Times in 24 Posts
to the forum Kara! What is your new pup's name? You never said.
Living in New York City - and in front of a subway construction zone - I am very good about exposing my dogs to lots of different noises. Of course, they're puppies, so I'm not sure how hard it will be with an older dog. I would make sure to go slow and only after she's been with you for a day or two, maybe three. She might not mind the noise. Open the door and go outside and see how she reacts - does she follow you, does she seem scared? Gauge her reaction before seeing if she will require training to go on the balcony. If you find that she doesn't like it out there, then you start from square one:
First let her hang out next to the balcony door. Make sure she looks at ease and praise her for doing so. Now, slide open the balcony door a tiny slit. This should allow some noises to come in. Watch her reaction if she freaks out right away, don't push her, let her investigate on her own but act calm and happy, don't act nervous at all. When she approaches the slit, praise and give her a treat. Open the door a tiny bit more, slowly do this again and again until you can open the door all the way and she doesn't mind the noise. Mind you, this can take more than a day and if she looks overwhelmed at all I would stop for the day. Then start working your way outside. Eventually she shouldn't mind the noise, especially if she realizes she gets a treat and/or praise when she goes out on the balcony!
Also, I agree with Jan - make sure the balcony is completely 100% dog proof before letting her go out there... I'm sure you've thought of this already, though.
Good luck and can't wait for pictures!
---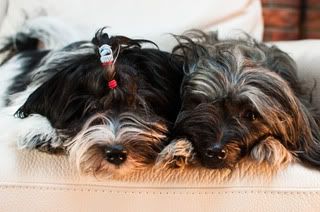 Visit
my blog

-----
Check out my
photos
-----
Photography (pets, people, weddings) -
TripleC Photography
Posting Rules

You may not post new threads

You may not post replies

You may not post attachments

You may not edit your posts

---

HTML code is Off

---