Amanda
Join Date: Nov 2006
Location: South Carolina
Posts: 9,576
Submit Photo: 2
Photo Submissions 31 Times in 22 Posts
Gates (& Stairs)
---
We are on the lookout for gating to block the stairs up the stairs. I would prefer for it to be nicer but am willing to take what actually works. We have purchased several baby gates for Belle to walk through them before we even have them up. Pretty much if there is a 2-3 inch gap she makes it.
Now I am looking at free standing gates that would sit on the floor around the stairs. I am just wondering if she will be able to push these away from the wall. Note Isabelle is very free spirited about being stopped from going somewhere. She will bite metal and shake it (you can see the blood around her mouth as evidence an hour later). She just hates anything to do with stopping her. Yes, I created a monster and now i just need to manage her.
Does anyone have one that they love and works (key here!) and if so would you post pics?
Riley & Monte's mom
Join Date: Feb 2007
Location: MA
Posts: 5,579
Submit Photo: 2
Photo Submissions 16 Times in 13 Posts
Metrowest, MA
Join Date: Jun 2009
Location: Massachusetts
Posts: 24,141
Submit Photo: 6
Photo Submissions 317 Times in 315 Posts
We have a Bindaboo walk-through gate that I really like. I just went and measured the openings, and they are 2". The bars are powder coated tubular steel, so they are very smooth and round... I doubt she could bloody her mouth on them. I'll take a photo later and post it.

What I really like is that it swings in either direction, and latches itself after you walk through. When we want to leave it open, we bungee cord it in the open position. It was easy to install too.
Sharlene
Join Date: Dec 2008
Location: South Carolina
Posts: 3,098
Submit Photo: 3
Photo Submissions 9 Times in 8 Posts
Amanda, would something like this work? I got it at BabysRUs. We did have to do some altering (Bentley used to be able to stick his head through the bottom, thus the mesh). We took dowels (painted black) to fill in any larger gaps he might be able to fit his head through (bottom left of Evye). Which is no longer a problem. Widest gap is 2", smooth metal. It is a tension installation so no holes in the wall. It is a walk through and opens in both directions.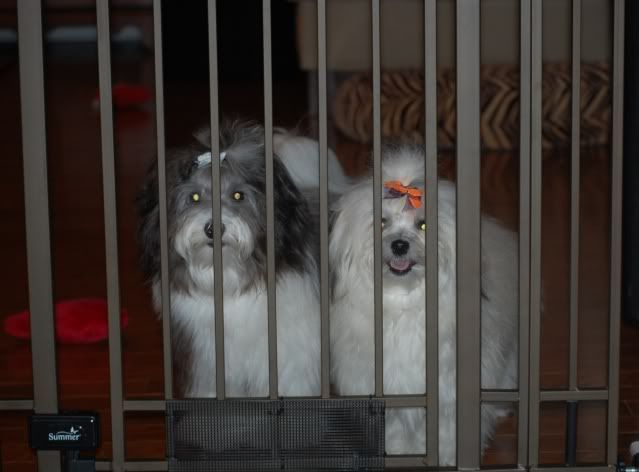 ---
Sharlene, Evye & Bentley's Mom (Taylor too)
Mom to Hobbes
Join Date: Oct 2008
Location: New Jersey
Posts: 272
Submit Photo: 0
Photo Submissions 0 Times in 0 Posts
I have the wood free standing fence at the bottom of our stairs it has 2 wings on the side that cover the bottom two steps. It's pretty heavy for Hobbes to move. we have to step over it but you can shove it out of the way if you have something to carry up the stairs.
---
Cindy and Hobbes
From the Pines in NJ
Senior Member
Join Date: Nov 2006
Location: Massachusetts
Posts: 11,746
Submit Photo: 27
Photo Submissions 48 Times in 35 Posts
Amanda, this has to be the finest collection of dog gates I have seen. however pricey. but if you are going to live with it consider it a piece of furniture
http://www.inthecompanyofdogs.com/se...Sort=&pagelen=
we just used the two additional pieces we got with our ex pen however. I will say this...the boys no longer go up stairs though even though it isn't gated anymore except at night with us.
---
Missy, Jasper & Cash
Tori's mom
Join Date: Feb 2007
Location: Sunny SoCal
Posts: 4,988
Submit Photo: 19
Photo Submissions 10 Times in 6 Posts
Henry 2006-2018/ Kordelia
Join Date: Jun 2007
Location: NJ/NYC metro.
Posts: 4,155
Submit Photo: 11
Photo Submissions 25 Times in 25 Posts
Isabelle is a handful huh? Any suggestion I would make would probably not contain her!
Posting Rules

You may not post new threads

You may not post replies

You may not post attachments

You may not edit your posts

---

HTML code is Off

---