Senior Member
Join Date: Jun 2009
Location: Massachusetts
Posts: 246
Submit Photo: 0
Photo Nominations 1 Time in 1 Post
Grain free diets
---
The idea of putting Loki on a grain free diet when he leaves puppydom appeals to me greatly. However, I've read that these diets are primarily for very active dogs.
Loki gets a little exercise each day but by no stretch of the imagination could be called very active.
For those of you who feed your dogs grain free food, questions:
1) How active are your dogs?
2) How old were they when you started?
3)
How does it effect their poops-softer, firm, etc?
4) Do you feed wet or dry?
Thanks everyone
---
Pam & Loki
Kubrick & Hitchcock's Mom
Join Date: Apr 2007
Location: New York, NY
Posts: 7,774
Submit Photo: 1
Photo Submissions 33 Times in 24 Posts
1) Not as active as I wish, though that's my fault mostly, LOL... we do go on a ~2 hour walk on the weekends if the weather allows it and they run around the house and play with each other during the week but that's about it. Neither of them are overweight, though, and they are both on grain free.

2) Kubrick was older only because I didn't think about going grain free back then but Hitchcock was 5 months old. Puppy food is *not* necessary to be given. Hitchcock has been on adult food his entire life (his breeder had him on adult food) with no negative effects from it. It's all about what you're comfortable with, but you can switch Loki whenever you want.

3) Definitely firmer and smaller poops for Kubrick. They are usually like little pellets. Hitchcock still has bigger poops but he's always had firmer ones even when he wasn't on grain-free.

4) Mostly dry. I give dry for breakfast and dry with 1 tablespoon of wet for dinner.
---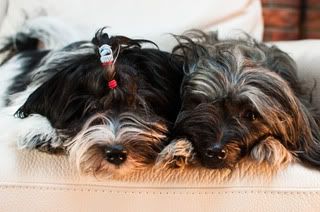 Visit
my blog

-----
Check out my
photos
-----
Photography (pets, people, weddings) -
TripleC Photography
Renee
Join Date: Sep 2008
Location: Saint Louis, MO
Posts: 1,217
Submit Photo: 1
Photo Nominations 1 Time in 1 Post
1. Floor ornaments
2. 5 & 11
3. Firm
4. Dry with mix ins & supplements kinda like a gravy.
Benji and Lizzie's Mom
Join Date: Jun 2007
Location: New Jersey
Posts: 4,086
Submit Photo: 0
Photo Submissions 6 Times in 5 Posts
1) Mine are definitely not very active. They play with each other and we play "fetch ball in the house for 10-15 minutes every day. Occasionally we take them for short (just about 20 minutes) walks when the weather is nice.

2) Their breeder feeds all her puppies and adults the same grain free adult kibble. I continued with the same. (Natural balance Potato and Duck).

3) Firm.

4) I mix boiled chicken, potato and carrots to their meal. It makes it just a little moist.
---
Best, Poornima
Posting Rules

You may not post new threads

You may not post replies

You may not post attachments

You may not edit your posts

---

HTML code is Off

---