Join Date: Oct 2009
Posts: 3
Submit Photo: 0
Photo Submissions 0 Times in 0 Posts
Is a havanese right for our family?
---
Or maybe the question should be, "are we the right family for a havanese?"

Our family includes my 70 something Mom and two 40ish adults. No kids, or small grand kids in the area.

We have always had several dogs. When we all moved in together (big house, fenced yard) we had nine dogs (mostly rescues) between us. Over the last 6 years 5 of those dogs have made the trip to the bridge. They were all over 15, except for one younger corgi who had many health issues. He only made it to twelve. The remaining dogs, all of whom are great with other dogs (they'd have to be, eh?) are two standard schnauzers, a mini schnauzer and a corgi. 3 are rescue dogs, and the 4th (one of the standards) is my hearing dog. All of the dogs are getting up in years, the baby is 5 with the older guys in double digits.

Why would someone with 4 dogs want another? Great question.

Mom has lost both of her little lap dogs. Lady (a little mixed breed, that just wandered in one day) was (we think) some sort of a maltese mix. The other was a toy poodle. They were Mom's buddies and very much the kind of dog she likes. You know... she moves, they move. Calm, but playful. None of the current canines are "her dogs." They are all too big to sit on her lap, and too strong for her to take for a walk... Meanwhile, none of the dogs we have are suitable for "playing" agility with. I used to play agility with one of the standards and the corgi, but both of them retired on me. My five year old simply doesn't like it. He'd much rather do rally, or freestyle, or play fetch.

We have an agility building with all the toys, and our local agility club meets at our house for classes and fun matches and I don't have a playmate...how sad is that?

So, I want an agility dog, but it has to be a dog that won't drive Mom, who's home all day nuts, or knock her flying or...

Now, I'm not thinking I need a speed demon or high drive dog. I'm not able to get away to do the kind of traveling you need to do to trial a dog around here (all the show require at least an overnight away from home, and we just can't do that right now) but I would like a nice little dog that could play in the yard with the bigger guys (25-45 lbs) keep Mom company all day, be able to go play agility for 1/2 hour or so in the evenings and maybe a little longer some weekends.

Could a havanese be that dog?
Senior Member
Join Date: Jan 2007
Location: Toronto, ON, Canada!
Posts: 4,155
Submit Photo: 0
Photo Submissions 16 Times in 6 Posts
Welcome to the forum!
I think a havanese is the perfect dog you! Or anyone for that matter!
Ryan
---
Kubrick & Hitchcock's Mom
Join Date: Apr 2007
Location: New York, NY
Posts: 7,774
Submit Photo: 1
Photo Submissions 33 Times in 24 Posts
I think a Havanese *could* be a good fit for your family IF you get a very good breeder who can really match this sort of personality for you. You didn't mention if you were thinking of going the breeder route or rescue or an adult or puppy? Puppies are a lot of work (I'm sure you know this from your previous experience) and tend to be a lot more energetic as well. My puppy is now 11 months and he has a ton of energy and loves to play. My 2.5 year old is a lot more mellow but still loves to play play play. They both live for play!

In addition, Havanese are *not* dainty dogs. My two can really pull if they want to and until they are trained to walk properly, they can really hurt my hands when walking, and I'm in my late 20s. Most Havanese are not small... they do exist but the average is around 12-13lbs or so with some coming below but some above. Both of mine are in the 15lb range and are definitely not small lap dogs. They love laps, but I wouldn't say they are small dogs such as the toy poodle and maltese mix you mentioned... both very tiny dogs. They are definitely shadow dogs like you mentioned, though, and constantly are underfoot. My oldest does love agility and has a lot of fun doing it!

I think you can make a Havanese work for you, but you should also think about some of the things I mentioned in case they are deal breakers. I would also suggest an adult instead of a puppy... and if your heart is set on a puppy to make sure to get one from a great breeder who does temperament testing to fit a puppy in with the kind of lifestyle you have. I think Havanese are wonderful dogs, but they do require play time and exercise... I definitely wouldn't call them lap dogs.

Good luck on your search!
---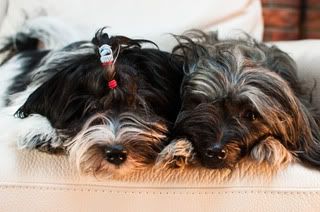 Visit
my blog

-----
Check out my
photos
-----
Photography (pets, people, weddings) -
TripleC Photography
Zeus and Riley's Mom
Join Date: Mar 2008
Location: Prescott, Az
Posts: 1,105
Submit Photo: 0
Photo Submissions 6 Times in 6 Posts
Hi and welcome!
What Ryan said...
---
Jean, Riley and Zeus!
Senior Member
Join Date: Nov 2006
Location: Massachusetts
Posts: 11,746
Submit Photo: 27
Photo Submissions 48 Times in 35 Posts
Welcome. I agree with what Lina said (and also what Ryan said) You really have to work with a good breeder and know the line of the dog you would be getting. Both in terms of size for your mom (my boys are 17 and 22 lbs and that can happen) and ability to do agility for you. Many Havanese are turning up with luxating patellas which would make agility a strain on them.

But personality wise- I have never met a Neezer (havaneezer) I didn't like. For the most part they are pretty adaptable.

I applaud you for doing your research.




---
Missy, Jasper & Cash
Benji and Lizzie's Mom
Join Date: Jun 2007
Location: New Jersey
Posts: 4,086
Submit Photo: 0
Photo Submissions 6 Times in 5 Posts
Welcome! I agree with Carolina and others. If you work with a well-reputable, well-regarded Havanese breeder, s/he will pick the puppy that is suitable for your lifestyle and expectations. Each Neezer has a different personality. My Benji (almost 3 years) is very playful, lives to play and is very outgoing. Lizzie (2+years) on the other hand is laid -back and stand offish, reserved. Both are very affectionate, sweet, gentle but Benji is more demonstrative of his affection with us as well as friends and family.

Just to illustrate my point of how the personalities differ, Benji is 12 lbs, a cuddle bug, will sit in the lap for hours. Lizzie is about 14 lbs, loves cuddles and hugs but would never sit in the lap for more than a minute. But she will whine and cry if she can't find me. Benji loves to play with other dogs while Lizzie preferes to watch the action from the sideline.

Good luck with your search.
---
Best, Poornima
I think it's about finding the right disposition for your family. Nala is on the smaller side (11 pounds) and is a lap dog. She never pulls on a leash-she is more likely to not want to go on a hearty walk. She could sit on someone's lap for a long time.....She is 3.

Good luck!

Annie
---
nala's mom
Senior Member
Join Date: Oct 2008
Location: Twin Falls, Idaho
Posts: 6,253
Submit Photo: 11
Photo Submissions 53 Times in 50 Posts
I have to agree with everyone here. Go with a very reputable breeder who can match your wants/needs to the dog's temperament, whether you get a puppy or an older, retired show dog that the breeder might be rehoming. They do take longer to housebreak than bigger dogs, for some reason. They do require quite a bit of grooming, if you aren't used to it in the first place. If you enjoy brushing and grooming, it's not a big deal. My full-coated boy gets brushed for about 10 minutes every day. A Hav in puppy cut takes less, but still requires brushing during the week. Oh, Tucker weighs 13 pounds.

Having said all that, if/when I get another dog, it will definitely be another Havanese. Beautiful coat, loves people--especially kids, doesn't smell, loves my company (they are often called "velcro dogs", and always happy. Sweet, sweet dog, with enough energy to do agility or obedience if you choose wisely.
---
Sheri, Tucker's Mom
Senior Member
Join Date: Jul 2008
Location: SE Georgia
Posts: 4,515
Submit Photo: 0
Photo Submissions 12 Times in 12 Posts
I would agree with everyone about finding a reputable breeder. We got our Hav at eight months of age and were told that she was a lap dog which is what I was looking for. Well, she NEVER gets on my lap and if I put her there she stays about five seconds! But, I still love her!! She is very even tempered and quiet (only barks when the doorbell rings). We got a Havanese because of very young grandchildren and Abby has certainly lived up to her reputation of being good with small children. She is eight pounds which is on the smaller end of the weight range but I was looking for one that couldn't drag me around by her leash! BTW, she is also a little on the shy side.

So, as you can see, these adorable little dogs can vary quite a bit in personality but all seem to have the same wonderful disposition.
---
Kathie, Abby & McGee's Mom
Join Date: Oct 2009
Posts: 3
Submit Photo: 0
Photo Submissions 0 Times in 0 Posts
Quote:
Welcome to the forum!
I think a havanese is the perfect dog you! Or anyone for that matter!
Ryan
That seems to be what everyone who falls under the spell of one or more of these little guys thinks. :lol:
Thanks for all of your comments.
We are absolutly NOT set on a puppy. It seems to me that an experienced dog is often a great bet, especially in a breed that requires daily grooming and takes a while to housebreak. I have no problem letting someone else lay a good foundation.
So anybody know of a great breeder in Dakota's or Wyoming? One who might have a party dog? One who's gonna be everybody's friend, who likes quiet times with the old folks, but is game for a bit of adventure now and again?
Posting Rules

You may not post new threads

You may not post replies

You may not post attachments

You may not edit your posts

---

HTML code is Off

---