Senior Member
Join Date: May 2007
Posts: 1,829
Submit Photo: 0
Photo Submissions 13 Times in 13 Posts
barking at door, jumping on guests
---
django barks like crazy when the doorbell rings. i don't mind, i think it's a good thing he barks at the door. when people come over, ring the door bell, he barks like crazy and doesn't stop for about 30 second. then he's fine. how can i teach him to bark when he hears the door bell ring but stop when people enter. i am working on the down stay at the top of the landing when i open the door, that works for a second, then he runs down the stairs, jumps on the people at the door and barks! help!
Hiro 23.03.2007
Join Date: Jan 2008
Location: Hengelo in the Netherlands
Posts: 491
Submit Photo: 0
Photo Submissions 25 Times in 13 Posts
A barking dog is not necessarily a bad thing. Many people choose dogs as pets because they do bark.
A dog's barking can scare off a potential burglar or alert you to a stranger on your property.
However, there may be other times when you wish your dog would stop barking.
If you have visitors and your dog will not stop barking at them, your guests may be frightened, uncomfortable or at the very least, annoyed.
Fortunately, you can teach your dog to stop inappropriate barking.
Step 1
Enroll in an obedience training course for you and your dog. This will help you learn the proper, healthy way to train your dog so that he obeys your commands. He will learn that you are the "pack leader" and feel more confident in you, alleviating much of his anxiety.
Step 2
Realize that your dog is probably barking at people out of fear. Find safe ways to expose your dog to a variety of different, unfamiliar people. Take him for a walk at least once a day, preferably in an area with lots of people such as a park. At first, keep him at a comfortable distance from other people. Every day, walk a bit closer to other people to desensitize him.
Step 3
Train your dog to bark on command. While this might sound counterintuitive, it can actually help you train him to stop on command as well. Teach your dog the "Speak" command using positive reinforcement such as treats, petting and lots of "Good dog!" Once he will "Speak," command him to bark repetitively. After several moments of barking, tell your dog "Enough." When he stops, reward him with a treat. Continue training your dog the "Enough" command, and soon he will know to stop barking when ordered.
Step 4
Instruct your dog to do something instead of barking. If your dog starts barking at people, tell him to lie down and stay. Since you are showing him that you are in control of the situation, he will follow your instructions and feel less threatened by or nervous around the people in your home.
Step 5
Crate train your dog. Once your dog is crate trained, you can send him to his crate before people come to visit or after he has started barking at people. While this might sound cruel to you initially, dogs actually feel safe in a crate once they have been trained to use one. It is much like the den of their wild ancestors, and it will give him a deep level of security.
Source:
http://www.ehow.com/how_4778685_stop...ng-people.html
Other information:
http://www.peteducation.com/article....2+1551&aid=153
Baloo's Mom
Join Date: Mar 2009
Location: New Brunswick, Canada
Posts: 532
Submit Photo: 1
Photo Submissions 0 Times in 0 Posts
Good information Ans!

Baloo does this too. After he does his bark, we make him sit behind us while I open the door. If he starts to bark or growl I tap his neck (not hard) and say "sheesh". And he stops. He has been doing pretty good, sometimes I have to sheesh more then once, but much better then going crazy. I do the tap and sheesh when he jumps on people too, works most the times.

Good luck, let us know what works for you!
---
~ Angie ~
Mom to Baloo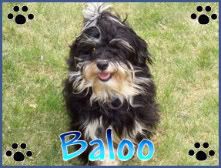 Chico and Cali
Join Date: Jul 2007
Posts: 1,373
Submit Photo: 8
Photo Submissions 2 Times in 2 Posts
This is one area that we've absolutely flunked.
We've tried: "go to your place" but that didn't work.

We've tried to get them to sit for a treat and that didn't work.

The main problem is that there are 2 of them and they get each other going with the barking and the other problem is that I can't get family members to go with the program. DH is bad, but the adult kids are worse. No one will stick to the no eye contact, no touch etc. . They all "reward" the dogs for barking by letting them jump up on them etc.

They don't jump on me or bark much at me. LOL

I'd love to know how many here have been successfull with the barking and jumping up at the door?? Particularly those with multiple Havs?????
If so, how did you do it? What works?
---
Nan
Chico, Cali, and Finnegan
Senior Member
Join Date: May 2007
Posts: 1,829
Submit Photo: 0
Photo Submissions 13 Times in 13 Posts
well one of our issues is that our friends love our dog so when they come over and he barks like mad, they get so excited, the pet him, etc. etc. i've told them to ignore him but they can't resisit. he jumps on people becuase he's sooooo excited to see them. i like the sheeshing idea and am open to others. keep them coming!
and Murphy & Gracie too!
Join Date: May 2008
Location: Cumming, GA
Posts: 6,989
Submit Photo: 5
Photo Submissions 22 Times in 21 Posts
Same here, they bark and jump and, because they're small, they pick them up and kiss and pet them. I try to get people to ignore them but it's hard, especially when the kids' friends come over.
---
Ann-Scooter, Murphy, & Gracie's Mom
Senior Member
Join Date: Jan 2008
Location: North Carolina
Posts: 1,257
Submit Photo: 2
Photo Submissions 2 Times in 2 Posts
I gave up on this a long time ago, but we still work on it every time someone comes over. It's still that Jackson thinks they are coming to see HIM. And they all pet and carry on, and my two sons start chasing him around making it worse. If I really want him to quit, I speak his voice firmly with "that tone" and he knows he better quit. The minute he inches forward to jump again, I warn again, and he usually stops. The Pet Agree plus training pretty much cured the endless barking . . . and I don't mind the the "warning bark." I do think two would be ridiculously hard, though!
---
Kathy
and
Jackson
Senior Member
Join Date: May 2007
Posts: 1,829
Submit Photo: 0
Photo Submissions 13 Times in 13 Posts
i agree! our friends love our dog and he loves them, maybe i can work on keeping him on the landing and that might help calm him down a bit.
Senior Member
Join Date: Nov 2006
Location: Massachusetts
Posts: 11,746
Submit Photo: 27
Photo Submissions 48 Times in 35 Posts
Angeleke, I Had great quick success with what I believe Beverly called "magic in a blue box...possibly black magic." It is called Pet Agree and if you do a search you will find a great many posts about it's success. It is an ultrasonic sound that is not harmful to the dog, but I gather unpleasant because of it's success. If you pair hitting the button with the command-- they learn the command very quickly. I used it literally once with Cash with the words "leave it" and he now knows that command with no quesiton. Jasper took a few more times with cars. But he know leaves the cars 99% of the time.
I would think using it with the words "quiet" and 'Off" might do the trick with Django. I feel torn between recommending it it feels too powerful to be "positive" but then again, it works quickly and allows you to get on with loving your pup. I had a vet once suggest a shock collar for Jasper and cars (I never took her up on that...and changed vets) but I remember she said..."I would rather this dog shocked twice and never risk his life by bolting at cars ever again" This is how I feel about the Pet Agree but I think it is much gentler than a shock collar.
http://www.petagreetrainer.com/?gcli...FaM45Qod-m1uNg
---
Missy, Jasper & Cash
Senior Member
Join Date: May 2007
Posts: 1,829
Submit Photo: 0
Photo Submissions 13 Times in 13 Posts
i bought the unit thanks to previous posts but was afraid to do it because i thought the hi-frequency noise would hurt his ears. i think it's time to pull it out and use it. so, i want him to bark when he hears the doorbell ring. so correct me here, when i want him to stop barking, i use a word command and hit the buzzer. then he wil associate my word command with his request to stop barking.
Posting Rules

You may not post new threads

You may not post replies

You may not post attachments

You may not edit your posts

---

HTML code is Off

---