We lost our Cassy yesterday.
---
My heart is broken. Cassy passed away yesterday.

I took her with me in the car to take my four year old son to a birthday party. She loved the car and always wanted to go with us. She sat with me in the front, she was sitting in the passenger seat. I opened the window slightly, she peeked out and was enjoying the wind and the beautiful weather. She was so happy. I remember looking at her and noticing her beautiful eyes green eyes and chocolate nose. She was so beautiful and loving, and funny and precious....

We picked my son up at the party place and headed home. I parked our car in our driveway. I was helping my son out of the car when she jumped out past me, and in an instant she saw a boy on a bike across the street (not a busy street). She ran. I screamed and screamed but she didn't stop. A car appeared out of nowhere, and the next thing I remember is holding her in my arms. She looked at me and for an instant, I though everything would ok. But within a minute, she was gone. My neighbor ran over and he gave her mouth to mouth while I pumped her heart. She was gone.

This happened yesterday and I am devastated. She was just a baby, only 6 and a half months. I blame myself so much for not having the leash on her. She just wasn't suppose to be getting out of the car by herself. Or if I just parked the car in the garage. Or if I just didn't take her with me. I failed her. I know this. I failed her. If only she went to a different family she would have been fine.

I'm havind real trouble talking to anyone about this. My husband told our friends and parent, and they keep calling. But I just can't talk about it. I'm hoping that by writing this, it will somehow be therapeutic.

We were suppose to have such a great life together. I wanted to get her therapy dog license.... now, she's gone.

Her name was "Venti Cassy Extra Sassy", and she was my baby.

Agata.
Senior Member
Join Date: Nov 2006
Location: Massachusetts
Posts: 11,746
Submit Photo: 27
Photo Submissions 48 Times in 35 Posts
Oh Agata, my heart is breaking for you and your family. What a tragic accident. I can certainly feel your ache, I was aching with you as I read this thinking of the times the boys have run off leash (or with the leash) and what might have happened.

Of course you hurt ! you have lost a dear friend to a tragic accident, but it was an accident so please do not blame yourself and have that be part of your pain.

I have no real words... But you have my support and my sympathy and lots of hugs.

Rest in Peace sweet Cassy.




---
Missy, Jasper & Cash
Sooo Smart
Join Date: Mar 2008
Location: Georgia
Posts: 3,551
Submit Photo: 9
Photo Submissions 22 Times in 12 Posts
I am so sorry. (((hugs))) I think there are many here who have had scary times with these little Havs who seem to have their RLH and will not listen. Accidents happen and I'm truly sorry. I know you will miss her.
---
Cicero trained Dale & Ronnie
Chico and Cali
Join Date: Jul 2007
Posts: 1,373
Submit Photo: 8
Photo Submissions 2 Times in 2 Posts
Oh, my heart aches for you.
Such a beautiful little puppy.

I am so sorry for your loss.
---
Nan
Chico, Cali, and Finnegan
Linda
Join Date: Nov 2008
Location: Eastern North Carolina
Posts: 5,409
Submit Photo: 73
Photo Submissions 24 Times in 22 Posts
Agata,
I have done this many times myself when we arrive home with Dexter, my heart aches for you. I am so sorry for your loss. I have never had a dog like Dexter in my life that means so much to me and I would be heart broken if anything ever happened to him.

Sending a hug for you. Accidents happen.
---
Dexter & Jack
"One Hav is NOT enough to enjoy the RLH skills!"
Senior Member
Join Date: Oct 2008
Location: Twin Falls, Idaho
Posts: 6,255
Submit Photo: 11
Photo Submissions 53 Times in 50 Posts
Oh, Agata, my heart aches for you (and your family,) in the loss of your sweet, beautiful Cassy. How hard to have held her in your arms when she passed, yet you gave her a gift in being there for her and comforting her. I'm so sorry.

I doubt there is any one of us who have not had a close call with our little furbabies, not noticed something we could have, or not had the leash on them every single moment, and we've just lucked out in nothing serious happening as a result. It was an accident. Accidents happen. I know I will be even more careful and try not to assume I'll always have perfect behavior from Tucker.

I'm so sorry.
---
Sheri, Tucker's Mom
Senior Member
Join Date: Oct 2009
Location: Ozarks, USA
Posts: 686
Submit Photo: 1
Photo Nominations 1 Time in 1 Post
Oh my...I'm in tears as I read this and share your pain. I can only imagine how badly you must be hurting right now, but please don't be so hard on yourself. Yes, there are things you could have done differently, but that is just life. There are always things we could have done differently and the outcome might have been different. We just have to take what happens and make our way through it the best we can. Let your family and friends comfort you and come here for support and comfort as well. You gave her so much love and she knew this, right up until the end.
---
Murray & his mama, Sally~
I'm so very sorry for your loss. She was beautiful. My thoughts are with you and your family.
---
Pamela (with Chloe, Cinderella, and Chrissy)
I am SO VERY SORRY!!!! ((((((AGATA))))))) Your Cassy was beautiful.
---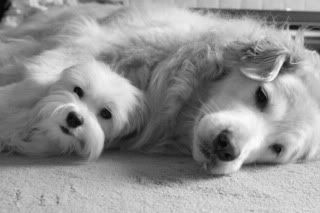 Nicole, Izzo and Cassie's Mom. I'm also Vinny's big sister
Benji and Lizzie's Mom
Join Date: Jun 2007
Location: New Jersey
Posts: 4,086
Submit Photo: 0
Photo Submissions 6 Times in 5 Posts
I am so sorry for your loss. Cassy was so beautiful. My thoughts and prayers are with you and your family.
---
Best, Poornima
Posting Rules

You may not post new threads

You may not post replies

You may not post attachments

You may not edit your posts

---

HTML code is Off

---