Pics of Mochi and what he's been up to...
---
Mochi got fixed yesterday and chipped. It was pretty stressful morning, I had to drop him off in the morning, then go to work, and my girlfriend picked him up while I had a late day at work. It was very exhausting but when we got a call saying the surgery was perfect we were relieved. We were sad to find out he has an ear infection. He's on some medication as well as his normal pain pills taht he's on for the next few days. He's also wearing a lamp shade...
Here are some pics. He's 7 month's old on 11/16/2009, weighs a little less than 10lbs, and is our picker upper in the morning when we're sleeping and he stuffs his face in your hands and licks it continously to wake you up and take him out...
As you can tell... we love the scruffy look! He's a graduate of Andrea Ardens puppy classes and we look to getting him into agility as he jumps all over the place!!
---
_________________________________________
Mochi
Senior Member
Join Date: Jul 2008
Location: South Fla
Posts: 2,815
Submit Photo: 1
Photo Submissions 10 Times in 10 Posts
He's adorable. Poor baby in that cone of shame!
---
Beth, Pixie Puff and MiG too
Lola's Mom
Join Date: Feb 2008
Location: San Francisco
Posts: 989
Submit Photo: 36
Photo Nominations 1 Time in 1 Post
No matter what dog, when they are in that collar they all look so forlorn! It is projecting human feelings, but I can't help it!

Glad your Mochi is doing so well after snipping. He's a cutie - scruffy and all!
---
---Little Lola a.k.a. Princess Pee and Poop and her humom Anne
"Happiness is a warm puppy" Charles Schultz
Senior Member
Join Date: Oct 2008
Location: Twin Falls, Idaho
Posts: 6,243
Submit Photo: 11
Photo Submissions 51 Times in 48 Posts
I love scruffy, too! He's a doll, glad he's doing well.
---
Sheri, Tucker's Mom
omg scruffy little slightly hunched shoulder picture...darn that cone! He's adorable!!
Senior Member
Join Date: Jan 2008
Location: Cajun Country
Posts: 2,876
Submit Photo: 23
Photo Submissions 6 Times in 5 Posts
He is adorable!
---
Kim, Santos & Brew
Senior Member
Join Date: Nov 2006
Location: Massachusetts
Posts: 11,746
Submit Photo: 27
Photo Submissions 48 Times in 35 Posts
what a cute Mochi. He is a Mochi-tini in the last shot.




---
Missy, Jasper & Cash
Metrowest, MA
Join Date: Jun 2009
Location: Massachusetts
Posts: 23,653
Submit Photo: 6
Photo Submissions 298 Times in 296 Posts
Poor Mochi! Fortunately, Kodi didn't need the cone... Mochi looks miserable, and I bet it's more from the cone than from the surgery!<g>

Tell him he'll probably feel better fast. Kodi really only needed the pain pills for the first night and the next day. I didn't have to give him any after that as he was acting totally normally after that. I did notice that he slept more than usual for about a week after the surgery, but I suppose that's pretty common for humans too, whether it's from the surgery itself or the anesthesia.
Baloo's Mom
Join Date: Mar 2009
Location: New Brunswick, Canada
Posts: 532
Submit Photo: 1
Photo Submissions 0 Times in 0 Posts
Oh he is a sweety, I love little scruffy dogs
Feel better fast Mochi, belly rubs from Canada!
---
~ Angie ~
Mom to Baloo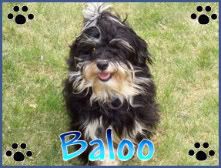 Senior Member
Join Date: Sep 2009
Location: South GA
Posts: 908
Submit Photo: 1
Photo Submissions 3 Times in 3 Posts
Poor Mochi....Panda sends kisses....
---
Donna Mom to Panda
Posting Rules

You may not post new threads

You may not post replies

You may not post attachments

You may not edit your posts

---

HTML code is Off

---