Chico and Cali
Join Date: Jul 2007
Posts: 1,373
Submit Photo: 8
Photo Submissions 2 Times in 2 Posts
dogs 101-Not Havanese
---
I know that "designer" breeds are not thought of too favorably here, but I wanted to mention that the November 28 Dogs 101 show features some of the different designer breeds. My friend John's Cavachon, Sophie, will be on the show.

A Cavachon is a cross of a Cavalier King Charles and a Bichon, 2 great breeds.

Sophie is terrific and I would have considered getting a Cavachon if I hadn't discovered the Havanese.
---
Nan
Chico, Cali, and Finnegan
LINDA
Join Date: Jun 2007
Location: PA
Posts: 6,496
Submit Photo: 3
Photo Submissions 36 Times in 33 Posts
Senior Member
Join Date: Nov 2006
Location: Massachusetts
Posts: 11,746
Submit Photo: 27
Photo Submissions 48 Times in 35 Posts
I think there are a lot of pros and cons to some of the designer breeds. It still comes down to good breeders who are looking to better their chosen breed. I think one of the big pros are many of the health issues. they say that mutts in general are healthier than pure breed dogs. The con personally for me is that I am allergic to most every other dog but havanese. There are some cockapoos and labrodoodles that I am not too badly allergic too and others that I am. So I wanted to know how the genes got split. I'm gonna go look up cavachon...bet it looks like a havanese. LOL




---
Missy, Jasper & Cash
Senior Member
Join Date: Nov 2006
Location: Massachusetts
Posts: 11,746
Submit Photo: 27
Photo Submissions 48 Times in 35 Posts
ok, sorry to hijack...but I was looking up Cavachon (yes very very cute) and look at this Beautiful gold chocolate Neezer puppy on the same sight!
http://www.cavachonpups.com/havanesefemalesforsale.html
NO! MISSY NO!
sorry, there is just something about our Neezers eyes that get me more than any other dog!
---
Missy, Jasper & Cash
---
Last edited by Missy; 11-25-2009 at

02:27 PM

.
Amanda
Join Date: Nov 2006
Location: South Carolina
Posts: 9,576
Submit Photo: 2
Photo Submissions 31 Times in 22 Posts
I am not a fan and mainly because they mix together two bad specimens of each breed and don't health test cause most just are in it to make money. People just fall in love with cute little furballs- not many puppies are ugly but some develop into ugly dogs. I have a few friends who have Cockapoos. One friend that is the only breed she has ever owned and she has been lucky. There is one cockapoo out there that I think is gorgeous but both her parents are champions, health tested and both really nice dogs. She turned out gorgeous too. She was an accident but I would take her in a heart beat
I also think the thing about mutts living longer may be attributed to people putting downs the ones that have health problems or the pound doing it for them. If a mutt comes into the pound and it has patella issues, hip issues, cataracts, etc. it is usually put down immediately because of the volume of dogs coming in. I think this happens a lot more than we realize. My neighbor has a mutt lab and newfy maybe and just watching this dog try to walk pains me. I thought she was 15 years old and I found out she is turning 7 (just a little younger than Belle!)
Missy- See, I think that puppy looks sad
Look at it's eyes, tail tucked, and shoulders in all the pictures... probably first time out of a cage. Also looks like it has a bad bite.
Senior Member
Join Date: Nov 2006
Location: Massachusetts
Posts: 11,746
Submit Photo: 27
Photo Submissions 48 Times in 35 Posts
awww Amanda, I don't think she looks sad. I agree with much of what you say. And I do think many are in it to make a profit. (and of course I have no clue about this breeder I posted) But I do know two people who got cockapoo's from different breeders and both have amazing dogs. One person I know better than the other, and he really researched cockapoos and how they are breed and the right way and the wrong way... And his breeder seemed to be like our beloved breeders wanting to further the cockapoo breed. So I come back to saying it is the same... it all comes down to the particular breeder.




---
Missy, Jasper & Cash
Chico and Cali
Join Date: Jul 2007
Posts: 1,373
Submit Photo: 8
Photo Submissions 2 Times in 2 Posts
Yes, I agree about the breeders. Sophie, the Cavachon was bred by someone who is very particular about the health of the parents.
She also raises them in the way we all would like puppies to be, socialized, etc.

I think they do look a bit like Havanese!
---
Nan
Chico, Cali, and Finnegan
Sorry, but I think that the best line I ever heard was "If you want the best of two breeds, buy two dogs."
---
Margaret &
ADCH/APD/LAA TACH-4 C-ATE/CATCH-5 ATCH ARCH Luigi (JRT)
ADCH/APD/LAA C-ATE ATCH ARCHEX Josie (BC)
ADCH TACH CATCh Desilu (Havanese) SCh, TMAG-3, RS-E, JS-E, GS-E, RL1, RL2, CW-SR, CW-Ob1, NA
Bruce (Cairn terrier) - trouble maker
Metrowest, MA
Join Date: Jun 2009
Location: Massachusetts
Posts: 23,680
Submit Photo: 6
Photo Submissions 299 Times in 297 Posts
There's a lot of mis-information in that article, disguised as "knowlege" of genetics.
She writes:
" Some detractors of hybridization argue that pure breeds produce a high degree of predictability in the offspring, which is generally true. However, it is just as true when you hybridize two good examples of pure breeds in an F1 generation. (an F1 hybrid is the direct offspring of two parents of different pure breeds. In the F1 generation, 50% of the DNA comes from Mom and 50% from Dad by definition). Anything other than an F1 hybrid will carry less predictablilty, because the genetic contribution from either of the pure breeds can vary from 0% to 100% on any given allele, or "trait" such as color or coat-type."
That would be assuming that the two dogs carry 100% different DNA... not possible, because dogs are all dogs. They are all the same species. By definition, both parents will still share MOST of the same genes.
But the biggest reason _I_ know not to buy "designer dogs" is that at least so far, I haven't come across a breeder of crossbreds that breeds dogs in what I consider a responsible manner. (in a loving home, as part of the family) Look around this site more... look at how the dogs are housed. Yes, it looks cleaner than most puppy mills, but those dogs all live in kennels. The puppies are whelped in chain link indoor runs.
Not the kind of situation I'd want my puppy to come from.
Kubrick & Hitchcock's Mom
Join Date: Apr 2007
Location: New York, NY
Posts: 7,774
Submit Photo: 1
Photo Submissions 33 Times in 24 Posts
I have nothing against having a mutt... they are also dogs and can be absolutely wonderful. But calling it a "breed" and a "designer dog" is just a smoke screen. It's a mutt. You want to pay $2000 for one, it's your problem, but no way would I do that. I can just walk to the pound, rescue a dog off the street and get the same results.

ETA: I do know that purebreeds are in pounds as well... just making a point.
---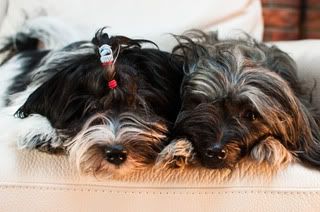 Visit
my blog

-----
Check out my
photos
-----
Photography (pets, people, weddings) -
TripleC Photography
---
Last edited by Lina; 11-25-2009 at

02:40 PM

.
Posting Rules

You may not post new threads

You may not post replies

You may not post attachments

You may not edit your posts

---

HTML code is Off

---