Blowing coat?
---
Just wondering what age this starts. Izzo is 8 1/2 months and just within the past few weeks he is getting knots constantly. I just brushed him a day or two ago and he is matted up already. How long does this last? His coat used to be so easy to take care of. Are there any tips, tricks I should know? What about grooming sprays before brushing the coat? Can anyone recommend a good one? I thought maybe washing then conditioning his coat would help but seems like since I used the conditioner his coat is matting up more. Weird. Any info would be great!!!
---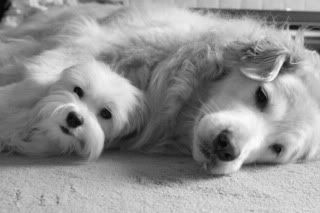 Nicole, Izzo and Cassie's Mom. I'm also Vinny's big sister
Senior Member
Join Date: Aug 2008
Posts: 155
Submit Photo: 5
Photo Submissions 4 Times in 3 Posts
I gave up on Chico's coat. It started matting heavily at about ten months of age. I have tried letting it grow out once since then and realized that to keep it looking nice with no matts I would have to spend at least an hour and one half a day on it. Now at eighteen months he gets a buzz cut every two months. We have never cut his tail or ears. Chico's coat is very thick and cottony. I met Metchosin's dog Tucker who has a beautiful, thin, wavy coat way different than Chico's
Join Date: Aug 2009
Posts: 3
Submit Photo: 1
Photo Nominations 1 Time in 1 Post
Brushing brushing brushing
---
Hi Nicole

No use, brushing on a daily basis is a must.

The good side is that it is not for a long time and the constant brushing helps with bonding and the puppy gets used to it.

Try Crown Royale's detangler or Chris Christensen Ice on Ice, I tried both

We will be there soon with our addition to the family!

regards
pau
Senior Member
Join Date: Apr 2007
Location: Georgia
Posts: 4,107
Submit Photo: 0
Photo Submissions 8 Times in 8 Posts
It seems the coat blowing comes at different ages. Smarty has a cottony coat and once the blowing started around the 8 or 9 months she always has a few mats to deal with. Galen at 1 year has only had a few mats around the collar area, she has the silk coat. My girls are not brushed every day but a several times a week.
---
Sandi, taking a new road with Smarty and Galen
Sharlene
Join Date: Dec 2008
Location: South Carolina
Posts: 3,098
Submit Photo: 3
Photo Submissions 9 Times in 8 Posts
I find mine matt more easily immediately after a bath/conditioning. It's a "catch 22". Keeping them clean reduces matting yet freshly bathed dogs matt more easily.

I can't speak from personal experience but I have not heard very good things about CC Ice on Ice.
---
Sharlene, Evye & Bentley's Mom (Taylor too)
and Murphy & Gracie too!
Join Date: May 2008
Location: Cumming, GA
Posts: 6,989
Submit Photo: 5
Photo Submissions 22 Times in 21 Posts
I was going to say the same thing about Ice on Ice, haven't heard good things.

I brush my 3 almost every day, sometimes more than once a day. I gave up on Murphy with the coat blowing and he got a haircut, the mats were just too big and I felt like I was torturing him. He didn't get shaved but got a "long puppy cut" and I really like it. When this stage is over we'll probably grow his coat out again, it was beautiful!

My advice would be to brush, a LOT!
---
Ann-Scooter, Murphy, & Gracie's Mom
Kasey's Mom
Join Date: May 2009
Location: Long Island, New York
Posts: 17
Submit Photo: 0
Photo Submissions 0 Times in 0 Posts
Hi Guys, my female hav is 9 months and wow she is really matting like never before - I brush her twice daily but it is tough - where do the matts come from!!! Here is the BIG question - how long does this last?
Thanks
Senior Member
Join Date: Nov 2006
Location: Long Island, NY
Posts: 8,619
Submit Photo: 3
Photo Submissions 19 Times in 19 Posts
Kodi went thru his first BC at about 7mos. It was so bad, I had him shaved. Shelby was at about 10 mos and it lasted a couple of months. Kodi doesn't mat much, but Shelby makes up for it. I have to brush her a couple of times a week, but Kodi only once a week. Iuse #1 All Systems Fabulous Grooming Spray and like it very much.
---
Michele
Kodi & Shelby's Mom and Julian's Grandma
Senior Member
Join Date: Sep 2009
Location: South GA
Posts: 908
Submit Photo: 1
Photo Submissions 3 Times in 3 Posts
Nicole - this is a timely thread for me. Panda will be 6 months on 12/7 and starting late last week she is matting like crazy. Mostly on her hind legs. I've had to cut a couple of them out and I'm religious about brushing her everyday - at least once. She gets bathed once a week, but I've not used any conditioner on her so far.

I'm with Kelly....how long does this last? Do they loose their entire coat? This is new territory for me - my Labs never did this!
---
Donna Mom to Panda
Izzo's coat is very cottony. I just got through brushing him. Used to be that when I brushed him he'd look nice for a day or two. Now, he looks like a mess right after I brush him GAHHHH!!!!! He had several mats. I have no idea where they came from since I just brushed him out a day or two ago. How long does this last? I guess I am used to hair that sheds and falls out (my Golden Cassie) yes she gets mats but not too bad. Izzo on the other hand, he's a mess :/ Dh said I need to cut his hair but I don't want to. He has a gorgeous sable coat with black tipping. Calgon, take me away! LOL. Good to see I am not alone. We can all commiserate together
---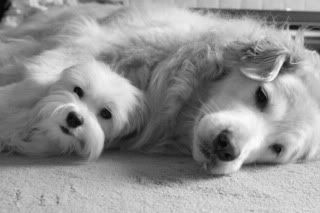 Nicole, Izzo and Cassie's Mom. I'm also Vinny's big sister
Posting Rules

You may not post new threads

You may not post replies

You may not post attachments

You may not edit your posts

---

HTML code is Off

---