Member
Join Date: Oct 2009
Location: Burlington, Washington
Posts: 84
Submit Photo: 0
Photo Nominations 1 Time in 1 Post
An update on my problem pup!
---
So, I can not find my original post but to sum up I was having real trouble with my havanese rescue of over a year. I have since changed his whole routine. He now sleeps in a crate at night, every night, and goes to the crate on command. He eats everyday at 2 p.m. and knows when it is coming. He has had no accidents in the house since we started the rehabilitation of Milo. I have him rolling over, sitting, waiting, staying, dancing, etc. all on command which has helped us to bond. It has also helped Milo with coming when called which still remains a thorn in my side. I groom him everyday which goes to strengthening our bond. When he escapes from our house out the front door it is very easy to retrieve him. He now enjoys a structured life and knows how his day will go. He is still independent of the family. He does not curl up in laps or follow from room to room. He leaves the room most times when people come in to be in the same room. But I see progress. I see real, true, honest to God progress. So, for anyone who was wondering Milo and I are on our way!
Senior Member
Join Date: May 2007
Posts: 1,829
Submit Photo: 0
Photo Submissions 13 Times in 13 Posts
I'm so happy to hear this! Milo just needed someone special to take care of him and you were the one.
Benji and Lizzie's Mom
Join Date: Jun 2007
Location: New Jersey
Posts: 4,086
Submit Photo: 0
Photo Submissions 6 Times in 5 Posts
I am happy to hear Milo's progress. Good luck!
---
Best, Poornima
Senior Member
Join Date: Jul 2008
Location: Argyle, Texas
Posts: 982
Submit Photo: 1
Photo Submissions 3 Times in 3 Posts
Way to go, Milo!

My Cooper is a havanese rescue, too, and I've had him just a little over a year. He has come so far, but he still remains his distance from strangers or family members that only visit occasionally. He finally does climb in our lap for head scratches when my husband and I are alone.

My grandaughter (8) is visiting us this week. It has been so hard on her to have Cooper run from her because she is so sweet and loving to dogs. Today, I put a leash on him and we sat in the floor with treats. Haley held the leash so Cooper couldn't run from her. She sat quietly and rewarded him with treats when he relaxed. That's as far as we got today. The most important discovery for Cooper was that Haley pet him and nothing bad happened!

Good luck with your Milo.
---
Janan
Max and Cooper
Susan
Join Date: Feb 2007
Location: Near San Francisco Bay Area
Posts: 4,063
Submit Photo: 2
Photo Submissions 2 Times in 2 Posts
Excellent news. Congratulations to you and to Milo. All of your work together is paying off. He may never be cuddly, but that's okay, isn't it? My McKenna isn't terribly cuddly but we adore her just the same.
---
Susan
Dave T
Join Date: Dec 2007
Location: Ontario Canada
Posts: 10,778
Submit Photo: 3
Photo Submissions 113 Times in 111 Posts
good for you and Milo.
---
Dave and Molly
Ian Dunbar was awarded the Outstanding Achievement Award from I.P.D.T.A. Here's a picture of me accepting the award on his behalf.
Member of IAABC ,International Association of Animal Behavior Consultants , Member of Pet Professional Guild
Baloo's Mom
Join Date: Mar 2009
Location: New Brunswick, Canada
Posts: 532
Submit Photo: 1
Photo Submissions 0 Times in 0 Posts
Sounds like you have worked really hard, now you have a great balance and Milo must be much happier, and you too. Great job!
---
~ Angie ~
Mom to Baloo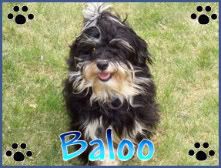 marltonmommy
Join Date: Aug 2009
Location: Marlton, NJ
Posts: 152
Submit Photo: 0
Photo Submissions 3 Times in 3 Posts
Congratulations!! It is so nice to hear about such loving and dedicated mommy's like you. You sound like you have made such great progress, with your love and patience you will continue to see progress. Milo is a very lucky guy!!!!
Beth and the girls
Join Date: Feb 2009
Location: Florida
Posts: 1,926
Submit Photo: 1
Photo Submissions 7 Times in 5 Posts
Good news. I hope Milo continues to improve. It can be so hard not knowing what these little guys have been through. Mostly they just need time to trust and feel safe.
---
Blessings, Luna and the girls
Amanda
Join Date: Nov 2006
Location: South Carolina
Posts: 9,576
Submit Photo: 2
Photo Submissions 31 Times in 22 Posts
sounds like the training has really made you bonded- great job
Amanda
Posting Rules

You may not post new threads

You may not post replies

You may not post attachments

You may not edit your posts

---

HTML code is Off

---