Senior Member
Join Date: Apr 2007
Location: Georgia
Posts: 4,107
Submit Photo: 0
Photo Submissions 8 Times in 8 Posts
Another Havanese Misconception
---
Another Havanese Misconception…..along with non shedding……as far as my two are concerned.

Ok to quote many as saying the Havanese hair is to keep the heat out in the tropics, I'm going to have to say 'Bah Humbug". In our summer months my girls go from shade to shade and want back into the air conditioned house. Now that we are having our coldest days all they want is to be outside. They play more and enjoy the cold much more than the heat. No clothes on them both have a fairly full coat. The wind will blow their hair enough that I see their skin and they seem to love it.

How about the other Havs in different parts of the U.S and World…..Hot or Cold weather their favorites?
---
Sandi, taking a new road with Smarty and Galen
Mom to Ricky and Sammy
Join Date: Jan 2007
Posts: 10,319
Submit Photo: 30
Photo Submissions 21 Times in 17 Posts
Sandi, my two definitely enjoy the cool weather more than the hot, muggy summers we have. They have long coats, and Ricky's is very thick and the sun and the muggy heat just makes him want to stay inside or in the shade too.

Winter? They are snow bunnies, but don't stay long when it's brutally cold of course.




---
Hello. My name is marj and I have MHS.
"The greatness of a nation and its moral progress can be judged by the way its animals are treated." Mahatma Gandhi
"Come to the edge, he said. They said: We are afraid. Come to the edge, he said. They came. He pushed them and they flew." -Guillaume Apollinaire"
Senior Member
Join Date: Apr 2007
Location: Long Island, New York
Posts: 8,941
Submit Photo: 3
Photo Submissions 41 Times in 25 Posts
My boys love the cold weather, even now, shaved down. They would stay out for a long time if I let them.
---
<b>Just Milo and me, and . . . </b>Bailey makes three . . . until Ruby said, "hey, what about me?"
Geri, Milo, Bailey and HRH Princess Ruby Tuesday
If you're thinking of getting a puppy, click here
http://www.photoshow.com/watch/YK8AH4rw
Senior Member
Join Date: Jul 2008
Location: SE Georgia
Posts: 4,515
Submit Photo: 0
Photo Submissions 12 Times in 12 Posts
Abby could stay out all day snooping around in this really cold weather - not so much the heat - like yours, Sandi, she hunts out the shade or dirt in the garden and lays down and pants her head off! Then comes inside to cool down in the AC!
---
Kathie, Abby & McGee's Mom
Sharlene
Join Date: Dec 2008
Location: South Carolina
Posts: 3,098
Submit Photo: 3
Photo Submissions 9 Times in 8 Posts
Same here. Love the cold much more than the heat (but not I).
---
Sharlene, Evye & Bentley's Mom (Taylor too)
Kimberly
Join Date: Aug 2006
Location: San Francisco Bay Area
Posts: 10,275
Submit Photo: 5
Photo Submissions 18 Times in 12 Posts
Well, like any creature, you also adapt to your climate. My mother lives in the hot, tropical weather of the Philippines and when she comes to visit California, even if in the summer, she has to pull her coat out of storage and wears it because she is so chilled here. She looks funny wearing a coat in summer, but she's miserable without it.

I think if our dogs lived in the Cuban heat all the time, it would be a different story.
Senior Member
Join Date: Apr 2009
Location: York, PA
Posts: 687
Submit Photo: 3
Photo Submissions 3 Times in 3 Posts
My Murph loves the cold!
---
Holly & Murphy
Senior Member
Join Date: Feb 2007
Posts: 4,302
Submit Photo: 1
Photo Submissions 4 Times in 3 Posts
Marley loves the heat and cold and rain too, but Rufus prefers the heat! He loves to lie out on the back porch right in the sun and now with his hiney shaved down he ducks down to the ground every time there's a breeze.
Kubrick & Hitchcock's Mom
Join Date: Apr 2007
Location: New York, NY
Posts: 7,774
Submit Photo: 1
Photo Submissions 33 Times in 24 Posts
I agree with Kimberly on this one. It's just because they've adapted to cooler weather and thus prefer it. Scientifically their hair DOES protect them from the heat, but that doesn't mean that they're used to the heat!
---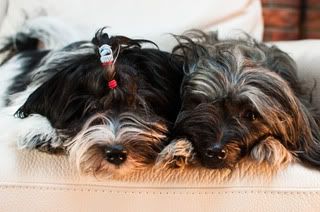 Visit
my blog

-----
Check out my
photos
-----
Photography (pets, people, weddings) -
TripleC Photography
Total Havanese Groupie
Join Date: Dec 2007
Posts: 2,639
Submit Photo: 7
Photo Submissions 37 Times in 16 Posts
um, neither posh nor i enjoy this frigid tundra. in fact, she is my summer city girl who seems to thrive on a noisy summer sidewalk in the middle of the city where her tail and heart seem to wag. what a lovely girl.
Posting Rules

You may not post new threads

You may not post replies

You may not post attachments

You may not edit your posts

---

HTML code is Off

---