HELP! Izzo's chewing the hair on his legs!!!!
---
Over the past two days when getting Izzo out of his kennel I have noticed that he had chewed the hair on his front legs to where it looks like it's been in a big dread lock. I work it out with my fingers till it's loose then comb it out but the hair combs out in small clumps. now one leg has shorter hair. He is not allergic and I don't know what to do. This is an upsetting behavior to me. Is he bored? He will also do this to my Golden when she is laying on the floor. He will lay there and chew on the hair behind her ears until it's all in mats. How do I make him stop??? What about spraying Bitter Apple or something on his hair so it will deter him from chewing it???? Have any of your Havs ever done this?
---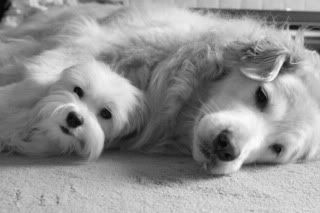 Nicole, Izzo and Cassie's Mom. I'm also Vinny's big sister
Kubrick & Hitchcock's Mom
Join Date: Apr 2007
Location: New York, NY
Posts: 7,774
Submit Photo: 1
Photo Submissions 33 Times in 24 Posts
You can definitely spray Bitter Apple to stop him from chewing it. Though it sounds like something he's doing out of boredom... do you put chews in his kennel with him? That might help with him being bored in there. Kubrick likes to lick (not chew) non-stop when he's bored. I have to always be stopping him and distracting him so he won't do it anymore. He's gotten better at it but when I'm not paying attention I'll catch him licking the bed or the couch. A quick no and throwing a toy distracts him enough, though.
---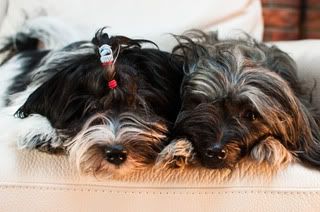 Visit
my blog

-----
Check out my
photos
-----
Photography (pets, people, weddings) -
TripleC Photography
Thanks for the response Lina. Well he has two plush toys in his kennel but I don't know what else would be safe to put in there while we are not home. He's only in there when we are gone and at night. During the day it's only for about 3-4 hours then I will come home to let him out and play or my husband does if he comes home for lunch then sometimes for maybe an hour or two after that while I pick up my other kids from school. My first assumption would be that he is in fact bored while we are gone. How do you stop it though when you are not home or at night when you are sleeping? I don't want him to chew all of his hair off or discolor his hair (as you can see he's in full coat) I guess tomorrow I will be buying some Bitter Apple and also start deterring him when he chews on our Golden. This is so frustrating. DOGS! My sis in law called today and said her female schnauzer puppy is eating the cat poop out of the litter box. She didn't know why and I said "It's a girl dog thing, get used to it. All of the female dogs I know eat poop" LOL So, do you kennel your pups? What do you give Kubrick in his kennel to chew on that is safe???
---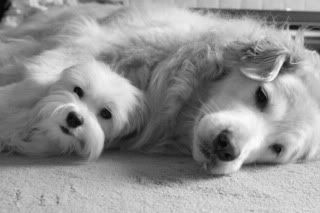 Nicole, Izzo and Cassie's Mom. I'm also Vinny's big sister
Senior Member
Join Date: Apr 2007
Location: Long Island, New York
Posts: 8,941
Submit Photo: 3
Photo Submissions 41 Times in 25 Posts
Nicole are you sure he's not allergic. I've had dogs do that when they're reacting to something in their dog food. Is there anything new in his environment, even possibly the detergent you use to wash his stuff?
---
<b>Just Milo and me, and . . . </b>Bailey makes three . . . until Ruby said, "hey, what about me?"
Geri, Milo, Bailey and HRH Princess Ruby Tuesday
If you're thinking of getting a puppy, click here
http://www.photoshow.com/watch/YK8AH4rw
Geri, he has never shown any signs of allergies. I feel him Solid Gold Hundchen Flocken puppy and he gets Wellness puppy treats. I wash all of our clothing, bedding, etc in Tide Free and Clear. The only thing different in the house itself is a live Christmas tree but that's been here for a month and he just started chewing himself two days ago. It almost seems like boredom to me, considering he chews on my Golden's hair behind her ears the same way. I just had him laying next to me on the sofa and he was trying to chew on that same leg again and I fussed at him and gave him his favorite duck. He doesn't seem "itchy" in anyway- not scratching or anything. I may have to call my vet or talk to her when I take him in to get his Bordatella vaccination. Thanks for responding!
---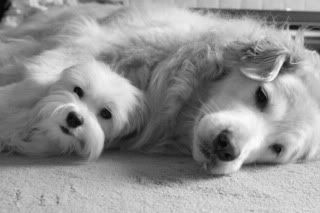 Nicole, Izzo and Cassie's Mom. I'm also Vinny's big sister
Now he's playing and chewing on all of his soft toys as we speak. Could this just be a phase? He's been chewing up a lot lately. He's 10 months today.
---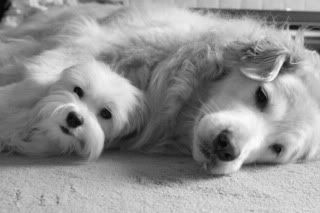 Nicole, Izzo and Cassie's Mom. I'm also Vinny's big sister
Roscoe and Stella's Mom
Join Date: Dec 2009
Location: Miami, FL
Posts: 1,203
Submit Photo: 6
Photo Submissions 3 Times in 3 Posts
Does he chew on a bully stick? Maybe that would help and you could use it to redirect his attention!
Tried bully sticks over Christmas and we had a BAD experience with my Golden with them (bad diarrhea) so I won't be getting those anymore, not to mention it skeeved me out to find out they were made from bull penises
---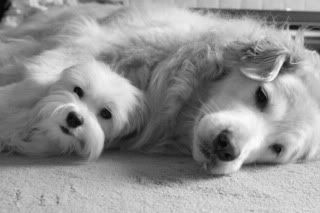 Nicole, Izzo and Cassie's Mom. I'm also Vinny's big sister
Stella's Mommy
Join Date: Mar 2008
Location: Minot, ND
Posts: 436
Submit Photo: 0
Photo Nominations 1 Time in 1 Post
Quote:
"It's a girl dog thing, get used to it. All of the female dogs I know eat poop"
Mine doesn't.
Sorry, I don't have any ideas on how to stop the hair chewing. Could it be a separation anxiety thing?
---
Senior Member
Join Date: Feb 2007
Posts: 4,302
Submit Photo: 1
Photo Submissions 4 Times in 3 Posts
Well on the poop eating, I have 2 girls and 2 boys and it's one of the boys that's the poop eater. I don't think it matters whether male or female on that.

Rufus went through a terrible bout of itchies and broke off alot of his coat a year ago in the Spring. I learned at that time that allergies can develop at any timeso just because he's never shown them before doesn't rule it out. Hopefully that's not what it is though, because it's a PITA to figure out what they are allergic too. Have you had any lawn treatments lately or is something new blooming in the yard? Chewing the feet makes me thing of something he's been in contact with, or maybe a bug bite?
Posting Rules

You may not post new threads

You may not post replies

You may not post attachments

You may not edit your posts

---

HTML code is Off

---