dog eating cat feces - HELP!
---
My daughter's cat is staying in my house and has been here for about three weeks. Little by little she and Ellie, now 15 months, have become less aggressive toward each other.

Ellie really never was aggressive but she is no longer afraid of the cat and has shown an increasing interest in the cat's litter box, which is situated in my daughter's room.

Today I discovered that Ellie is eating the cat's stools out of the box and perhaps also the little pieces of litter that come with the stools.

Ellie and the cat both eat NV raw - what in the world is Ellie thinking?

Any suggestions?

This is somewhat serious in that the cat comes to visit on a somewhat regular basis and I want my daughter to come and visit on a regular basis as well. But my daughter, a cat person, is really grossed out by this latest turn of events. And I have to admit it doesn't exactly thrill me either.

HELP PLEASE!

Louise
Tori's mom
Join Date: Feb 2007
Location: Sunny SoCal
Posts: 4,988
Submit Photo: 19
Photo Submissions 10 Times in 6 Posts
Ellie is acting like a typical dog. Many dogs will eat the feces of other animals and some will even eat their own
Unfortunately, my Tori was one of those
Thank goodness she's outgrown that disgusting habit.
Years ago when we had both dogs and cats in the same household, we kept the litterbox in the bathroom or laundry room with a short gate at the doorway that the cat could get over but the dogs couldn't. Of course, the dogs we had at that time weren't Havanese and didn't climb/jump.
I know others have this problem and hopefully they'll post what has worked for them.
Good luck!
I don't know how to help but my sis in law is having the same issue with her female Schnauzer puppy eating her cat's poop. She has no clue what to do. Sorry
---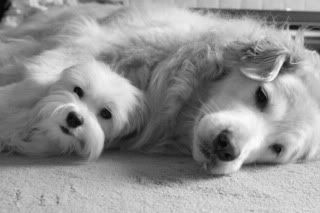 Nicole, Izzo and Cassie's Mom. I'm also Vinny's big sister
Henry 2006-2018/ Kordelia
Join Date: Jun 2007
Location: NJ/NYC metro.
Posts: 4,164
Submit Photo: 11
Photo Submissions 27 Times in 27 Posts
the dog is attracted to something in the cat's food and thus the feces.
thank goodness it is only for a short period of time.

maybe, create a "blockade" so the dog can not get to the box but the cat can.
maybe, scoop the box as soon as the cat poops and the dog can never get it.
maybe, train the dog not to go near the box as you would how you've trained the dog to stay away from other places you do not want the hav

these are my suggestions.
Senior Member
Join Date: Sep 2009
Location: South GA
Posts: 908
Submit Photo: 1
Photo Submissions 3 Times in 3 Posts
We're having the same problem - except outside with the neighbors cats that run free. Panda is finding that they poop in our yard and she's decided to clean it up. I've tried taking a bucket of soap and bleach and pouring it over the poop - but that only works for whatever I hit. I've tried to use the pooper scooper to keep it cleaned up - but Panda is still eating the grass around where the poop was. The next thing I'll try will be some hot sauce - maybe that will deter her....

There must be something in the cat food that attracts the dogs - IDK, but I wish the neighbors would keep their cats put up....
---
Donna Mom to Panda
Senior Member
Join Date: Jul 2008
Location: SE Georgia
Posts: 4,515
Submit Photo: 0
Photo Submissions 12 Times in 12 Posts
I heard that cat food is richer which is why the dogs are attracted to the cat poop. My daughter just got a cat recently and when we visited I was worried about Abby getting into the litter but she keeps it in the laundry room and has a litter box that is covered and just has an opening for the cat to go in and have privacy. I'm not sure if that is why she stayed away or if she just didn't find time to explore and find it since we were only there a couple of days. I guess I'll find out next time we go!!
---
Kathie, Abby & McGee's Mom
Miriam, Bacca's Mom
Join Date: Nov 2008
Location: Philadelphia area, PA
Posts: 77
Submit Photo: 0
Photo Submissions 0 Times in 0 Posts
I also have the cat poop eating problem. Bacca thinks it's the best treat! I solved the problem by putting up a low gate that the cats have no trouble jumping over and Bacca has no interest in jumping over.
---
Henry 2006-2018/ Kordelia
Join Date: Jun 2007
Location: NJ/NYC metro.
Posts: 4,164
Submit Photo: 11
Photo Submissions 27 Times in 27 Posts
I was out walking Henry and ran into 2 of his dog friends - Charlie and Matty. Both of these dogs were feasting on Goose Poop!
Ewwww! Their mom/owner was grossed out . . .
remember, it could be worse!
Senior Member
Join Date: Oct 2009
Location: Ozarks, USA
Posts: 686
Submit Photo: 1
Photo Nominations 1 Time in 1 Post
Some dogs just can't resist the kitty cookies. Chica was that way and yet Murray has never shown any interest. We took care of it by getting a covered litter box like
this
It took a bit of time for the cats to get used it, but it was worth the effort as it solved the problem.
---
Murray & his mama, Sally~
Member
Join Date: Jan 2007
Posts: 60
Submit Photo: 1
Photo Submissions 0 Times in 0 Posts
sprinkle some MSG powder over faeces
also add a little to food of dogs that do this will stop immediately.
Good luck
Posting Rules

You may not post new threads

You may not post replies

You may not post attachments

You may not edit your posts

---

HTML code is Off

---