Carolyn
Join Date: Dec 2009
Location: Iowa
Posts: 220
Submit Photo: 0
Photo Nominations 1 Time in 1 Post
I'm obsessed with buying puppy things!
---
Now that we know which puppy we are getting and still have 3-4 weeks to go, I need something else puppy-related to do.
I have found so many amazing sites online that sell clothing and toys and cute collars and personalized things and so much more!
Although I've only actually purchased one item so far (a pink faux mink doggie throw at Nordstroms online), I have tons of items in my shopping carts at all these different stores. Trying really hard not to go overboard but I'm about ready to spend $14 per toy for a "Chewy Vuitton" purse and a "Bark Jacobs" shoe! OMGosh I didn't know there were so many cool things out there!
My hubby commented the other day "at least the new puppy has kept you from looking/buying new purses and shoes" ... heh.
I can't wait until he sees these!
There is so much BLING out there, too! I even found little tiny bows for Christmas with crystals and holly leaves on them that I'll HAVE to get since our little girl will be named Holly.
Tooooooo much fun!!!
Kubrick & Hitchcock's Mom
Join Date: Apr 2007
Location: New York, NY
Posts: 7,774
Submit Photo: 1
Photo Submissions 33 Times in 24 Posts
Have you found Petedge.com already? There's no reason you need to be spending $14 on a plush toy... Petedge has toys I find at my local pet store for a quarter (sometimes less!) of the price.
---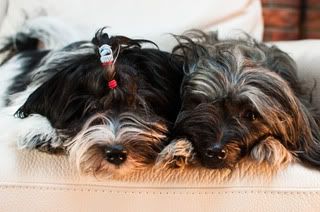 Visit
my blog

-----
Check out my
photos
-----
Photography (pets, people, weddings) -
TripleC Photography
Junior Member
Join Date: Jan 2010
Location: Walterboro, SC
Posts: 3
Submit Photo: 0
Photo Submissions 0 Times in 0 Posts
I was gonna suggest PetEdge, too. There's a minimum order requirement, but it sounds like you'll hit that with no problem. Happy shopping!
Senior Member
Join Date: Jan 2010
Location: Queens, NY
Posts: 190
Submit Photo: 0
Photo Nominations 1 Time in 1 Post
Haha! I had to laugh at the "Chewy Vouitton"
We get our puppy on the 30th, and yeah, I've been pretty excited and have been buying things here and there...I mean, besides the essentials like the crate and exercise pen and grooming stuff
Have fun!
---
~irina~
Stella's Mommy
Join Date: Mar 2008
Location: Minot, ND
Posts: 436
Submit Photo: 0
Photo Nominations 1 Time in 1 Post
Isn't it fun preparing for a new puppy? I'd wait on the more expensive toys however, I found that Stella destroys plush toys in a matter of minutes so it's not worth it to buy expensive ones. The only toys she doesn't "kill" immediately are latex ones.
Have fun puppy shopping!
---
Senior Member
Join Date: Jan 2010
Location: Queens, NY
Posts: 190
Submit Photo: 0
Photo Nominations 1 Time in 1 Post
It
is
fun! Even picking out the collar and leash...or a little tag with his name and our phone number
I have mostly chew toys...like kongs and stuff for teething right now...ok...and one cute little plush toy, lol.
AKathy-- is that the 'teddy bear cut' that your Stella is sporting? i really like that length!
---
~irina~
Carolyn
Join Date: Dec 2009
Location: Iowa
Posts: 220
Submit Photo: 0
Photo Nominations 1 Time in 1 Post
I had not yet found petedge! Thanks for directing me there!
My local Walgreens once had dog toys for $2 and they were nice plush ones by Milkbone -- I think I bought over a dozen of them and still have many left, so saving for the new puppy.
It would be crazy to spend $14 on a dog toy, but I'll probably do it eventually. LOL! I'll wait until she's older and past the destroy the toy age.
Kimberly
Join Date: Aug 2006
Location: San Francisco Bay Area
Posts: 10,275
Submit Photo: 5
Photo Submissions 19 Times in 13 Posts
Welcome to puppyhood!
Linda
Join Date: Nov 2008
Location: Eastern North Carolina
Posts: 5,409
Submit Photo: 73
Photo Submissions 24 Times in 22 Posts
Welcome to the club! That first year, you will probably buy more stuff than what you paid for your pup!
---
Dexter & Jack
"One Hav is NOT enough to enjoy the RLH skills!"
and Murphy & Gracie too!
Join Date: May 2008
Location: Cumming, GA
Posts: 6,989
Submit Photo: 5
Photo Submissions 22 Times in 21 Posts
I go a little crazy too but it's fun! Do you have a HomeGoods or TJMaxx store near you? Amanda, Sharlene, and I get great stuff there and the prices are good. I buy a lot from PetEdge, Dog.com, and PetFlys. Luckily my husband loves the dogs like I do so he just laughs and shakes his head.

Let us know if you find any good deals!

***I forgot King Wholesale!
---
Ann-Scooter, Murphy, & Gracie's Mom
Posting Rules

You may not post new threads

You may not post replies

You may not post attachments

You may not edit your posts

---

HTML code is Off

---