Tired of the pooping in my house ...grrr!!
---
Izzo is almost one year old and still pooping in my house. Uggh! When will he be COMPLETELY housebroken and TRUSTWORTHY not to go in the house. Also, he's still snacking on Cassie's poop in the yard. OVER IT!!!
---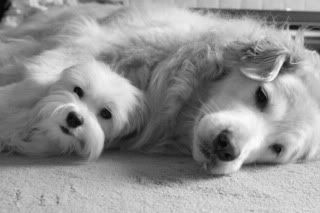 Nicole, Izzo and Cassie's Mom. I'm also Vinny's big sister
LINDA
Join Date: Jun 2007
Location: PA
Posts: 6,496
Submit Photo: 3
Photo Submissions 36 Times in 33 Posts
Fred took me awhile to break. It wasn't like he had accidents everyday, but he would have setbacks. I would find the places he like to go, and I would put treats, toys and dog beds all over that area. It got to the point I was sprinkling dry food all over the family room! He got it though. He learned that was his eating, play and sleeping area!
Senior Member
Join Date: Aug 2009
Location: Toronto, Ontario
Posts: 324
Submit Photo: 0
Photo Submissions 0 Times in 0 Posts
It sounds as though Izzo doesn't understand the housetraining and you may have to go back to basics again. Outside frequently and on a regular schedule. Lots of praise and treats when he does it outside. In a crate when you can't watch him or are not around. It seems hard, but it may be the only way to correct the problem.

Perhaps check the archives and internet sites on retraining an older dog. Good luck - it must be very frustrating!
---
Dorothy (Rascal and Pixie)
Senior Member
Join Date: Apr 2007
Location: Long Island, New York
Posts: 8,941
Submit Photo: 3
Photo Submissions 41 Times in 25 Posts
Nicole, I know how frustrating it can be. My problem was more with peeing than pooping but the issue is the same. I find, even now, Milo will let me know when he has to go (even in the middle of the night) and if I don't respond he's back to his old tricks. However, unless I'm comatose at 3:30 a.m., I respond and he does the right thing. To clarify, he is no longer peeing in the house but when he came home from his last outing, he had loose runny poops for at least a week. It was disgusting and woke both of us every night. Thank God that's over.

I think Linda's idea is a good one. Get him to associate the spots with food and toys instead of his toilet.
---
<b>Just Milo and me, and . . . </b>Bailey makes three . . . until Ruby said, "hey, what about me?"
Geri, Milo, Bailey and HRH Princess Ruby Tuesday
If you're thinking of getting a puppy, click here
http://www.photoshow.com/watch/YK8AH4rw
Senior Member
Join Date: Sep 2006
Location: Kentucky
Posts: 2,166
Submit Photo: 5
Photo Submissions 8 Times in 4 Posts
Does he have a way that he tells you that he needs to go potty? My four ring a bell and will ring it over and over when they really have to go. Like come on mom, I need to go NOW. Maybe teaching him something like a bell would help him commuicate to you if you haven't done this already.
---
Peace, Love & Havanese
Gryff and Jinx Mommy
Join Date: Sep 2007
Location: New Paltz, NY
Posts: 2,346
Submit Photo: 7
Photo Submissions 9 Times in 9 Posts
Gryff still has accidents and he is almost 3.
---
Kipling has developed a certain bark and some body language that tells me very clearly it's time to let him out. I ask him 'do you need to go out?' and he responds with a low bark and a bit of a turn of the head like he's wanting to lead me to the door. This evolved. I agree with Dorothy in that it may be wise to limit that cute as a button Izzo back to crate etc. and really reinforce outside is the place to poo.
---
Sylvia and Kipling
Senior Member
Join Date: Sep 2009
Location: South GA
Posts: 908
Submit Photo: 1
Photo Submissions 3 Times in 3 Posts
I can sympathize Nicole - Panda had a setback last week and we had a run (ignore the pun) of pooping in the house. It was a combination of me not paying attention to her signs and her having eaten something that didn't agree with her. We did the "starting over" and she was confined to her ex-pen when I couldn't watch her. After a couple of days I eased up on the ex-pen confinement and she's back to doing well (knock on wood). She isn't good about telling me she needs to go - sometimes she just stares at me, and I'm supposed to know what she wants, and I miss the cue. Don't know what it is about small dogs - my retrievers were MUCH easier to housebreak than Panda has been....
---
Donna Mom to Panda
Senior Member
Join Date: Feb 2007
Posts: 4,302
Submit Photo: 1
Photo Submissions 4 Times in 3 Posts
Marley will be 2 in March and he is doing great as long as I keep to a schedule! However, I still wouldn't call him house trained and leave him loose when I'm gone or he would most likely potty in the house. I keep a chalkboard and mark everyones poops. For the most part they are on a pretty regular schedule so if someone has missed their usual poop time, I know not to leave them alone and un-watched.
Like, Marley didn't go this morning, so if I take a shower now, he is high-risk. Better to wait and take him out again soon to try again.


Maybe a chart would help with Izzo?
Lola's Mom
Join Date: Feb 2008
Location: San Francisco
Posts: 989
Submit Photo: 36
Photo Nominations 1 Time in 1 Post
Oh, Nicole, many of us feel your pain. In reading all the poop threads over the years, it seems there are two tracks. Those who get a signal that the pup has to go out and those who are on a strict feeding/eliminating schedule. Lola is in the first, but basically I know her timing. Yesterday I was working on the phone at my desk from 6AM-10AM and she started agitating, so I held her on my lap for the last hour. When I got off the phone, I took her out, no poop! And sure enough, later that morning - poop in the dining room. First time (not SA related) in months. She is 2 1/2. I think the strict schedule people may have the answer, feeding and going out at the same times every day. But I doubt I could be consistent that way. So I am a slave to my Princess Pee and Poop.

It is worth it to set things up so you can catch Izzo in the act and correct the behavior when it happens. Otherwise you are at a loss for behavior modification.
---
---Little Lola a.k.a. Princess Pee and Poop and her humom Anne
"Happiness is a warm puppy" Charles Schultz
Posting Rules

You may not post new threads

You may not post replies

You may not post attachments

You may not edit your posts

---

HTML code is Off

---