Breeders: I have a question for you
---
Just curious how often it is that you may have an older puppy available (maybe one you were evaluating for show and it didn't turn out the way you had hoped) or a very young adult for adoption? I am trying to help my mom think about all of her options for a new Hav. She just lost her 15 y/o male Hav a week ago and she is devastated. She travels once a month for a week at a time but her husband is home and not sure if he wants to go thru the little puppy phase again. Any suggestions? If anyone has an older male available please PM me. They have thought about rescue dogs as well but she is not sure she wants to do that- it's not for everyone. I feel so bad for her and I know how much it hurts. TIA!!!
---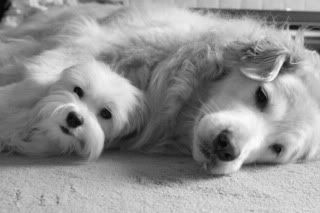 Nicole, Izzo and Cassie's Mom. I'm also Vinny's big sister
Senior Member
Join Date: Apr 2007
Location: Long Island, New York
Posts: 8,941
Submit Photo: 3
Photo Submissions 41 Times in 25 Posts
Nicole, I just know the perfect little soul is waiting to be a part of your mother's life.
---
<b>Just Milo and me, and . . . </b>Bailey makes three . . . until Ruby said, "hey, what about me?"
Geri, Milo, Bailey and HRH Princess Ruby Tuesday
If you're thinking of getting a puppy, click here
http://www.photoshow.com/watch/YK8AH4rw
Senior Member
Join Date: Aug 2009
Location: West Hollywood, CA
Posts: 309
Submit Photo: 0
Photo Submissions 3 Times in 2 Posts
I'm not a breeder and don't have any leads for you... But I can tell you that when we were looking for a hav, we met an awesome breeder that had a 1 yr old girl that she decided she was not going to continue to show b/c she was too long. She was GORGEOUS! DH & I loved her, but I felt awful bringing her into my small condo with no yard as an only doggie when she was used to living in a house with a big yard and a bunch of other doggies. I know dogs can adjust, but I just didn't feel in my heart that she'd be happy here. She ended up going to a home with another hav, so I'm sure she's living a happy hav life now
And I got Lola, who doesn't know she's missing out on a yard and a sibling, lol
I'm hoping that I can find a similar situation again when I'm ready for hav #2 b/c the puppy phase seems overwhelming to me too. I know they're out there! Your mom will find a good match soon!
... is now Havatwo
Join Date: Mar 2008
Location: Central Texas
Posts: 139
Submit Photo: 0
Photo Submissions 0 Times in 0 Posts
---
Michelle, Havanna & Olivia
How often older puppies are available will vary greatly from breeder to breeder. The breeders like myself(Im in college) who have a litter *maybe* once a year almost never have older dogs available because, personally, I don't have the room to keep more than one puppy to grow up. However there are other breeders who have 2-3-4 litters a year and who keep a puppy or two out of each and who frequently have puppies available. It all depends! Sorry if I wasn't much help :/
---
Natasha of
~Hermosa Havanese~
Home of:
Hailey, Ch Hyatt's Estrella Filante
Lizzy, Ch Hermosa's A Pirates Life For Me
Esme, Hermosa's Forbidden Romance(hitting show rings late 2009/early 2010!)
www.hermosahavanese.com
Miriam, Bacca's Mom
Join Date: Nov 2008
Location: Philadelphia area, PA
Posts: 77
Submit Photo: 0
Photo Submissions 0 Times in 0 Posts
Nicole I totally understand what your Mom is going through. I am not as young as I used to be and I also did not want to go through the Puppy stage again. I bought a retired breeder from Yuppy Puppy Havanese in Florida and it has worked out wonderfully. I was a little worried about getting him at a year and a half but it could not have worked out better. Bacca is the best dog we have ever had!
---
Benji and Lizzie's Mom
Join Date: Jun 2007
Location: New Jersey
Posts: 4,086
Submit Photo: 0
Photo Submissions 6 Times in 5 Posts
Wow, they have about 29 puppies for placement! I have never seen so many puppies of such different ages for placement.
---
Best, Poornima
Metrowest, MA
Join Date: Jun 2009
Location: Massachusetts
Posts: 23,858
Submit Photo: 6
Photo Submissions 307 Times in 305 Posts
I don't know... They have an AWFUL lot of puppies available. I'd want to know a lot more about this breeder before buying from them. It's hard to believe they can be raising that many puppies and young dogs under home conditions, and giving all of them the training and socialization they need.
Metrowest, MA
Join Date: Jun 2009
Location: Massachusetts
Posts: 23,858
Submit Photo: 6
Photo Submissions 307 Times in 305 Posts
This answers my own question:
"We have a small kennel with large, comfortable indoor/outdoor runs for our dogs that are nicely heated and cooled."
Not a place I'd buy a puppy from! A fancy puppy mill maybe, but still a puppy mill.
Debbie B.
Join Date: Jun 2009
Location: Newport Beach, CA
Posts: 501
Submit Photo: 0
Photo Nominations 1 Time in 1 Post
Hi Nicole,

I got Riley when he was 10 months old from a breeder. He did not work out as a show dog. Like your mom, I did not want to go through the puppy training stage. Riley was fully house broken, didn't chew anything, slept through the night...it has been wonderful. I am sure he is a far better dog than he would have been if I raised him from a tiny pup.

Once I started looking for an older dog, it took me about 6 weeks to find Riley. A breeder referred me to another breeder who had him.

I think posting here is the best way to find an older dog. I am sure you will find a wonderful dog for your mom.

Good luck and keep us posted!
---
Debbie and Riley
Posting Rules

You may not post new threads

You may not post replies

You may not post attachments

You may not edit your posts

---

HTML code is Off

---