What doggy shampoo do you use?
---
My skin is sensitive to sodium lauryl and laureth sulfates and other harsh cleansing agents, so I am very particular about the cleansers I buy for the family (since I bathe the kids and puppy). I've tried Earthbath Oatmeal & Aloe Shampoo and Tropiclean hypo-allergenic puppy shampoo. The Earthbath shampoo was okay, but the scent kinda bothered me. I like the scent of the Tropiclean shampoo, but it dries out my hands and seems to be causing my puppy to have dandruff (must be irritating to him too).

Do you have any suggestions for a gentle, soothing shampoo for my pup (and me)?

Thanks!
Senior Member
Join Date: Apr 2007
Location: SF area
Posts: 6,425
Submit Photo: 63
Photo Submissions 62 Times in 48 Posts
I'm also allergic to sodium lauryl and laureth sulfates (as well as some other harsh cleansing agents)
I put some gloves on and use Nature's Specialities Plum Silky Shampoo because it seems to be the best for my 2 guys
---
Sally,((Oliver)) Comet and Pennie too!
The best things in life are not things!
I am currently using Coat Handler on Izzo and I love the way it makes his coat feel. Not sure if it has the ingredient you are allergic to in it. Once i run out I want to try something different on him to change it up.
---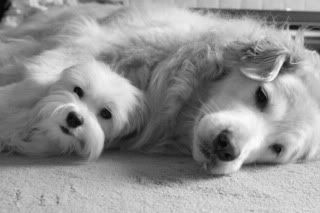 Nicole, Izzo and Cassie's Mom. I'm also Vinny's big sister
Senior Member
Join Date: Jan 2010
Location: Alberta, Canada
Posts: 479
Submit Photo: 0
Photo Submissions 4 Times in 4 Posts
I use EZ - Groom Crystal White and Head and Shoulders (the human stuff) and Johnson's No More Tears for faces. I slater on Tresseme Conditioner after bath and use a water reduced spray bottle of Coat Conditioner before grooming to avoid breaking hair. Also use Mane and Tail, and Show Sheen. LOL...obviously I have not yet found a product that I think is the best, I play with them all.
---
Deb
Luna and Dickson's Mom
Join Date: Dec 2007
Posts: 178
Submit Photo: 0
Photo Submissions 0 Times in 0 Posts
I use #1 All Systems Super Cleaning & Condition Shampoo with Traleigh Velvet Touch Conditioner on Dickson. I checked the ingredients on the shampoo and it contains Deionized water, Ammonium lauryl sulfate, Cocamidopropyl betaine, Cocamide DEA, Propylene glycol, Glycerin, DMDM Hydanton, Fragrance, Citric acid, F.D.&C. Yellow #6. I haven't tried the Traleigh Shampoos, but the website says they are organic and non-detergent (http:\\ashtonenterprises.net).

On Luna, I have used the Spa Shampoo and Conditioner by Tropiclean. The Facial Scrub White Tea contains Water (Aqua), Mild Coconut cleanser, Extracts of White Tea and Blueberry, Vitamin E, Malva Sylvestris (Mallow) Extract and Ginger Root. I finished both the shampoo (I think it was almond) and the conditioner and threw out the bottles recently, otherwise I would let you know the ingredients. The Spa Sandalwood Paw Treatment has Water, Glycerin, Vitamin E, Oatmeal (Avena Sativa) Extract, Hydrolyzed Wheat Protein, Extract of Sandalwood Extract of Ginger Root. I'm using this as shampoo, since it mainly has the same ingredients as the shampoo did that I used. The Cloud Star Buddy Rinse Conditioner has Herbal conditioner base, aloe vera juice, essence of lavender, essence of mint, wheat protein extract, rose hip oil, kukui nut oil, olive oil, wheat germ oil, jojoba oil, chamomile extract, sage extract, nettles extract, rosemary extract, allantoin, vitamin E, vitamin C, vitamin A, vitamin B5. I have always found that this conditioner weighs down Luna's coat - I'm guessing it's the oils. My sister had gotten it. I'm just trying to finish it. I will be trying Coat Handler again on Luna, once I finish the shampoo and conditioner. I have used Coat Handler on Luna in the beginning, but she began itching a few months after I had begun using it on her. She was 9 months old when we had gotten her from my sister. Perhaps now that she's older, she may not have the same reaction plus I water down the shampoos and conditioners, even though I have mixed the correct ratio. Still learning.

The Coat Handler 15:1 Clarifying Shampoo contains no oil, lanolin, silicone, glycerin wax, Jojoba, or aloe and Coat Handler Conditioner contains no lanolin, silicone or oil. The website is http:\\senproco.com.

Eventually, I would like to have both dogs on the same shampoo and conditioner, but both dogs have different coats. Luna's is more silky and straight, whereas, Dickson is more curly. Hope this helps somewhat. You have me really looking at the ingredients, which I haven't done so in a very long time and usually that's what I look at.
---
Last edited by brugmansia; 06-03-2010 at

06:49 AM

.
Senior Member
Join Date: Feb 2008
Location: North Carolina
Posts: 730
Submit Photo: 0
Photo Submissions 6 Times in 5 Posts
I presently use the Isle of Dogs #10 evening primrose shampoo and #51 heavy management conditioner.The shampoo wouldn't work for you since it does contain sodium laureth. Although I have been happy with the products, I'd like to try the Spa Shampoo line since so many on the forum use and like it. For those of you that use it-do you order it online and which company do you use?
---
Jocelyn, Mindy, Cocotini, and Candy
Truffles (1992-2009) We miss you!!
Luna and Dickson's Mom
Join Date: Dec 2007
Posts: 178
Submit Photo: 0
Photo Submissions 0 Times in 0 Posts
I have bought the Spa products at Petco, although you can order it through Petedge and other places.
Tori's mom
Join Date: Feb 2007
Location: Sunny SoCal
Posts: 4,988
Submit Photo: 19
Photo Submissions 10 Times in 6 Posts
My favorite shampoo to use on Tori is
Pure Paws Ultra Reconstructing Shampoo
Unfortunately, the ingredients are not listed on the bottle
Thank you all for all the responses! I didn't think to use conditioner, like I do on my and my daughter's hair. I plan to keep Dash's hair puppy short, so do you think it'd still be helpful?

mintchip: I've thought about using gloves, but I know I'll get water and shampoo in them, and that totally bugs me! LOL

brugmansia: Thanks for your detailed response! I appreciate you listing the ingredients. I'll have to check out the Coat Handler and SPA products.
Does doggy skin have a different pH than human skin? Why shouldn't I use my shampoo and conditioner on Dash?
Posting Rules

You may not post new threads

You may not post replies

You may not post attachments

You may not edit your posts

---

HTML code is Off

---